Summary
Recovering camera memory card videos and photos are possible with 4Card Recovery, when all these pictures/videos captured in different angles are deleted or lost off from your GoPro camera memory card for your errors.

GoPro Camera Card Recovery by 4Card Recovery
Free download 4Card Recovery to get all your lost or deleted videos and photos back from GoPro camera memory card, after you've made great efforts to capture them.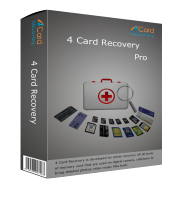 Cannot Share Deleted/Lost GoPro Camera Memory Card Photos& Videos?
In these days, by using a GoPro camera with featured mounts, one always can enjoy his interesting or exciting hobbies, like surfing, riding, climbing, fishing and others, and also grasp any memorable moment at the same time from any desired angle. However, what if all of your captured exciting pictures or videos were deleted or lost for your wrong operations, like unpredicted deletion, camera card format or reformat, camera card dropping and the likes? What if you could not timely share these inaccessible videos and photos with your close friends/families for camera memory card malfunctions, like camera card with RAW file system problem, camera card with viruses, camera card with other unknown errors, or camera card corruption and more? OK! Never lose your head! Everything is still in control! Just add no more pictures or videos on this GoPro memory card and see whether GoPro camera memory card data recovery software can retrieve all your wonderful information back.
How to Restore & Share GoPro Camera Memory Card Photos& Videos Successfully?
With GoPro camera, you can always capture all dreamed pictures and videos, thorough you know little about professional photography skills. However, sometimes, even when you've used similar digital cameras many years, you may also have some camera memory card photo or video loss problems. When being annoyed by these data loss problems, never give up at the outset. Just write no more stuff on this specific camera memory card and download camera memory card data recovery software like 4Card Recovery to rescue everything precious back.
Here is a pre-designed guidance for you to restore all photos and videos back successfully:
Step 1:
Select a data recovery mode to scan everything inaccessible after launching this software and plunging this camera memory card well on your computer.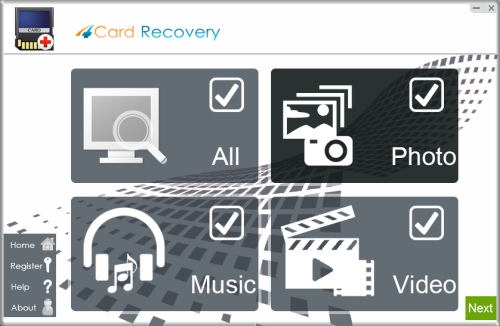 Select recovery options in the main interface
Step 2:
Select this camera memory card to scan after finding the drive letter of this memory card.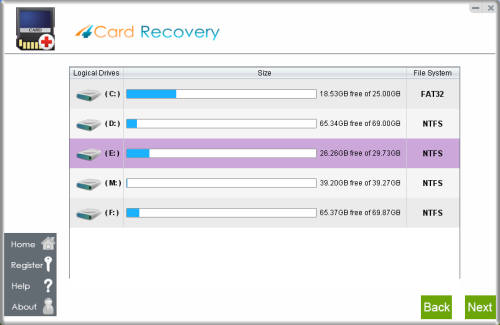 Select card to search photos off card
Step 3:
Select all desired videos and photos to restore after previewing them all carefully one after one.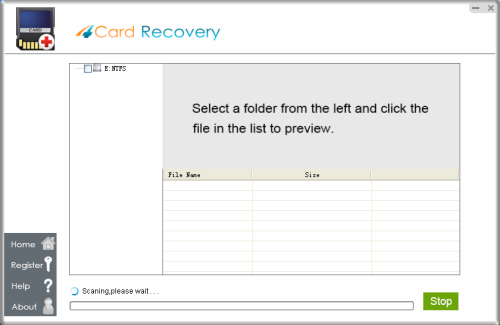 Wait while scanning lost photos, sometimes it takes about 20 minutes to scan a 32G card.
Tips: if it takes more than 2 hours to scan a 32GB card, you may stop the scanning and wait to see
what's already found. Since the card may contains bad blocks that takes longer time than usual.
Step 4:
Select another computer drive to save these videos and photos after restoring them all back.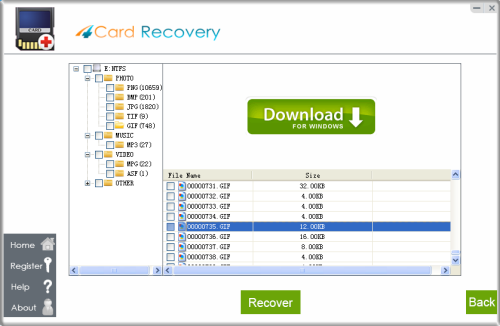 Preview lost photos and save found files. It would generate a folder to contain your lost data.
Please do not save the photo to the card where you lost them. Save them to your PC drive!

Download 4Card Recovery
Note:
* Please do not capture more videos and photos on this GoPro camera memory card in case of permanent card data loss.
* Please do not select the same camera memory card to hold these restored videos and photos in case of data recovery failure.
* Please do not prepare only one copies of everything crucial on only one camera memory card in the future.
4Card Recovery User Comments:
Comment1: I have exactly similar camera card data loss problems. After recoding some videos, all of sudden, the camera says: "…card is not formatted…" But, I don't want to format this card for these precious videos. After seeing a lot of people have got their camera card data back with this software successfully online, I also download this software to take chances. Luckily, it also doesn't let me down!
Comment2: I have had 64GB phone memory card corrupted and cannot access the inner files and folders for "not formatted error". Thanks to this software, I have finally rescued all my lost stuffs of the past years back!
Comment3: I have ever encountered a RAW file system camera memory card and cannot upload any of inside videos and photos to computer. But, I followed the instructions of this software in a article and recovered all my card stuffs back.

Download 4Card Recovery