Summary
Read this article and know some useful steps to recover worried pictures, audios, videos and more files back from SimpleTech flash card, no matter what has happened to this flash card.

SimpleTech Flash Card Recovery by 4Card Recovery
Free download 4Card Recovery to copy back your information from different types of flash cards or memory cards, like Micro SD cards, CF cards, SD cards,. Mini cards, MMC cards, etc.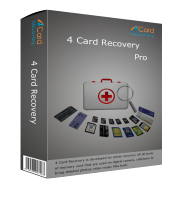 SimpleTech Flash Card Suddenly Has Some Data Problems?
What's your data problem of this SimpleTech flash card? Your captured card data is lost for accidental deletion or formatting, or even card corruption? Your remained card data is inaccessible for Windows "not formatted error" warning, RAW file system error or even other memory card error? Or your reserved card data is missing for improper extraction, dropping or even card damage? OK! No matter what kind of data problems your flash card have, simply search for 4Card Recovery to see whether all your wanted card information is recoverable. Of course, in order to avoid any farther data trouble, always put this flash card aside before data recovery. 
Recover Data from SimpleTech Flash Card
When you want to safely and quickly store or transfer photos, videos, messages and files, the SimpleTech flash card could be a really satisfying choice, especially when these stuffs are from a camcorder, camera, phone or other similar devices. However, when your SimpleTech flash card has some data recovery problems due to some personal errors or card problems, a flash card data recovery application, like 4Card Recovery, is your right solution. Have lots of questions about this memory card data recovery software? OK! Don't rush! After reading my introductions, you may have no any farther question to ask. Firstly, this card recovery software is very simple and operable for everyone to use. Secondly, this card recovery software has many advanced data recovery features, like four well-designed data recovery modes, deeply scanning and completely safe interface, etc. Thirdly, it also is compatible with all versions of Windows.
Therefore, it could be a really easy task for you to rescue your lost card data with this card recovery tool:
Step 1:
Download and install this card recovery software. And then, decide on which type of card files you need to restore.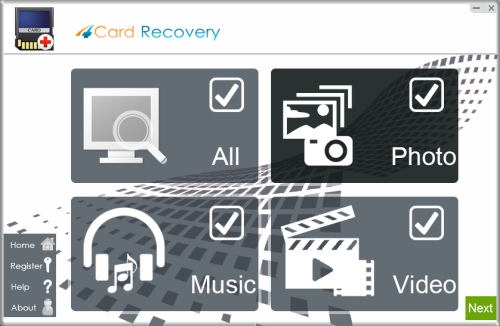 Select recovery options in the main interface
Step 2:
Click the disk letter assigned to your SimpleTech flash card.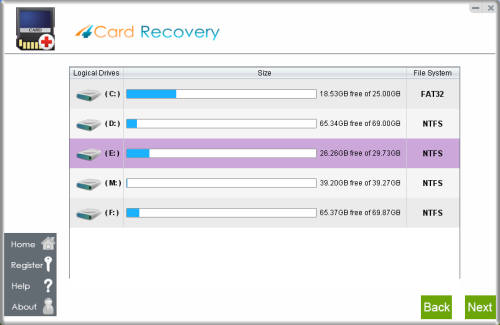 Select card to search photos off card
Step 3:
 Preview all recoverable files after scanning. Remove some useless ones.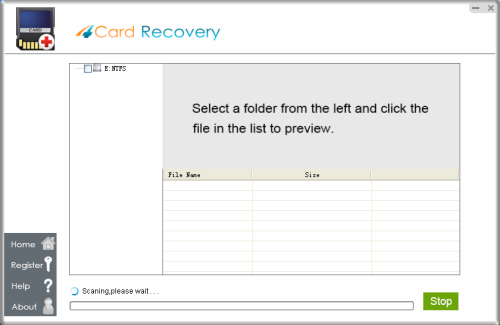 Wait while scanning lost photos, sometimes it takes about 20 minutes to scan a 32G card.
Tips: if it takes more than 2 hours to scan a 32GB card, you may stop the scanning and wait to see
what's already found. Since the card may contains bad blocks that takes longer time than usual.
Step 4:
Recover all selected files back and transfer the restored data on other computer partitions or drives.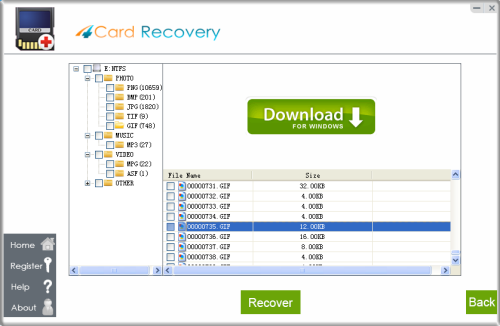 Preview lost photos and save found files. It would generate a folder to contain your lost data.
Please do not save the photo to the card where you lost them. Save them to your PC drive!

Download 4Card Recovery
Useful Precautions:
* Insert this flash card with a card Reader when it is not available with your camcorder/camera/phone.
* Pick this flash card out from your camera/phone/camcorder when it is waiting the data recovery.
* Save restored card data on computer internal or external hard drives, not this flash card.
* Update your important card data to your backup drives or some online storage.
Extra Information of SimpleTech Flash Card
Unlike other flash memory card manufacturers that only has offered two or three types of memory cards, SimpleTech has produced nearly all popular types of memory cards, like CF cards, memory sticks, SM cards, SD cards, MMC cards and more. Moreover, they are also designed with high efficiency and quality so that they can be freely used in different electronic media, like camera, camcorders, music players, phones, PCs, etc. Therefore, if you are not sure which kind of flash cards is compatible with your devices, you can check whether SimpleTech can give you some clues. 

Download 4Card Recovery