Summary
Get helps here to restore all your lost/erased videos and photos from the Hasselblad camera memory card, when some common camera card data loss problems happens to you unexpectedly, like unwanted deletion, quick/full card format and card corruption, etc.

Hasselblad Camera Card Recovery by 4Card Recovery
Free download 4Card Recovery to restore all 3FR and RAW images back from the memory card of your Hasselblad digital camera. Except images, this software also can help rescue many types of memory card stuffs, like videos, contact, texts and more.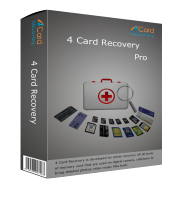 Need Hasselblad Camera Memory Card Data Recovery Software?
Being well-known for superb picture quality and reliability, Hasselblad digital camera also gains its fame for its versatility: one can easily capture both of photos and videos with this small camera only. In other words, with an efficient hasselblad camera, you also can make wonderful videos/films without a digital camcorder. Hence, it is really a practical choice when you do have hobbies related to these two aspects. However, sometimes, without timely moving all camera memory card data to computer or other devices, you may find that all your captured videos and images saved on the camera memory card are deleted, erased or lost mistakenly, like accidental deletion, quick/full card format, memory card error format, RAW file system card format, or not formatted error format and camera card corruption. Under such situations, to rescue all your 3FR or RAW images and videos, you are supposed to take chances with Hasselblad camera memory card data recovery software.
Recover Hasselblad Camera Memory Card Videos& Images with Ease
With prominent advantages, the hasselblad camera also can have some troubles related to the camera images and videos stored on the inner CF card, like accidental deletion or format. However, no matter which cause make you lose the preferred camera card information, firstly check whether all your original camera memory card stuffs are overwritten by new data (the more you write new files on the same camera card, the more difficult you can restore them all back successfully) and try to retrieve all recoverable videos and images with camera memory card data recovery software like 4Card Recovery.    
Here are steps for you to rescue all videos and images:
Step 1:
Download and run this data recovery software on your opened computer. Insert this memory card and click this software to pick out a practical data recovery mode. In your case, the "All" could be all right.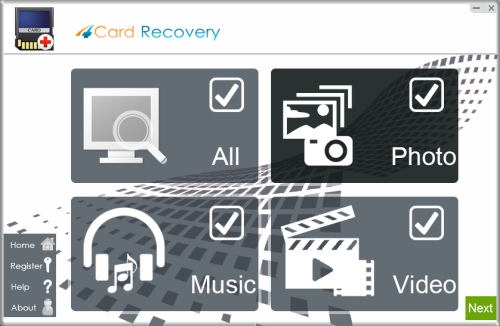 Select recovery options in the main interface
Step 2:
Find this memory card on the next software window and tab it to start scanning. Freely do your own things when it is scanning your card thoroughly.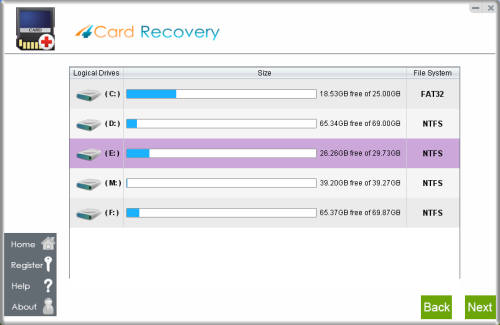 Select card to search photos off card
Step 3:
When the scanning process is completed, check all displayed files and mark your preferable videos and images out.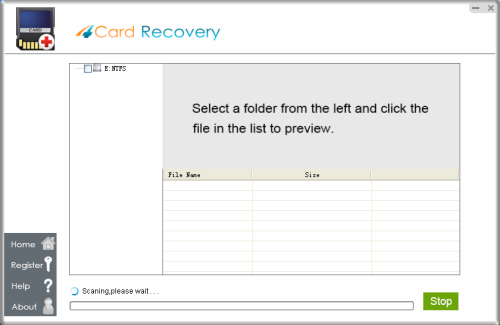 Wait while scanning lost photos, sometimes it takes about 20 minutes to scan a 32G card.
Tips: if it takes more than 2 hours to scan a 32GB card, you may stop the scanning and wait to see
what's already found. Since the card may contains bad blocks that takes longer time than usual.
Step 4:
Choose preferable device to store all your retrieved videos and images when starting to restore them all back.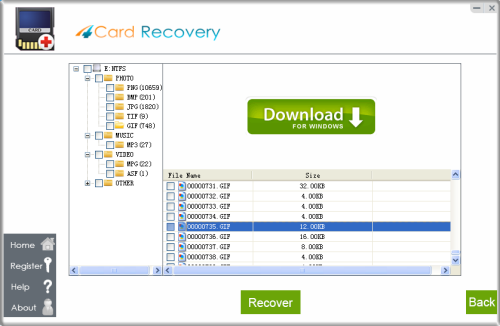 Preview lost photos and save found files. It would generate a folder to contain your lost data.
Please do not save the photo to the card where you lost them. Save them to your PC drive!

Download 4Card Recovery
Please Note:
* To restore your camera card videos and images, you also can separately choose "Photo" and "Video" to get them all back on its main window.
* To make sure all marked files are recoverable and useful, just preview them all in advance.
* To make all restored camera card stuffs safely, just save them all on computer partitions or other drives after data recovery.
4Card Recovery Customer Words:
Customer1: I purchased my Nikon camera tow months ago. But, since I was not so familiar with the camera operations, last Saturday, I just formatted this camera and all captured images of my friend, families and others were lost. But, luckily, my brother said I had saved them all on the camera memory card and camera card data recovery software could get them all back. Hence, I tried this 4Card Recovery and eventually really regain my images completely. Thanks!!!
Customer2: I owned dozens of folders on my phone SD card. Well, yesterday, this memory card had a strange not formatted error and all these folders cannot be accessed. I was really depressed at the time. But, thanks to my boy friend, without worrying too long, I tried this card recovery software and reviewed my wanted phone stuffs with success.

Download 4Card Recovery