Summary
Plunge your digital camcorder to computer and try to rescue all recorded videos and other files back from this JVC camcorder memory card, after accidental deletion, card format, virus-infected card, card corruption and more conditions.

JVC Camera Card Recovery by 4Card Recovery
Free download 4Card Recovery to recover all lost or deleted videos back from inserted JVC camcorder memory card, like SD card, SDHC card and SDXC card and more.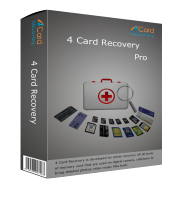 Delete/Lost JVC Digital Camcorder Memory Card Video by Chance?
Being designed with high performance, long-life battery and high-quality pictures, etc, a JVC digital camcorder may also bring the owners some dissatisfaction. Honestly, sometimes, it could be really troublesome to experiences some camcorder card data loss problems for mistaken operations, especially when you prepare no camcorder card video copies on other devices. But, that's doesn't mean you absolutely have no hope to take all these lost or missing camcorder card videos or files back again. With the help of JVC digital camcorder memory card data recovery software, you can enjoy many professional data recovery services and rescue your deleted/lost videos back even after your accidental camcorder video deletion, mistaken camcorder memory card format, camcorder memory card not formatted error for RAW file system, camcorder memory card dropping or shocking, or even camcorder memory card corruption.
How to Retrieve JVC Camcorder Memory Card Videos?
After the data loss problems, everything inside just cannot be found or seen in any places, right? It just seems to imply that all your camcorder video recorded with great efforts have already gone permanently, right? OK! Don't be nervous! Honestly, as long as you've not use the same camcorder to take more videos on the same camcorder memory card, you really do have a ray of hope to restore all inaccessible or invisible card videos back with camcorder memory card data recovery software. With this software prepare on your computer, in the future, you can freely start it to take your needed memory card information back from camcorders, cameras, phones and players back after experiencing some data loss issues.
Here is a tutorial for you to regain the deleted or lost videos back step by step:
Step 1:
Connect this camcorder to your computer with its USB cable and download this software to your computer partition to start it. After installing and running this software well, select the video recovery mode to go on.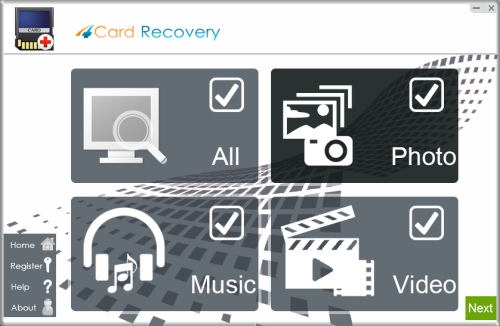 Select recovery options in the main interface
Step 2:
Specify this JVC camcorder memory card out from other devices and start to scan this memory card. A through scan can help you find all possible card stiffs. Just patiently wait while the scanning is running,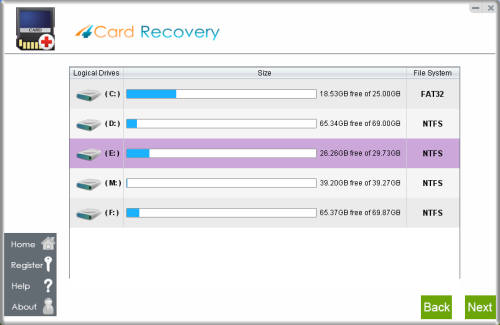 Select card to search photos off card
Step 3:
With changed file or video names, you should check every scanned file carefully so that no original video could be leaked.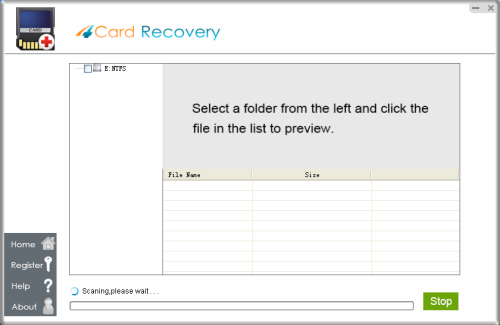 Wait while scanning lost photos, sometimes it takes about 20 minutes to scan a 32G card.
Tips: if it takes more than 2 hours to scan a 32GB card, you may stop the scanning and wait to see
what's already found. Since the card may contains bad blocks that takes longer time than usual.
Step 4:
Restore all camcorder videos back to computer partitions and change a recognizable name for future use.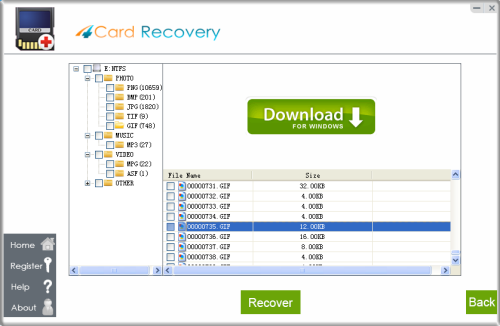 Preview lost photos and save found files. It would generate a folder to contain your lost data.
Please do not save the photo to the card where you lost them. Save them to your PC drive!

Download 4Card Recovery
Tips for Successful Data Recovery:
* It is highly recommended not to save new video or file on the original camcorder memory card in case of real data loss.
*It is highly recommended not to save restored camcorder videos on the same memory card in case of farther data loss.
*It is also highly recommended to carefully check every scanned card file in case of losing any wanted ones for changed names.
*It is also highly recommended to timely save copies of everything recorded with this Camcorder on different storage devices in the future.
JVC Camcorder Features:
Without data loss problems, JVC digital camcorder really provides many great features.
1). Water/Shock/Dust/Freeze-Proof Body
To make the owner record his preferred videos, these JVC camcorders are all designed with waterproof, shockproof, dustproof and freeze-proof bodies. You always can keep capturing your videos when it is raining or snowing.
2). Long-life Battery
To help owner record video without breaks, these JVC camcorders have been equipped with a long-life battery. You often have plenty of power to record your wanted events completely.
3). High-quality Pictures 
The videos and pictures recorded with these JVC camcorders are all in native Full HD resolution. You can also capture, watch and share your videos and pictures freely.
4). More Video Effects
After capturing your desired videos or pictures, you can freely add some effects to any scene for improving them, such as grainy monochrome, food mode, baby mode and the likes.
Overall, with this JVC digital camcorder, you can have a really pleasure experiences to record or capture your expected videos.

Download 4Card Recovery