Summary
Read this tutorial to help you timely rescue your Micro SD card photos, files, messages and more back, when you are stuck in a loss for card RAW file system issue.

RAW Micro SD Card Recovery by 4Card Recovery
Free download 4Card Recovery to find all recoverable Micro SD card stuffs with its four data recovery modes and restore your wanted ones freely.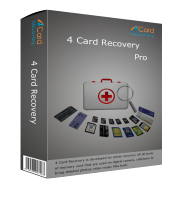 Computer Shows Micro SD Card Is in RAW Format?
What kind of clues makes you think your Micro SD card has got a RAW file system error? Micro SD Card suggests you to format whenever you try it on your PC? Micro SD card needs to be formatted and also has been shown as RAW file system in Computer Properties? Micro SD card cannot be checked by error-checking tool for detected RAW problem? Micro SD card is shown as blank and also has an unsupported file system RAW? OK! If you unfortunately get one of them, you are completely right! This Micro SD card does have a RAW file system error. Check your card data backups quickly and see whether you need rescue your card data before the recommended card formatting process. Have no such card data backup or find no latest card data backup to get everything needed back? Ok! Hold on! Immediately leave this Micro SD card alone and choose RAW Micro SD card data recovery software to take all previous card files back.
How to Recover Previous Data from This RAW Format Micro SD Card?
When Micro SD card is shown in RAW format, there are often two problems that need to be resolved: rescue left card data and restore the card file system. With expected card data backups placed on other storage devices, you are simply supposed to format this card to restore its present RAW file system back to NTFS or FAT32. But, if you do not discover any useful card data backup elsewhere, without choices, you have to do both of them. So, right now, to rescue your card information, insert it to your PC and download memory card RAW file system recovery software like 4Card Recovery to get your stuffs back with success:
Step 1:
Get this software copy from its download website and launch it on your PC. Insert this RAW Micro SD card to the same computer and run this data recovery software to choose a helpful data recovery mode.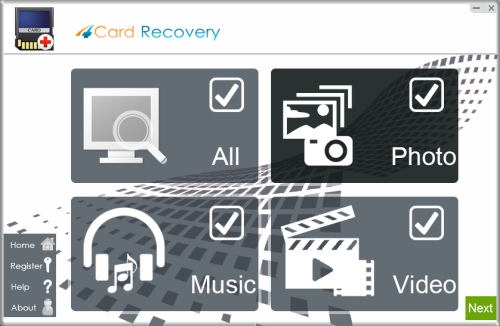 Select recovery options in the main interface
Step 2:
Select this RAW Micro SD card from partition and device list. Scan this card to find all files reserved there.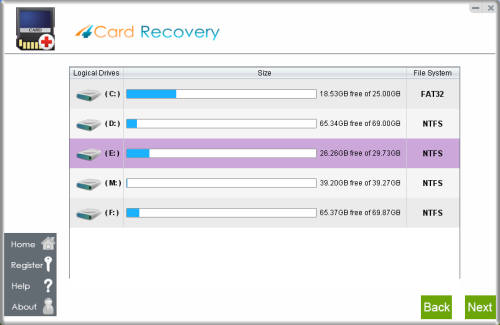 Select card to search photos off card
Step 3:
Choose its Preview button to look through all scanned files and pick your wanted ones freely.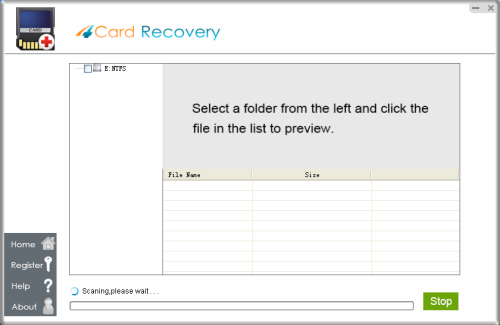 Wait while scanning lost photos, sometimes it takes about 20 minutes to scan a 32G card.
Tips: if it takes more than 2 hours to scan a 32GB card, you may stop the scanning and wait to see
what's already found. Since the card may contains bad blocks that takes longer time than usual.
Step 4:
Restore the picked card files to your preferred storage device. Do not choose this RAW card to hold your restored data again.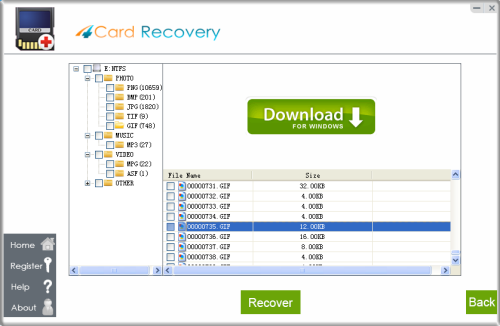 Preview lost photos and save found files. It would generate a folder to contain your lost data.
Please do not save the photo to the card where you lost them. Save them to your PC drive!

Download 4Card Recovery
Notes:
* Do not install and launch this software on this RAW Micro SD card to avoid overwriting and data loss.
* Do not overwrite this RAW Micro SD card with anything new.
* Do not save all rescued card data on the same Micro SD card in case of data recovery failures.
* Do not format this Micro SD card before taking all useful card stuffs back.
4Card Recovery Users' Stories:
User1: Thank your nice help. When I had got the same SD card data loss problem with my Blackberry style, all my phone messages, images, movies and files stored on this card were inaccessible. And I also could not format this card to erase them all completely. So, I run this software and follow its guidance to rescue most of my original card stuffs back. I believe it can be a good choose for anyone who has similar card data loss problems to go on.
User2: Your memory card also needs to be formatted and really worry about inner held crucial photos and other stuffs? Never panic! Take chances with this software, which has taken 95% of camera SD card pictures after mistaken format.

Download 4Card Recovery