Summary
Sony Camcorder memory card video recovery software will be suggested here for you to undo some card data loss operations and help you restore preferred camcorder card stuffs back before they are overwritten or destroyed by anything else.

Sony Camcorder Card Recovery by 4Card Recovery
Free download 4Card Recovery to perform data recovery processes on your Sony camcorder memory card and rescue your stored information there, no matter how many types of files you've saved on this camcorder cards, like videos, files, messages, images, music and others.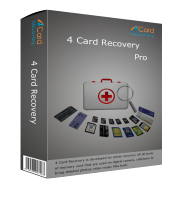 Video Recovery from Sony Camcorder Memory Card
When celebrating something happy (like birthday, wedding or college graduation etc,) with beloved families and friends, just cannot help recording all these unforgettable periods with Sony camcorder and hopelessly find all these meticulously recorded videos are deleted or lost off from this camcorder memory card unexpectedly? Feel really frustrated and badly need solutions to rescue them back with any effort? All right! Don't worry! The good news is that you can take the Sony camcorder memory card video recovery software to see how many of original camcorder card videos could be retrieved. To avoid losing all recorded Sony camcorder videos before starting the data recovery process, you'd better remember not to capture any new video on this original camcorder memory card. Formatting this memory card immediately is also not so proper.
Restore Lost Sony Camcorder Memory Card Videos
Through the above mentioned camcorder memory card data recovery software named 4Card Recovery is designed to be specialized in restoring lost memory card videos, images, documents, audios and mails back with its utmost efforts, you may also lose your cherished camcorder card videos when you doing something improper to this card before the data recovery process. So, just act carefully and start this software to your cope with all your possible data loss problems, such as Sony camcorder memory card RAW file system loss issues, Sony camcorder memory card not formatted error issues, Sony camcorder memory card format or reformat data loss issues and Sony camcorder memory card logical corruption data loss issues, etc.
Here are simply steps for you to restore lost card videos with this software:
Step 1:
Select "Video" recovery mode after downloading and launching this software well on your computer. If you want, the other three data recovery modes also could be good for you to rescue other types of files.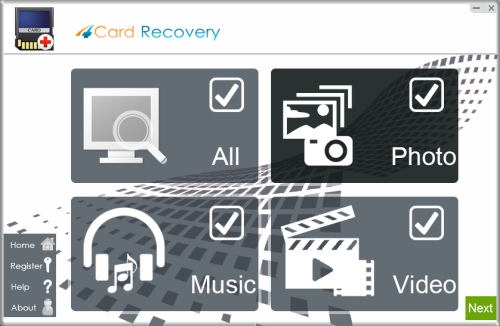 Select recovery options in the main interface
Step 2:
Select this camcorder memory card and scan it thoroughly. Wait patently while scanning.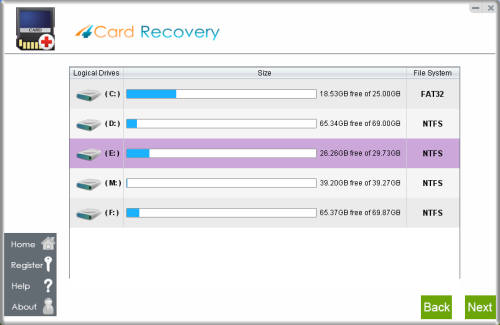 Select card to search photos off card
Step 3:
Preview all scanned videos and other files. Mark your original videos out only.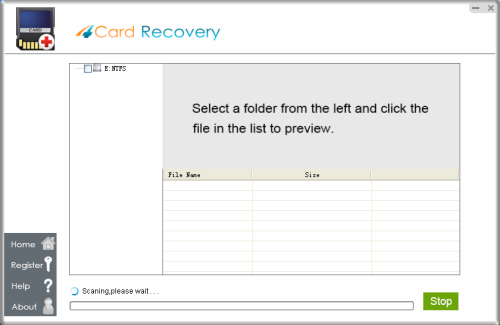 Wait while scanning lost photos, sometimes it takes about 20 minutes to scan a 32G card.
Tips: if it takes more than 2 hours to scan a 32GB card, you may stop the scanning and wait to see
what's already found. Since the card may contains bad blocks that takes longer time than usual.
Step 4:
Restore all recoverable videos back and move them to computer drives.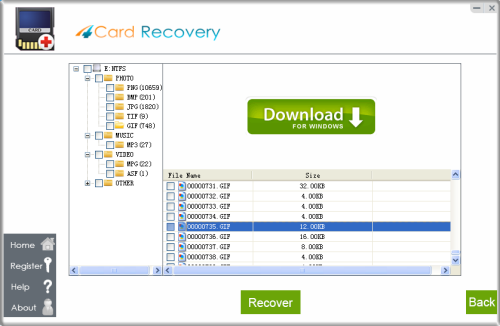 Preview lost photos and save found files. It would generate a folder to contain your lost data.
Please do not save the photo to the card where you lost them. Save them to your PC drive!

Download 4Card Recovery
Tips:
* Do install and launch this software on this computer drive, not this camcorder memory card, in case of farther data loss.
* Do transfer all restored camcorder card videos to another storage device in case of data recovery failures.
* Do prepare camcorder memory card videos on separate drives or online storage timely in case of data loss problems again.
Sony Camcorder Memory Card Information
There are three types of Sony Handycam camcorders: casual shooting camcorders, professional capability camcorders and full HD projector camcorders. The casual shooting camcorders, with simple, handy and compact designs, allow users to record some videos with simple operations. They are good for some family, video amateurs and video beginner to take some short and funny videos. The professional capability camcorders, with professional designs, allow users to take videos with perfect quality and features. They are good for professional people to make some videos with big sensors, 4K quality and wonderful sound, etc. In short, choose your needed Sony camcorder and take your desired videos!

Download 4Card Recovery