Summary
Read this tutorial and personally test our 4Card Recovery here to see whether the built-in four data recovery modes could take your entire lost or inaccessible camera Micro SDHC card photos, videos, files and more information back with high efficiency.

Camera Micro SDHC Card Recovery by 4Card Recovery
Free download 4Card Recovery to scan all type of your camera memory cards and restore entire camera card contents back with fast speed and high quality.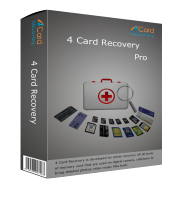 Causes Many Lead To Camera Micro SDHC Card Data Loss Issues
As a new version of Micro SD card, the Micro SDHC card is created to have a higher capacity and faster speed, which also makes it possible to have a better performance on your digital camera. However, being one type of camera memory cards, without exception, this card also can have some data loss problems when you are using it to store your camera information. For example, camera Micro SDHC card pictures, videos and files are deleted mistakenly when taking some wonderful photos? Camera Micro SDHC card suddenly gets a memory card error, not formatted error, or RAW file system error and all remained card videos, images and documents become inaccessible on laptop/computer? Camera Micro SDHC card asks to format after the digital camera loses its power suddenly? Or Micro SDHC card is formatted accidentally after attaching to your computer? No matter what irresistible card data loss problem you've met right now, without Micro SDHC card data backups, you can simply try digital camera Micro SDHC card data recovery software to rescue all lost card information.
How to Recover Camera Micro SDHC Card Data?
Have you saved all your favorite camera photos, videos and other files on the used camera Micro SDHC card? If you have played a good habit to save all captured videos and images on the camera Micro SDHC card all the time, undoubtedly, you are lucky. Even without a card data backup, you also can easily run Micro SDHC card data recovery software like 4Card Recovery to copy all important camera data out. The provided four data recovery modes of this software could help you rescue nearly all type of information back from this Micro SDHC card. But, unfortunately, you've not saved all camera data on this card well in advance, you may have no choice but to remember this impressive lesson to do that from now on. Overall, let's go to recover your camera card data step b y step:
Step 1:
Download and set up this software on your computer. Plunge this Micro SDHC card and also select a fixable data recovery mode from four.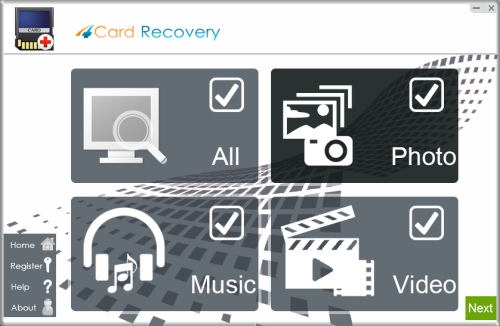 Select recovery options in the main interface
Step 2:
In the software interface of detected media, click your inserted Micro SDHC card and start to scan this card.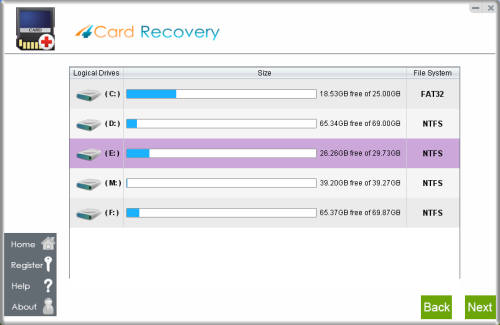 Select card to search photos off card
Step 3:
In the list of all scanned files, click them one by one to preview. Mark out all wanted ones.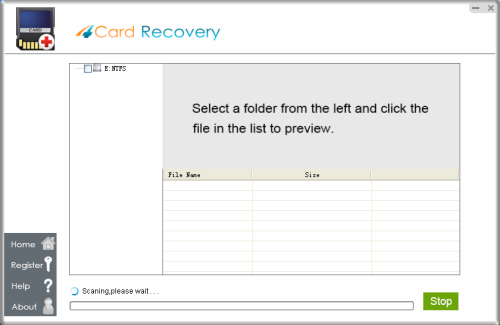 Wait while scanning lost photos, sometimes it takes about 20 minutes to scan a 32G card.
Tips: if it takes more than 2 hours to scan a 32GB card, you may stop the scanning and wait to see
what's already found. Since the card may contains bad blocks that takes longer time than usual.
Step 4:
Restore all Micro SDHC card videos, images and files, etc. Remember to move them all to the computer partitions or drives.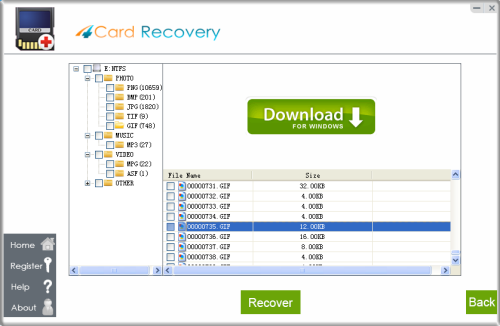 Preview lost photos and save found files. It would generate a folder to contain your lost data.
Please do not save the photo to the card where you lost them. Save them to your PC drive!

Download 4Card Recovery
More Tips:
*In case of losing camera card videos and images before data recovery, you are suggested not to store more pictures or others on this Micro SDHC card. If you need to take more useful images, just change another memory card or camera.
*In case of losing camera card data after the data recovery process, you are also suggested not to move them all to this original Micro SDHC card. The computer drives, partitions and other storage devices could be the good choices.
* In case of losing camera card data in the future due to similar data loss problems, you are suggested to save at least two copies of everything important on two different storage devices.
More Memory Card Data Loss Problems:
Problem1: I have lost many pictures stored on my Micro SDHC card due to card corruption. Both of the computer and digital camera says it should be formatted before using or accessing. What should I do next to rescue these card photos? Do I have to format this SDHC card firstly?
Problem2: I just want to say that my phone SD card is mistakenly formatted when using on my computer. All messages and contacts inside are gone now. Some friends recommend me to apply memory card data recovery software to rescue everything back. But, I am not familiar with such tools. Which one do you think is proper for me? Thanks a million?
Problem3: Several crucial documents are deleted off from my CF card. Do you have any idea for me to get them back? What should I do next?  
If your problems are really similar to the above question, without adding new stuff on the specific memory card, simply download 4Card Recovery to rescue all your important videos, audios, pictures and files back.

Download 4Card Recovery