Summary
Start and scan your video camera memory card with 4Card Recovery to restore lost or inaccessible videos back after unexpected camera card data deletion, card formatting, card dropping or corruption, etc.

Camera Card Video Recovery by 4Card Recovery
Free download 4Card Recovery to rescue deleted or lost movies or videos back from most brands of video cameras, like well-known Sony, JVC, Panasonic and more.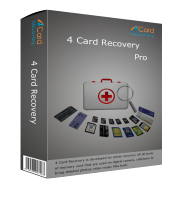 Keep Clam When You Realize Video Camera Memory Card Data Is all Gone!
Mistakenly click "delete" option to wipe everything all inside your video camera memory card when simply trying to delete a specific movie there? Accidentally format video camera and lose all precious memory card stuffs of the past days, weeks or years without any residual? Stop video camera memory card formatting process and also lose a portion of card data for not formatted error or RAW file system error? Drop or fall your digital camera carelessly and also makes entire memory card data inaccessible now? Or unintentionally do something to video camera and realize all video camera card data is gone later? Feel really gloomy and crazily search for solutions to get your self-made interesting, exciting, funny or precious movies back? OK! Don't be like that! Take a deep breath to calm yourself and set out to rescue your lost camera card stuffs back as many as you can.
Keep Calm to Restore Lost Video Camera Card Movies Step by Step
After you've deleted or lost something crucial off from your video camera memory card, being emotional always changes nothing and even can cause more camera card movie loss, like randomly adding new file or video on this camera memory card to overwrite your missing videos, following improper suggestions online to format camera card and increase the difficulty of successful data recovery and more. Hence, always keep calm and follow the below steps and tips to rescue your preferred camera card information back with the help of this memory card data recovery software called 4Card Recovery:
Step 1:
Carefully plunge this video camera card to your computer and download this software from its official website. Launch your downloaded software and start it there to choose a fixable data recovery mode.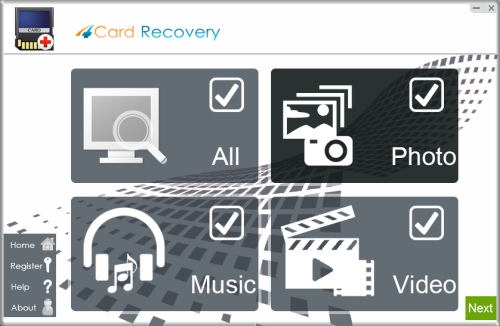 Select recovery options in the main interface
Step 2:
Thoroughly scan this inserted video camera memory card after picking a practical file type recovery mode. Wait and do your things freely when it is scanning this card.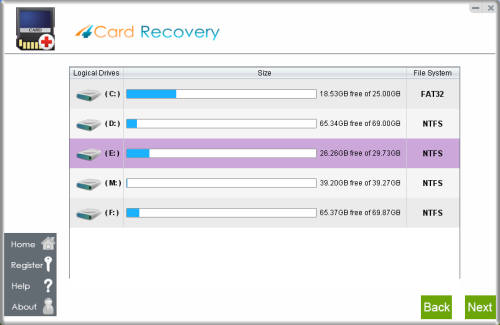 Select card to search photos off card
Step 3:
Patiently preview all scanned camera card stuffs and choose your precious ones.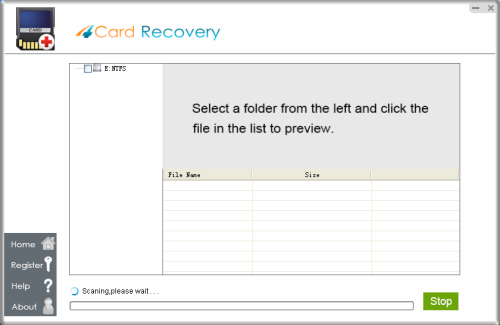 Wait while scanning lost photos, sometimes it takes about 20 minutes to scan a 32G card.
Tips: if it takes more than 2 hours to scan a 32GB card, you may stop the scanning and wait to see
what's already found. Since the card may contains bad blocks that takes longer time than usual.
Step 4:
Restore and save them all on computer partitions or folders. Just avoid putting them on this camera memory card again in case of data recovery failures.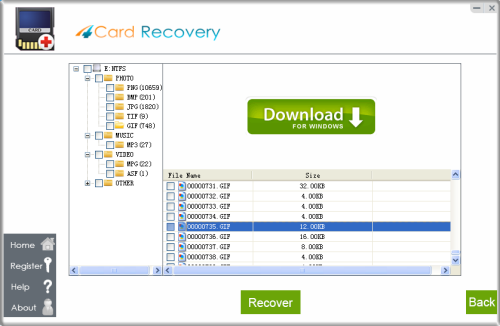 Preview lost photos and save found files. It would generate a folder to contain your lost data.
Please do not save the photo to the card where you lost them. Save them to your PC drive!

Download 4Card Recovery
Tips:
* Take no more video, picture or file on this camera memory card after losing your stuffs.
* Save nothing restored on this camera memory card after successful data recovery process.
* Re-check and re-name every restored camera card movies so that you can easily find your needed one out next time.
* Make video camera card data backups in the future in case that any similar data loss problems will bring you more tricky troubles.
Video Camera Information View
A video camera, as its name indicates, is a digital camera that can create electronic moving images and help you make some short video or movie as you wish. So, in this way, in comparison with common digital cameras, it is more interesting and funny. Moreover, to meet the needs of many users all over the word, there are many types of video cameras that have been designed and produced. For example, there is a Sony video camera that is perfect for musician to record performances for social media; There is a Panasonic video camera that is excellent in working indoors or outside; There is a GoPro video camera that has excellent image quality and proper price. In short, the video camera could be a really good device to make some funny, interesting, exciting or astonishing videos.

Download 4Card Recovery