Summary
The bellow recommended memory card data recovery software will provide best solutions for you to restore photos and other files from the MMC card, SD card, Micro SD card, CF card and more other memory cards of your digital camera.

Camera MMC Card Data Recovery by 4Card Recovery
Free download 4Card Recovery to scan your camera MMC card thoroughly and let it take all your lost camera photos, videos, documents, files and other information back.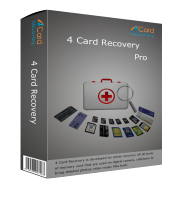 Memory Card Data Recovery Software Can Help Restore Lost Camera MMC Card Data!
MMC (a short name of Multi Media Card) card is also a standard format of flash memory cards, just like your well-known SD card, CF card, TF card and more. When being used in digital cameras, this type of memory cards also can offer you a satisfying data saving and transformation. But, if you unfortunately lose all digital camera MMC card data, like photos, videos and other files, without finding anything desired back from backups, you also can take chances with memory card data recovery software. You know why? With reliable camera memory card data recovery software, you always can easily scan your camera MMC card and find all possible camera original data to restore it back completely. So, right now, no matter what camera MMC card data recovery problems (like accidental camera card data deletion, camera card format/reformat/full format/quick format, camera card virus infections, camera card RAW file system or not formatted error problem and camera card logical damage/corruption, etc) you are experiencing, download this software and start it to help you out.
Step-by-step Guidance to Restore Lost Data from MMC Card of Your Camera:
Common wrong camera MMC card operations or MMC card malfunctions often cause no real camera data loss. The so-called lost camera photos, videos and files are often still stored on this MMC card of your cameras. Therefore, before you overwriting anything new on this camera card to make your wanted data lost permanently without warning, you'd better insert it to your PC soon and download digital camera memory card data recovery software like 4Card Recovery to take all your original camera stuffs back with care. This data recovery software always can help rescue almost all types of camera card files, like images, videos, audios, messages, mails, documents and more. So, don't worry! Here is the step-by-step guidance for you to restore all lost data back
Step 1:
Download and run this data recovery software on your PC. From this main interface, pick out a data recovery mode to restore your camera MMC card data, like "Photo", "Video", "Music" and "All".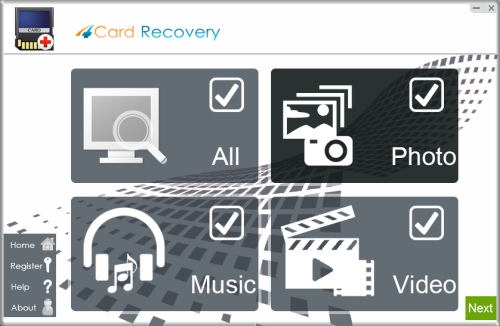 Select recovery options in the main interface
Step 2:
Choose the newly displayed camera MMC card to scan your camera data out and hit "Next" to start the thorough card scanning.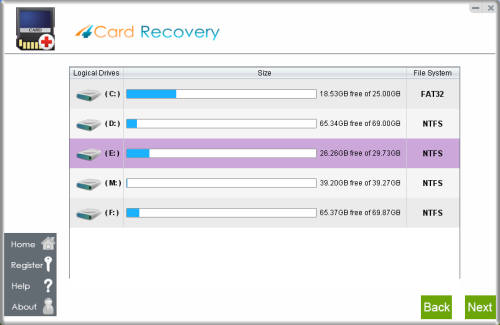 Select card to search photos off card
Step 3:
Preview all scanned camera card photos, videos and more to find your lost camera data only.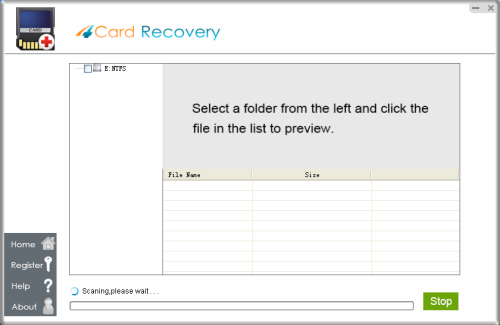 Wait while scanning lost photos, sometimes it takes about 20 minutes to scan a 32G card.
Tips: if it takes more than 2 hours to scan a 32GB card, you may stop the scanning and wait to see
what's already found. Since the card may contains bad blocks that takes longer time than usual.
Step 4:
Restore all selected camera card information to your PC drives or partitions.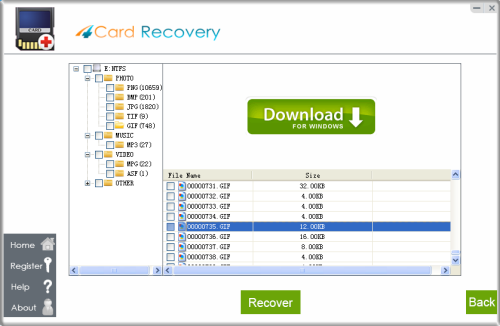 Preview lost photos and save found files. It would generate a folder to contain your lost data.
Please do not save the photo to the card where you lost them. Save them to your PC drive!

Download 4Card Recovery
Information to Avoid More Camera data Loss:
* New camera data stored on this MMC card could cause more data loss. So, open the card written protection function or stop using this card before everything is restored back. 
*New storage device, not the original camera MMC card, to hold your restored camera stuffs could help avoid many unexpected data loss problems.
*New habit to save all crucial or precious camera card data on different drives or locations all the time can help avoid many above mentioned data loss problems.
Differences between MMC Card & SD Card
As a standard format of memory cards, both of MMC card and SD card can be used in different digital devices, including mobile phones, digital cameras, digital camcorders and some players, etc. But, they also have their differences. Firstly, in terms of capacity, the capacity of SD card is often improved all the time, like 1GB, 2GB, 4GB, 32GB and 64GB, etc. And, in the future, the number could be changed quickly. However, differently, the maximum capacity of MCC card is often 512MB. Secondly, in terms of the price, with the same capacity and other features, the price of a SD card is often higher than that of a MMC card. And thirdly, in terms of the usage, the MMC card often can be used on a device with a standard SD card slot. But, the SD card often cannot be used on a device with a standard MMC card slot. Therefore, next time, when trying to select a memory card for your camera, always check all camera and memory card instructions well in advance.

Download 4Card Recovery