Summary
Keep the below knowledge in mind and employ 4Card Recovery to restore all desired data back from the incorrectly formatted or erased SD card of your digital cameras within minutes.

Digital Camera SD Card Recovery by 4Card Recovery
Free download 4Card Recovery to copy all lost or missing files, photos, videos, etc, back from the digital camera SD cards with different capacities, like 256MB, 512MB, 4GB, 32GB, 64GB and even up to 128GB.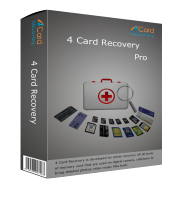 Want to Recover Photos& Files from Digital Camera SD Card?
In modern age, a common SD card is often compatible with nearly all digital cameras available on the market. That's why many people choose this type of memory cards to store their take pictures, temporarily files, audios and videos instead of other memory cards. However, no matter whether you regularly use this camera with a SD card plunged, you may also meet some situations to delete or lose your camera card contents incorrectly, such as making everything inside this camera SD card gone for accidental format/reformat, intentional deletion, unpredictable camera card RAW file system error/memory card error/memory card not formatted error and camera card corruption, etc. Under these camera card data loss situations, please relax! Even when you find no camera card backups, you also can restore your camera photos and files back with digital camera SD card data recovery software.
Step-by-step Tutorial to Restore Digital Camera SD Card Data:
Without special purposes, the taken photos and other camera information often can be stored on the camera internal memory or the inserted SD card. Different places to hold the camera data can bring you different data recovery results after losing something important inside this camera card. For instance, when saving it all on the camera internal memory, you often have no efficient ways to rescue everything back. The lost data has been erased permanently. However, when saving it all on the camera memory card, with the guidance of SD data recovery software like 4Card Recovery, you can easily rescue every lost file back from this original camera SD card within minutes.
Follow below step-by-step tutorial to restore everything back:
Step 1:
Set out to take your camera card contents back by downloading this application. Install it and insert your camera SD card. When this software is launched, just follow guidance to tab a practical card recovery mode.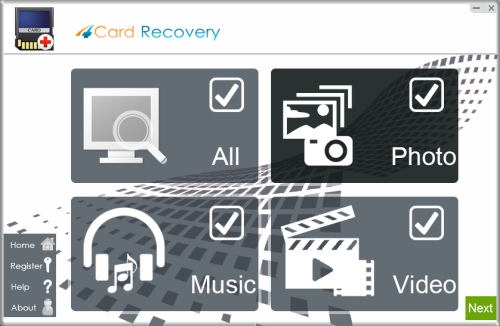 Select recovery options in the main interface
Step 2:
When all devices are detected by this software and listed on its screen, please pick out your camera SD card. And click "Next". Immediately, the scanning process will be automatically started.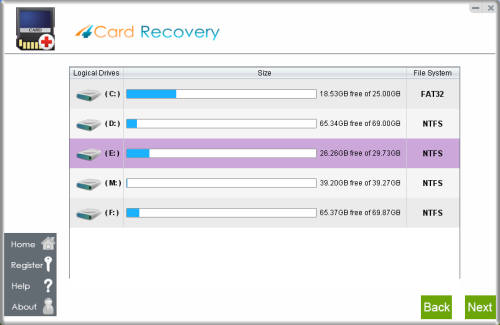 Select card to search photos off card
Step 3:
When the card scanning process is done within minutes, find all your wanted ones and mark them at the same time.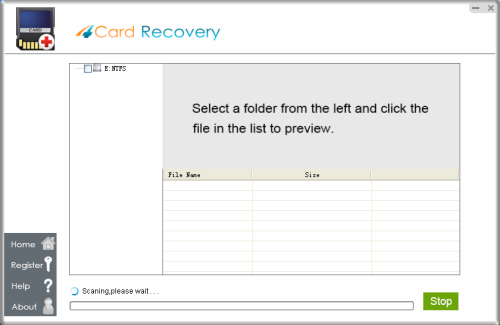 Wait while scanning lost photos, sometimes it takes about 20 minutes to scan a 32G card.
Tips: if it takes more than 2 hours to scan a 32GB card, you may stop the scanning and wait to see
what's already found. Since the card may contains bad blocks that takes longer time than usual.
Step 4:
Select an unrelated computer drive or storage device to hold all restored camera SD card pictures and files.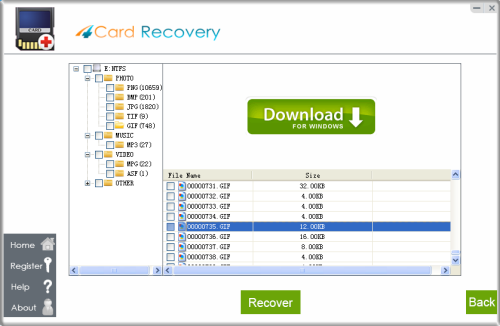 Preview lost photos and save found files. It would generate a folder to contain your lost data.
Please do not save the photo to the card where you lost them. Save them to your PC drive!

Download 4Card Recovery
Tips to Prevent Farther Card Data Loss:
* Pick out this original SD card and insert another memory card to store your newly captured images and videos, etc.
* Install and launch this recovery application on computer drive or folder, not this SD card.
* Different device to hold your restored camera card contents could help prevent many possible data recovery failures.
* Back up all preferred camera card photos, videos and files well on several devices in the future.
4Card Recovery User Comments:
Comment1: How efficient this data recovery software is! It had helped me saved much money and also restored all my wanted pictures and movies back from my formatted pen drive.
Comment2: I was really impressed with the data recovery features of this software. With the designed easy guidance, I have smoothly chosen the practical data recovery modes from four and taken all my phone Micro SD card contacts, mails, texts and messages back.
Comment3: Many of my friends also agree with your guys, since all of them all have applied this software and taken their wanted card or USB flash drive data back with success.


Download 4Card Recovery