Summary
4Card Recovery can help you restore all Nokia cell phone SMS, images, videos, contacts and messages back from your phone memory card timely, when this phone card is formatted, erased, deleted, virus-infected or corrupted unexpectedly without data backups.

Nokia Phone Card Recovery by 4Card Recovery
Free download 4Card Recovery copy back all your lost data back from Nokia cell phone memory card, when this card has some unexpected data loss troubles.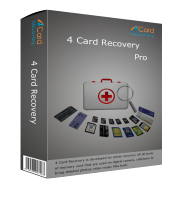 Durable Nokia Phone Also Has Memory Card Data Loss Troubles?
Besides some efficient features, like great readability in sunlight, advanced technology for wonderful photo taking and special appearance, Nokia phones often features for its durability and long power supporting. But, no matter how durable your Nokia phone is produced to be, the inner memory card may also have some data loss troubles. For example, phone memory card SMS is deleted or erased; phone memory card is suddenly asking you to format and never let you access anything inside; phone memory card is attacked by virus or spyware and never allows you to access inner data safely; Or phone memory card is corrupted or damaged and never enable you to rescue anything important out. OK! Forget the great features of your Nokia cell phone temporarily and begin to fix these memory card data loss troubles with phone memory card data recovery software.   
How to Fix Nokia Phone Memory Card Data Loss Troubles?
The Nokia cell phone is indeed created to be solid and efficient, which doesn't mean your plunged phone memory card is also powerful and used with no problems. Therefore, when your Nokia phone memory card has some memory card data loss troubles don't be nervous, let yourself keep calm and choose reliable card data recovery software like 4Card recovery to fix them all successfully. This phone card recovery software can scan your memory card for all possible files and restore them back with ease.
Therefore, follow proper steps to rescue your phone memory card contents:
Step 1:
Download this memory card recovery software to your Windows computer and choose a practical file type to recover. This software is often workable on Windows computers or laptops.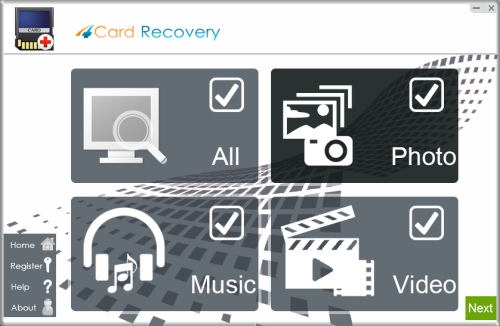 Select recovery options in the main interface
Step 2:
Scan this phone memory card after it is detected by this software. Once it is recognized, it will be listed on the media screen.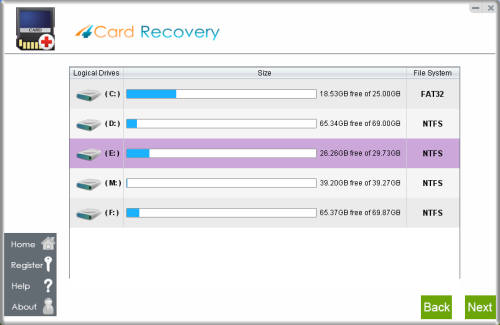 Select card to search photos off card
Step 3:
To choose out all needed phone files and folders, preview all scanned files and check them one by one.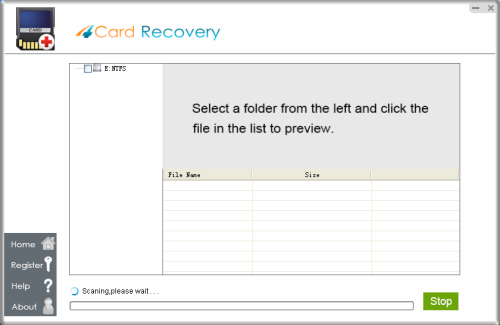 Wait while scanning lost photos, sometimes it takes about 20 minutes to scan a 32G card.
Tips: if it takes more than 2 hours to scan a 32GB card, you may stop the scanning and wait to see
what's already found. Since the card may contains bad blocks that takes longer time than usual.
Step 4:
To save data recovery time, recover all selected files and folders.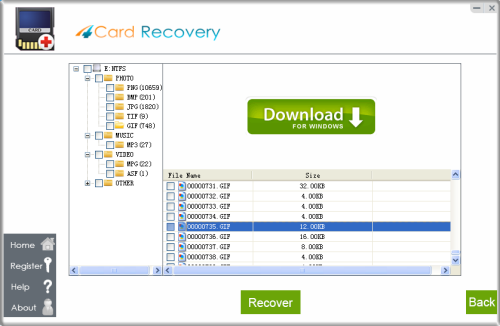 Preview lost photos and save found files. It would generate a folder to contain your lost data.
Please do not save the photo to the card where you lost them. Save them to your PC drive!

Download 4Card Recovery
Attention:
*You may restore nothing back, if you keep saving numerous files on this phone memory card.
* If possible, preview all scanned files one by one and restore all needed ones back.
* You may loss data again in the future, if you do not play a habit to get everything important backed up. 
User Comments of 4Card Recovery:
Comment1: Nice tool for Nokia phone memory card. This tool has helped rescued tons of SMS from my Nokia cell phone memory card. Thanks for sharing.
Comment2: I have downloaded this recovery software to rescue my Sony phone memory card images. The photo recovery mode finally finds many card photos and takes the ones that I need.
Comment3: Honestly, I tried to rescue my camera memory card data last year. I just forget many details. But, I still could remember it was this 4Card Recovery that had finally copied all my lost stuffs back.

Download 4Card Recovery