Summary
Take a look at 4Card Recovery to rescue all your data back from Micromax mobile phone memory card, when hundreds of, thousands of and far more phone files is inaccessible or lost from this phone card.

Micromax Phone Card Recovery by 4Card Recovery
Free download 4Card Recovery to take all lost data back from the memory cards of Micromax mobile phones with different types, like Canvas smart phones and Bolt smart phones, etc.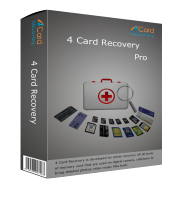 Lose Micromax Canvas & Bolt Smart Phone Memory Card Data?
As one of the best selling smart phones, Micromax Canvas and Bolt smart phones can bring you many stunning phone experiences, like remarkable and colorful photos, Wi-fi connectivity in seconds, diversified entertainment applications and more. But, sometimes, you may also accidentally delete tens of, hundreds of and even thousands of photos, contacts, videos, SMS, texts and other cherished files off from the phone memory card for unexpected deletion, format, reformat, RAW file system, virus infection and even card corruption, etc. If you are really facing one of these above mentioned phone memory card data loss issues, don't be depressed, pay attention to use Micromax mobile phone memory card data recovery software to take your phone contacts, SMS, videos, images and others back form your Micromac Canvas or Bolt Smart phone memory cards.
How to Recover Micromax Canvas& Bolt Phone Memory Card Information?
Like other phone memory cards, after accidental deletion, format, RAW file system error or memory card error and more happens to your Micromax Canvas& Bolt phone memory card, the stored data inside is not completely destroyed or erased. Before you do any change to this memory card, like allocating new data there or formatting this card, you do have much time to rescue your phone memory card stuffs back with phone memory card data recovery software like 4Card Recovery, which is able to recover all prevailed files back from memory cards of smart phones, camcorders, digital cameras, MP3/MP4 players and more devices.  
So, download 4Card Recovery and install it to rescue your Micromax mobile phone memory card data:
Step 1:
Plunge your Micromax mobile phone to computer and enable its debugging well there. Lunch this software and click a data recovery mode.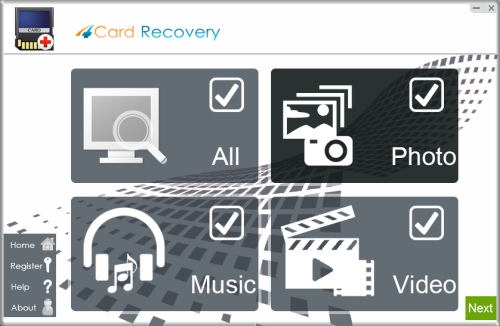 Select recovery options in the main interface
Step 2:
Go to the media screen and click your phone memory card there to scan.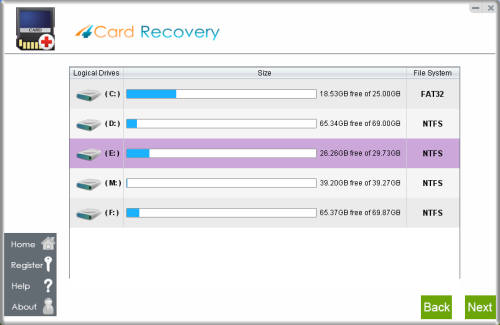 Select card to search photos off card
Step 3:
Browse all scanned card data when you see a screen that lists all found original phone card files.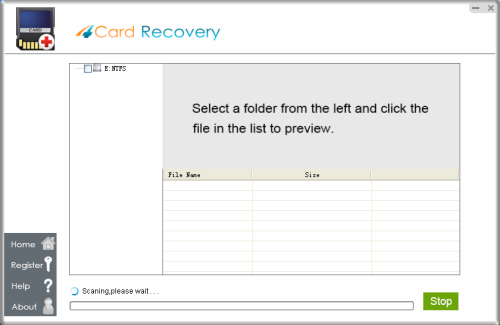 Wait while scanning lost photos, sometimes it takes about 20 minutes to scan a 32G card.
Tips: if it takes more than 2 hours to scan a 32GB card, you may stop the scanning and wait to see
what's already found. Since the card may contains bad blocks that takes longer time than usual.
Step 4:
Go to the next Window and recover all recoverable files back.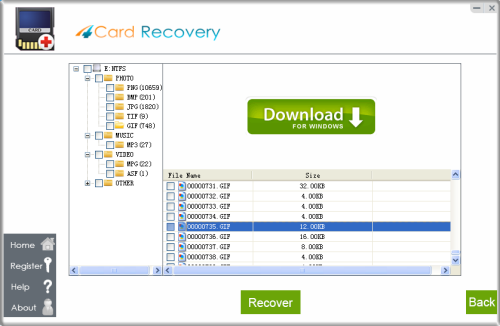 Preview lost photos and save found files. It would generate a folder to contain your lost data.
Please do not save the photo to the card where you lost them. Save them to your PC drive!

Download 4Card Recovery
Note:
* If you are considering saving new data on this phone memory card, immediately stop thinking and pick this card out from your phone in case of data loss.
* If you are considering saving all restored phone files on this memory card again, stop thinking and move them all to computer drives or storage devices.
*if you are considering saving all important phone data on this memory card only again, stop thinking and prepare two or more copies of everything important there on different drives or places.
Replies of 4Card Recovery Users:
Reply1: Hey, friends, each time I tried to use this 4Card Recovery to rescue lost data from my phone memory card, I would have a successful result. It has helped me restored about 3057 photos back. Thanks!
Reply2: I was not able to copy any of my photos out from the formatted camera memory card at first. Many online free card data recovery software had failed to rescue my card contents. But, after trying this data recovery software, everything had been changed. I had rescued most of my images back and also restored the use of this camera card.
Reply3: Nothing strange happened to my phone. But, the inner memory card still got a RAW file system problems and phone card SMS and contacts were inaccessible. But, fortunately, by following the mentioned steps, I really recovered my phone data with this data recovery software.

Download 4Card Recovery