Summary
This tutorial will discuss how to recover data from the Micro SD card of Alcatel smart phone, when all card SMS, photos, videos, audios, office files, songs and more are gone for deletion, format, virus, dropping and even RAW file system, etc.

Smartphone Card Recovery by 4Card Recovery
Free download 4Card Recovery to rescue all contained data back from Alcatel phone memory card, when you've get accustomed to save phone data on the inner memory card in daily use.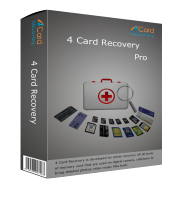 Erase or Format Your Alcatel Smart Phone Memory Card?
Nowadays, almost all types of Alcatel smart phones allow one to insert a Micro SD card (up to 32GB in capacity) for expanding the phone memory. Therefore, as an Alcatel smart phone user, have you already get accustomed to save everything precious or important on your inserted phone memory card? This Micro SD card is really convenient for you to store and transfer your phone contacts, photos, videos, messages and other information to computer, isn't it? But, sometimes, when using this memory card between the phones and computers, it is also easy to erase or format this card for improper operations and make all crucial stuffs deleted or missing, right? Don't worry! Stop using this Micro SD card in your Alcatel smart phone and link it to your computer for rescuing your wanted stuffs back with Alcatel smart phone memory card data recovery software.
Procedure to Recover & Back up Alcatel Phone Memory Card Data
After improperly erasing or formatting your Alcatel phone memory card data, you probably cannot easily undo what you've done to this card. But, without new stuffs written on this phone memory card, it is indeed a simple task to restore your original phone card data back with phone memory card data recovery software. This data recovery software always works well with RAW file system card data recovery issues, deleted card data recovery issues, formatted card data recovery issues, corrupted card data recovery issues and more.
Therefore, here is procedure for you to get back your phone memory card:
Step 1:
Download and install this software. Plunge this Alcatel phone memory card, launch this software and tap the data recovery mode from its main screen.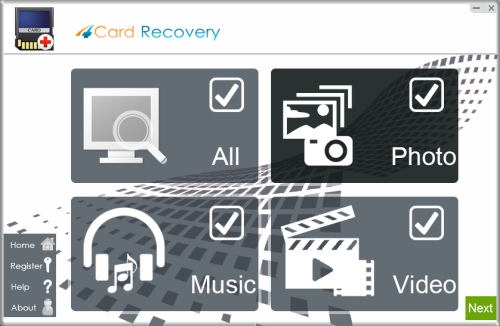 Select recovery options in the main interface
Step 2:
View the detected storage media and tap your phone memory card to scan.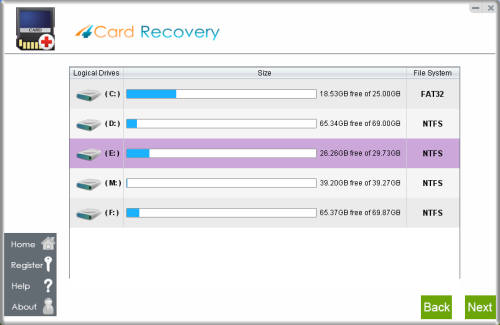 Select card to search photos off card
Step 3:
Screen down to preview all listed files and mark all needed ones out.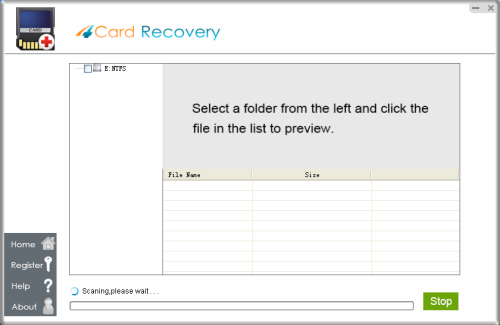 Wait while scanning lost photos, sometimes it takes about 20 minutes to scan a 32G card.
Tips: if it takes more than 2 hours to scan a 32GB card, you may stop the scanning and wait to see
what's already found. Since the card may contains bad blocks that takes longer time than usual.
Step 4:
Tap "Recover" to get all erased files back and move them to computer places.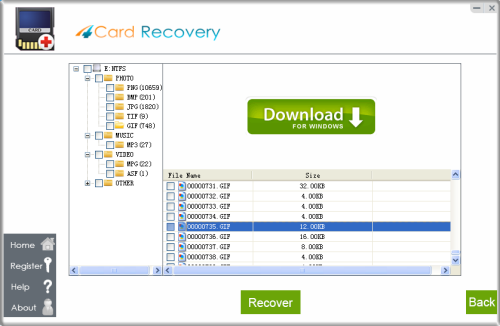 Preview lost photos and save found files. It would generate a folder to contain your lost data.
Please do not save the photo to the card where you lost them. Save them to your PC drive!

Download 4Card Recovery
Tips:
* Try to confirm that there is no new data is written this Alcatel phone memory card before data recovery.
* Try to confirm that the restored phone card data is moved to computer drives or other storage devices after data recovery.
* Try to confirm all Alcatel phone memory card data is timely backed up to computer drive or other places in the future.
Other Stories of 4Card Recovery Users:
User1: Thank you for starting an article related to phone memory card data recovery. I am also a user of Alcatel smart phone. But, the inner Micro SD card also has ever brought me the similar data loss problems. But, thanks to this data recovery software, all my messages and videos are re-viewed.
User2: I will buy a new hard disk to back up all my phone and camera data. In fact, a couple of days ago, I also lost my camera memory card data for accidental deletion and also without any data backup. But, due to this memory card recovery software, I had rescued my stuffs back. Moreover, I also have learned how important it is to make data backups. Thanks!

Download 4Card Recovery