Summary
Use digital camera memory card data recovery software, 4Card Recovery, to restore all your favorite Pentax digital camera pictures back from camera memory card, when they are deleted, erased, inaccessible, unreadable or invisible.

Pentax Camera Card Recovery by 4Card Recovery
Free download 4Card Recovery to copy back all precious images back from Pentax digital camera memory card. This software also works on the memory cards of other branded digital cameras, like Nikon, Olympus, Panasonic, Fuijifilm and more.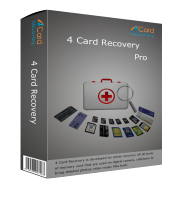 Favorite Pentax Digital Camera Card Pictures Are Deleted or Inaccessible?
Pentax, as one of the famous digital camera brands, has offered a range of worthwhile cameras for people all over the world, especially its highly-praised mirrorless cameras. However, it is also common for Pentax camera users to lose his favorite pictures when capturing another one. Actually, these similar camera card photo loss problems could be aroused or affected by many factors, including preparing no extra camera card image backup, unintentional camera card formatting, wrong card photo deletion, unexpected camera card RAW file system problem, camera card with unknown viruses, or unwanted camera card errors, etc. But, no matter what really affects your Pentax camera memory card images, you can freely apply Pentax digital camera memory card data recovery software to restore all your preferred images with general formats back.
How to Restore Favorite Pictures from Pentax Camera Memory Card?
When favorite pictures are deleted or lost off from your Pentax digital camera memory card, do not lose your head and do anything stupid to cause more card picture loss, like placing new photos to overwrite your original ones, formatting camera card for erasing all original card data and even damaging this card for some accidental operations. Just keep yourself rational and seek helps from some digital camera memory card data recovery software like 4Card Recovery, which can help people take back all deleted, erased, inaccessible, unreadable or invisible data back from different branded camera memory cards. Now, go to retrieve all your preferred camera pictures back:
Step 1:
Download, install and launch this camera card recovery software on your computer with your attached Pentax camera memory card. To rescue camera card picture only, simply choose "Photo" recovery mode only.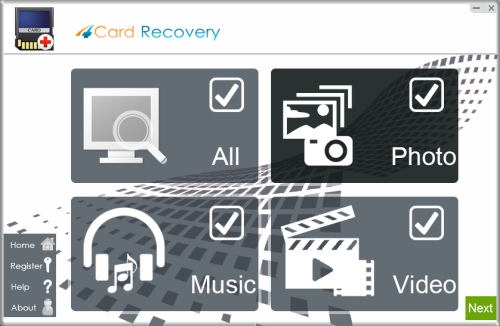 Select recovery options in the main interface
Step 2:
Find and scan your attached camera memory card. Remember the drive letter of this card after connecting it to your computer.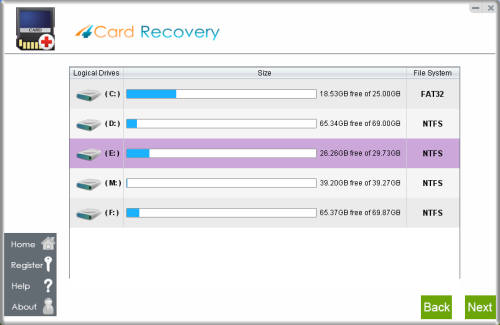 Select card to search photos off card
Step 3:
Verify and mark all favorite camera card photos. Perhaps, not all of these scanned images are useful for you. Just hook the needed ones out.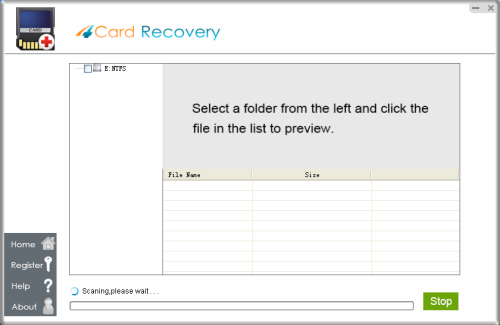 Wait while scanning lost photos, sometimes it takes about 20 minutes to scan a 32G card.
Tips: if it takes more than 2 hours to scan a 32GB card, you may stop the scanning and wait to see
what's already found. Since the card may contains bad blocks that takes longer time than usual.
Step 4:
Restore and save your camera card images. Just save all restored images on a different storage device.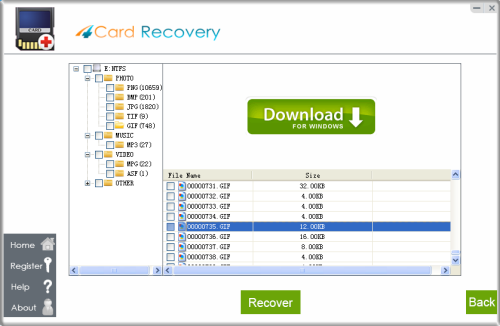 Preview lost photos and save found files. It would generate a folder to contain your lost data.
Please do not save the photo to the card where you lost them. Save them to your PC drive!

Download 4Card Recovery
Note:
* You also can choose other data recovery modes of this software to restore all types of memory card files.
* You also can choose another USB flash drive, hard drive or other storage device to store your retrieved card images. But, this original memory card is not recommended.
*You also can purchase or prepare more storage devices to remain your Pentax camera memory card images in the future.
Mirrorless Pentax Cameras
As we've mentioned above, Pentax often features for its mirrorless cameras all over the world. But, do you know what a mirrorless Pentax camera is? OK! When people talks about the mirrorless camera, they will often talk about DSLR cameras. In fact, comparing to the DSLR camera which uses a mirror to divert the light for helping us capture photos, the mirrorless camera, as its name implies, is designed with no any mirror and uses a completely new and different theory to help us take amazing photos. So, since they are created differently, the price, weight, size and image quality of these two sorts of cameras are also different. Therefore, choose one after knowing all differences well.    

Download 4Card Recovery