Summary
4Card Recovery is helpful in restoring all lost or inaccessible photos, videos, files and more back from the memory card of different compact digital cameras after deletion, format, virus-infection and logical card damage, etc.

Compact Camera Card Recovery by 4Card Recovery
Free download 4Card Recovery to regain all desired images, films, texts and other files from the memory cards of different branded compact digital cameras available, like Canon, Olympus, Fujifilm, Sony, Nikon and more.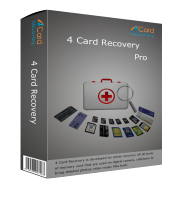 Why to Perform Data Recovery Process on Compact Camera Memory Card?
Owning to being produced with proper size, a compact digital camera often can be easily taken around within a packet of jackets, shirts, or even pants, not within a particular camera bag. That's why this special type of digital cameras becomes famous quickly. However, as a compact camera user, except seizing the right time and angel to capture wonderful photos, you are also supposed to take your attention to protect these photos well. Why? All of these compact camera memory card pictures can be really easily deleted, inaccessible or lost for many reasons, such as deleting them all mistakenly when trying to seize new moments, accidentally formatting camera memory card when trying to view them on camera, forcedly formatting this camera card for RAW file system or other memory card errors. When any of all these troubles occurs, just perform data recovery process on this compact camera memory card to get all possible pictures back.
How to Recover Compact Camera Memory Card Data in Most Cases?
Many people choose a compact camera for its small dimensions and good picture quality. However, sometimes, as one of the users of these popular cameras, they may also encounter some camera photo loss problems due to intentional operations or camera memory card malfunctions. But, without any worry or fear, you can freely apply compact camera memory card data recovery software like 4Card Recovery to copy all wanted camera photos out from the inner used memory card. With this handy data recovery software, you always can rescue different photos, videos, files and others back from different branded compact camera memory cards.
Hence, now, run this software to rescue your photos:
Step 1:
Download the provided demo of this software and run it well on your computer. Plunge this compact camera to the same computer and hook a practical data recovery mode.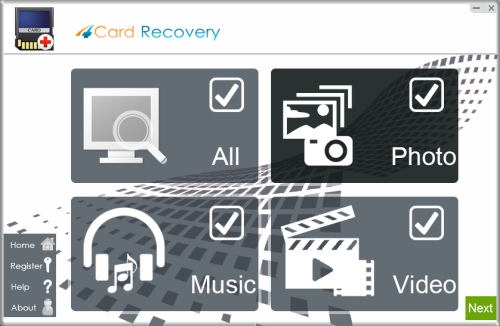 Select recovery options in the main interface
Step 2:
Select this compact camera memory card and begin to scan it. The scanning process may spend some time. You could do whatever you want during the scanning.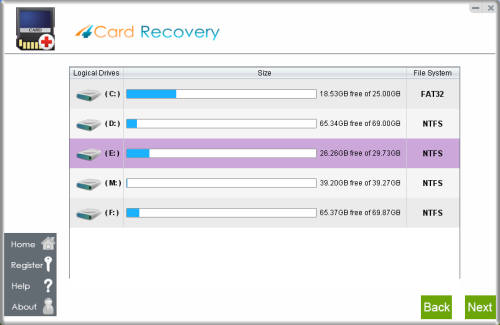 Select card to search photos off card
Step 3:
Now, see all scanned camera photos listed on the screen of this software? Click them one by one to pick the lost ones out.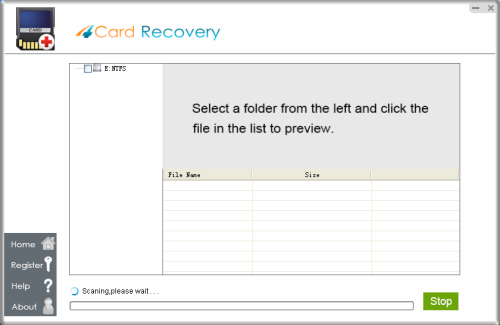 Wait while scanning lost photos, sometimes it takes about 20 minutes to scan a 32G card.
Tips: if it takes more than 2 hours to scan a 32GB card, you may stop the scanning and wait to see
what's already found. Since the card may contains bad blocks that takes longer time than usual.
Step 4:
Choose a computer drive or partition to save your restored camera photos.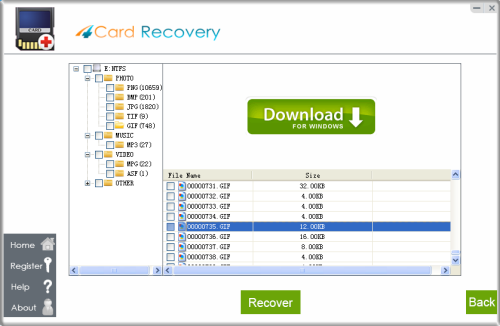 Preview lost photos and save found files. It would generate a folder to contain your lost data.
Please do not save the photo to the card where you lost them. Save them to your PC drive!

Download 4Card Recovery
Common Tips:
* By using this data recovery software, far more memory card file types could be restored, like photos, films, messages, texts and word files, etc.
* By using this software to restore all lost card data, you are also supposed to save no more stuff on this original camera memory card.
* By using this software to re-view everything lost or deleted, the restored stuffs also are supposed to be stored on a different storage device.
* Back up all Sigma camera memory card stuffs on different devices.
Compact Digital Camera Description
The compact digital camera, also called point-and-shot camera, is talking about a digital camera that is created in really small size or dimension. Even through the photos captured with a compact camera are not as prefect and clear as the ones taken with some cameras with normal sizes, like SLR cameras or DSLR cameras, this compact cameras are also popular within people to take some pictures of vacations, parties and walking and other events. Therefore, if you do have some interests in such portable cameras, you also have many brand choices, like Canon, Olympus, Samsung, Panasonic, Nikon and more.

Download 4Card Recovery