Summary
This tutorial will tells you how to undo any undesirable accident and restore all missing or lost Ricoh camera memory card videos and photos with 4Card Recovery, when you have make great efforts to capture them under tough conditions.

Ricoh Camera Card Recovery by 4Card Recovery
Free download 4Card Recovery to recover photos, videos and other files from the memory card used in your Ricoh digital camera.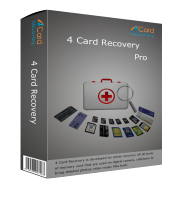 Data Recovery Software Is Possible to Recover Ricoh Camera Memory Card Data?
Be designed with tough features, like shock, water, dust, cold and chemical resistance, a Ricoh digital camera can easily help users take desired photos or movies even when the around conditions are really bad. The outstanding ease of use is also another irresistible feature of this branded digital camera. So, what's your reason to use Ricoh digital camera, the mentioned tough features, easy-to-use feature, or others? OK! No matter why you choose this brand of digital cameras, you definitely can use Rich camera memory card data recovery software to get your cherished photos, videos and files back from inner used memory card, when all of these stuffs are erased, inaccessible or lost for some reasons, like accidental deletion, RAW file system camera memory card, virus-infected camera memory card, memory card error, memory card not formatted error, formatted memory card and even camera card corruption, etc.
Data recovery software really works in such camera memory card data loss cases.
How to Recover Ricoh Digital Camera Memory Card Photos, Movies & Files?
It is quite possible to recover data, like photos, movies, files, messages and more contents, back from Ricoh digital camera memory card with camera memory card data recovery software like 4Card recovery. But, before setting out to performing the data recovery process on this camera memory card, you also should do some precautions in case of farther card data loss problems: never save new more stuffs on this camera memory card after losing camera data and also never format this camera memory card after meeting some not formatted errors problems, RAW file system problems and memory card error problems, etc.
And then, now, insert this Ricoh camera memory card to your computer and begin to retrieve your needed camera stuffs back:
Step 1:
Dowload and launch this recovery software well on your computer as well. After getting an interface with four file type recovery modes, mark one of them to continue.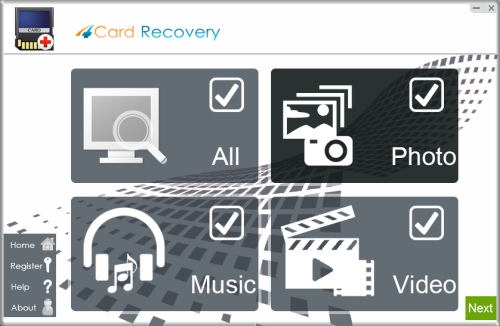 Select recovery options in the main interface
Step 2:
When seeing an interface with all detectable drives and storage media, highlight this inserted camera memory card to get the deep scanning started.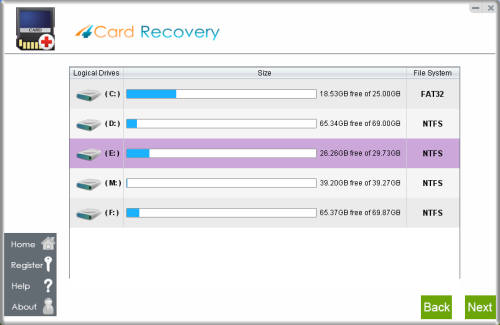 Select card to search photos off card
Step 3:
When popping out an interface with all scanned files and other stuffs displayed, click them one by one to select the preferable ones out.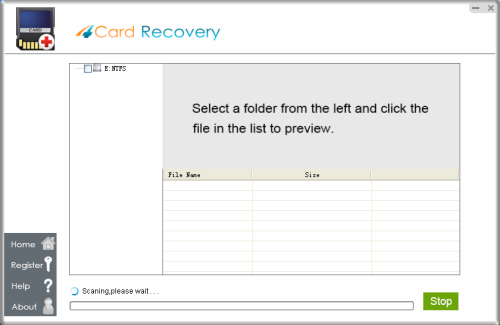 Wait while scanning lost photos, sometimes it takes about 20 minutes to scan a 32G card.
Tips: if it takes more than 2 hours to scan a 32GB card, you may stop the scanning and wait to see
what's already found. Since the card may contains bad blocks that takes longer time than usual.
Step 4:
When checking all listed stuffs, click Restore button to get them all back. The destination mediate is supposed to be the computer drives or folders.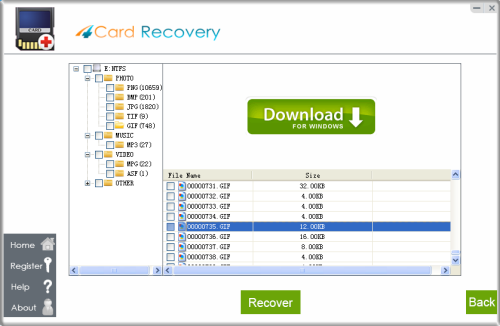 Preview lost photos and save found files. It would generate a folder to contain your lost data.
Please do not save the photo to the card where you lost them. Save them to your PC drive!

Download 4Card Recovery
PS:
* Never save or install this data recovery software on the original camera memory card.
* Never save restored camera card photos, videos and files on the same camera memory card.
* Never save all desired camera card photos and other stuffs on only one storage device. Make card data backups well.
Ricoh Digital Camera Description:
Except the tough features and easy-to-use feature, there are also other merits that can make one to choose Ricoh digital cameras from other branded ones. For example, being equipped with Bluetooth and wireless LAN functions, one could easily download or upload photos through WI-FI or Bluetooth. Being designed with a variety of camera storage modes, one could easily and safely manage his photos and other stuffs. Saving everything important on the camera inner memory, you can directly view them on this camera at any time. Saving all photos and stuffs on the camera memory card, you also can freely view them on other devices as you wish. Overall, Ricoh digital camera also has its own attractions.

Download 4Card Recovery