Summary
Samsung digital camera memory card data recovery software will be introduced here to recover your captured high qualified photos from Samsung camera memory card in almost all possible camera card data loss cases.

Samsung Camera Card Recovery by 4Card Recovery
Free download 4Card Recovery to make full use of its built-in features and restore all your desired Samsung camera pictures back from inner used memory cards, not the camera internal memory.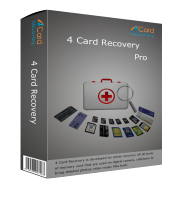 Big Mistake to Delete or Lose Samsung Camera Memory Card Pictures?
Being born in this age with highly developed technologies and sciences, it is always optional for digital camera users like you to store cherished photos directly on the camera internal memory or extra memory card. However, when talking from the photo safety and convenience, placing them all directly on the external camera memory card could be a better choice to continue. So, have you saved all your captured camera photos on the inner memory card? How do you mistakenly lose or delete your Samsung camera memory card pictures, accidental deletion, forcedly camera card quick or full format, unwillingly formatting camera card for strangely RAW file system, unintentionally erasing all camera card stuffs for not formatted error, or simply gaining a corrupted camera card? OK! Clam down! Forget this so-called "big mistake" and capture all your attention to restore all your lost camera pictures back with special Samsung camera memory card data recovery software. 
Correct Mistake to Restore Samsung Camera Memory Card Pictures Right Now
No matter whether it is your mistake to delete or lose these desired camera memory card pictures, what's done is done. The next step for you right now is to correct this mistake and take all missing camera card images back with your ways. Here is third-party memory card data recovery software named 4Card Recovery that can be your ideal way to rescue everything remained back. By using this software, except Samsung camera memory card pictures, you also can regain all types of files (like videos, audios, mails and files) back from the memory cards of digital cameras, smart phones, camcorders and even other electronic devices.
Download this software and restore your camera card stuffs back step by step:
Step 1:
Open the main interface of this data recovery software and pick out a data recovery mode to begin.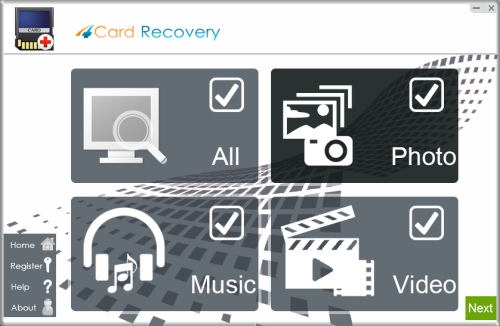 Select recovery options in the main interface
Step 2:
Open the media interface to select the Samsung camera memory card to scan.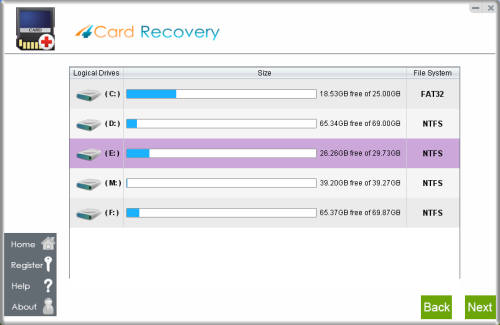 Select card to search photos off card
Step 3:
Open all scanned memory card files one after one to mark the wanted ones out.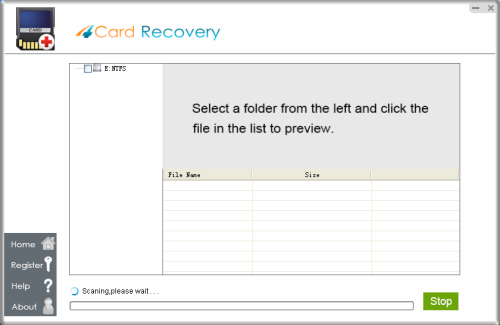 Wait while scanning lost photos, sometimes it takes about 20 minutes to scan a 32G card.
Tips: if it takes more than 2 hours to scan a 32GB card, you may stop the scanning and wait to see
what's already found. Since the card may contains bad blocks that takes longer time than usual.
Step 4:
Open the destination device to hold your restored camera card pictures and other stuffs.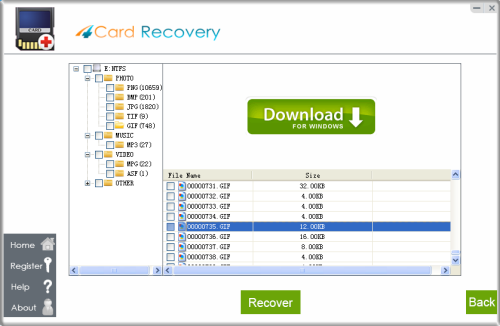 Preview lost photos and save found files. It would generate a folder to contain your lost data.
Please do not save the photo to the card where you lost them. Save them to your PC drive!

Download 4Card Recovery
PS:
* Put no more camera photos on this memory card in case of farther data loss.
* Locate a different storage device, not the same camera memory card, to save your restored camera card contents.
* Save copies of all your captured photos on separate devices or online storage in the future. 
Additional Words for Future Use:
There are countless perfect digital cameras all over the world. However, no matter how efficient and powerful your camera is, there is often no guarantee that all your camera card photos or files could be safe all the time. So, as to this topic, here are some additional tips for you to use your camera safer:
* Keep your installed antivirus tools updated all the time for finding all possible threats of your digital camera timely.
* Keep your camera photos and files stored directly on the inner memory card, not camera internal memory.
* Keep your camera card data copies saved on different storage devices and also update these backups timely.
* Keep your camera memory card be removed safely from your camera or computer in case of some card corruption or card error problems.

Download 4Card Recovery