Summary
Use 4Card Recovery, which is specially designed for Micro SD card or other memory cards used in different types of mart phones, to restore all lost or deleted phone data back.

Smartphone Micro SD Recovery by 4Card Recovery
Free download 4Card Recovery to take all phone videos, images, SMS, texts and files back from smart phone memory card, no matter whether this inserted card is a Micro SD card, SD card, CF card or Mini card, etc.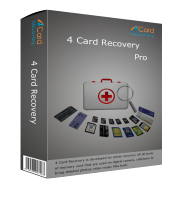 Need Help with Smart Phone Micro SD Card Data?
Up to now, most of smart phones have been designed with an expansion slot that enables users to insert a Micro SD card (or other memory cards) and extend the phone memory with ease. This Micro SD card really works best to store, protect and transfer crucial phone data. However, without full attention, you may also get stuck in some data loss troubles related to this Micro SD card. Have you ever deleted your phone card stuffs for stupidly random clicks? Have you ever formatted your phone card for unintentional choosing "Yes" option of a "Not formatted error" message? Have you ever been forced to format your phone card for "RAW file system"? Have you ever formatted your phone card data without preparing data backups in advance? Or have you ever lost phone card data for removing this card suddenly? In short, no matter how you lose your precious smart phone Micro SD card data, there are still chances for you to take all phone data back with Micro SD card data recovery software.
Help You Restore Smart Phone Micro SD Card Data Completely
For lack of phone card data backups, it is often an annoying task to get lost phone card data back, especially for someone that know little about data recovery. However, in fact, without knowing enough data recovery knowledge and skills, the data recovery process also is able to be as easy as possible. What you need is only some easy-to-grasp memory card data recovery software like 4Card Recovery, which is designed with simple and understandable hot keys and options. With this data recovery software, you could take all phone videos, images, texts and more back in several simple clicks.
Here are detailed steps for you to restore phone cars stuffs:
Step 1:
Download and connect. Download this software and connect this phone card to computer with a card reader or your smart phone. After installing this software well, tap a data recovery mode to go on recovery process.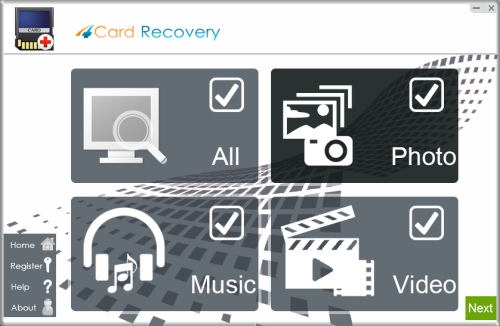 Select recovery options in the main interface
Step 2:
Choose and scan. Choose this Micro SD card out from other media and scan it to search all possible card stuffs.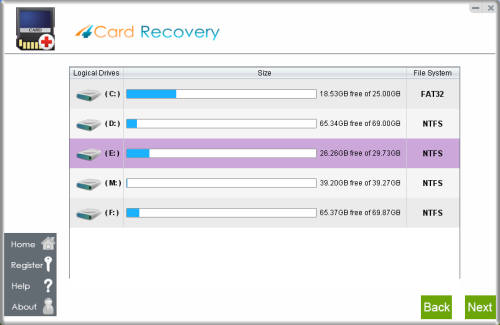 Select card to search photos off card
Step 3:
Preview and hook. Preview all listed photos, videos and other files after scanning and hook all useful ones out to prepare for the final data recovery process.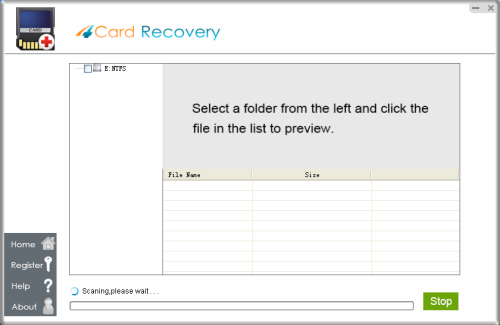 Wait while scanning lost photos, sometimes it takes about 20 minutes to scan a 32G card.
Tips: if it takes more than 2 hours to scan a 32GB card, you may stop the scanning and wait to see
what's already found. Since the card may contains bad blocks that takes longer time than usual.
Step 4:
Restore and save your camera card images. Just save all restored images on a different storage device.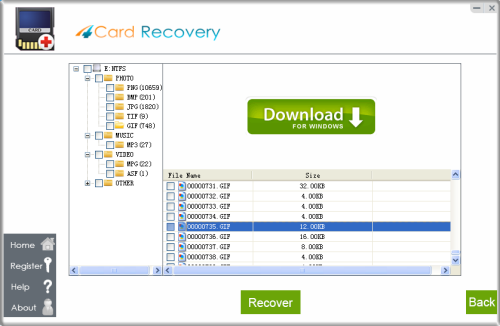 Preview lost photos and save found files. It would generate a folder to contain your lost data.
Please do not save the photo to the card where you lost them. Save them to your PC drive!

Download 4Card Recovery
Tips to Decrease Data Loss:
* Don't use this phone Micro SD card on any electronic devoice unless all phone data is rescued back.
* Don't save the restored card files on this Micro SD card of your smart phone again.
* Don't place all important smart phone videos, images, texts and more on this Micro SD card only.
Micro SD Card Data Recovery Software Comments:
Comment1: At first, my SD card cannot be read when being connecting to computer with my digital camera. So, I borrow a card Reader and try it again there. Luckily, it is recognized there. But, the camera card photos also cannot be accessed for a not formatted error message. But, by following the suggestions of my boy friend, I finally re-view my card photos with this Micro SD card data recovery. Hope my experience can give you some clues.
Comment2: Just have the same phone card data loss problems happened with my Samsung smart phone. All of my collage videos, images and files are lost for format. So, I have tried this data recovery software and successfully got all my wished stuffs back. It is really not too difficult to understand.

Download 4Card Recovery