Summary
Use handy 4Card Recovery to restore all your lost or inaccessible Leica digital camera pictures, videos, music and files from the plunged memory card, when all these lost camera stuffs are related to your future work or life.

Leica Camera Card Recovery by 4Card Recovery
Free download 4Card Recovery to retrieve all useful camera memory card stuffs back. With wonderful data recovery features, this software will easily help you restore all types of files from diversified camera memory cards.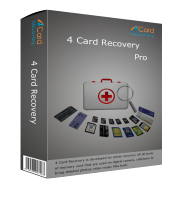 Lost Leica Camera Memory Card Data Is Related to Future Work/Life?
As the first company to create the modern 35mm camera, Leica also has unveiled another line of digital cameras with distinct features. All of them are great appeals to people who want to shoot perfect photos based on their own work/life needs. However, sometimes, after capturing superb photos with this camera, you may also delete or lose them unfortunately. For example, when attempting to upload them to your computer, laptop, tablet, or other storage device, you may mistakenly delete them off from the used camera memory card, directly format this camera memory card for wrong operations , need to format this memory card for RAW file system and memory card errors, or have to format this camera memory card for card corruption/damage. In this moment, simply stop using this camera memory card and find handy Leica camera memory card data recovery software to get all desired card data back, especially when all of these lost camera card photos are really dispensable in your future work or life.
Lost Leica Camera Memory Card Data Recovery
No matter whether these lost camera card photos are related to your work or life, without data backups left on another locations or places, it is always necessary for you to search for memory card data recovery software, like 4Card Recovery, to regain all your wanted data back from the memory card of your Leica memory card. With high data recovery rate, this data recovery software can help you easily rescue images, movies, messages, word files and more back from different types of camera memory cards.
Let's quickly restore your lost Leica camera memory card photos back:
Step 1:
To start the data recovery process as quickly as possible, download and launch this software on your computer well. Double click its shortcut to open the main screen and hit a file type recovery mode.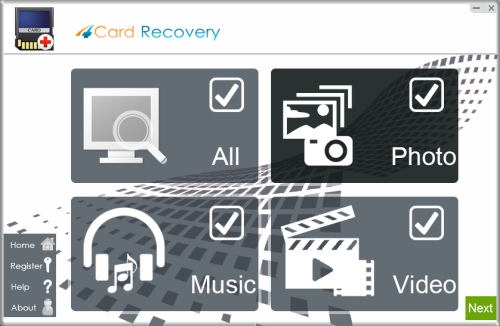 Select recovery options in the main interface
Step 2:
Scan this Leica camera memory card after inserting this camera well and pick it out from other presented computer media.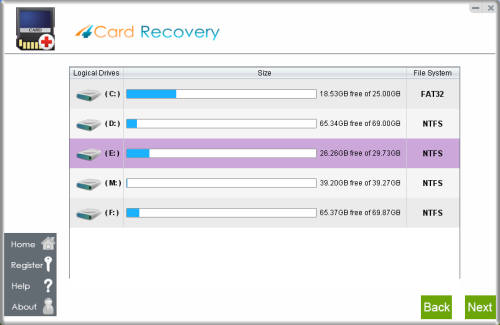 Select card to search photos off card
Step 3:
To regain your lost camera photos completely, preview all listed files and mark wanted ones. Don't be fooled by the file names. The names of these scanned files may be extremely changed.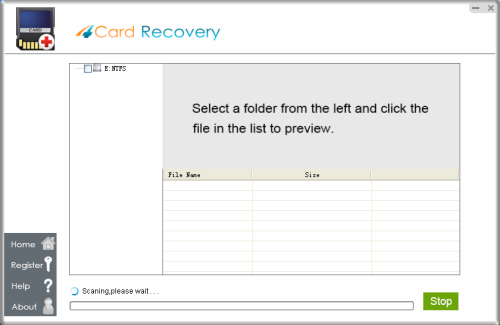 Wait while scanning lost photos, sometimes it takes about 20 minutes to scan a 32G card.
Tips: if it takes more than 2 hours to scan a 32GB card, you may stop the scanning and wait to see
what's already found. Since the card may contains bad blocks that takes longer time than usual.
Step 4:
Click Recover button to get all marked files back.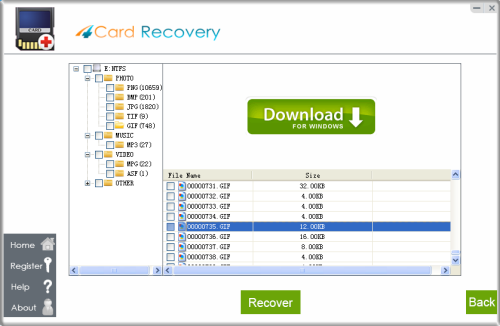 Preview lost photos and save found files. It would generate a folder to contain your lost data.
Please do not save the photo to the card where you lost them. Save them to your PC drive!

Download 4Card Recovery
Caution:
*To avoid permanent overwriting, move no new images, videos and files on this Leica camera memory card.
*To avoid permanent data recovery failure, move all restored camera card photos on computer drives or other devices.
* To avoid unknown data loss cause in the future, save all precious camera photos on computer drives regularly.
What Causes Bring You Permanent Camera Card Data Loss?
With the most efficient camera memory card data recovery software, you may also lose your camera data permanently sometimes. Here are some causes that may give you some clues:
1). Deleted/lost camera data is stored on the camera internal memory.
With data recovery software, you often can easily restore lost camera data back from the inner memory card when the entire data has been already placed on the camera memory card in advance. But, if you only have put it on the camera internal memory, after deletion or formatting process, the camera data is often permanently lost.
2). Camera memory card is failed or corrupted.
Once a camera memory card is failed or corrupted completely, it is often no way to get the remained data back.
3). Camera memory card is rewritten by new camera data.
Generally, the camera memory card data is not erased immediately after deletion or format. But, it can be easily replaced by anything new on the same memory card. So, no matter how and why you lose your camera card data, do not rewritten this card with anything else.

Download 4Card Recovery