Summary
Learn how to professionally perform data recovery process on your phone memory card to regain all lost photos, images and more, no matter which type of operating systems your phone are using right now, like Android and Windows.

Windows Smart Phone Memory Card Data Recovery
Free download 4Card Recovery to restore all smart phone data back from the inner memory card, no matter what brand of Windows phone you are using, like Nokia, Samsung and Windows phone, etc.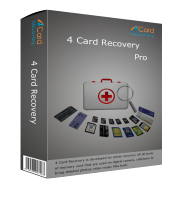 Have Windows Smart Phone Memory Card Data Loss Issues?
There are many smart phone manufacturers that offer purchasers smart phones that are running Windows mobile operating systems, like Nokia, Samsung, Windows phone and the likes. However, no matter what type of Windows smart phones you are using to enrich your life, you may also become worried or depressed, when this phone has some memory card data loss issues, like deleting phone memory card photos, formatting phone memory card and losing all connected videos, inaccessible phone card for virus infection, being asked to format phone memory card for RAW file system, having to format phone memory card for memory card error and even card corruption, etc. But, no matter how gloomy you are, never put new data or file on this phone memory and launch Windows phone memory card data recovery software to rescue your lost phone card data as much as possible.
Launch Data Recovery Software& Restore Lost Phone Card Data
It is really a great shock to lose all cherished phone data, like messages, texts, photos, videos and others, from Windows phone memory card, especially for someone that has not get accustomed to make phone card data backups. Do you also feel the same? OK! Take a deep breath! Don't be so pessimistic! You still can rescue these lost phone card information back with memory card data recovery software like 4Card Recovery, which can make it possible to completely take back all lost phone memory card files back with fast speed and high quality.
Let's take closer steps to rescue your Windows phone card data with this software:
Step 1:
Download and launch this software on your computer. Select a fixable data recovery mode latter. If necessary, pick out this phone card and insert it to your computer with a functional card Reader.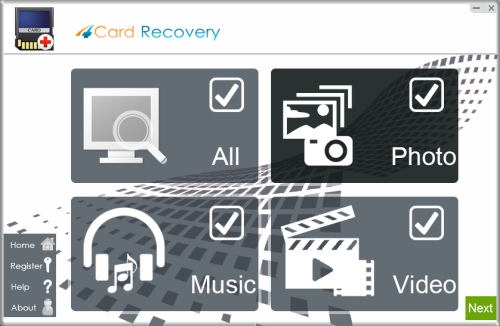 Select recovery options in the main interface
Step 2:
Highlight this phone memory card to scan all your lost phone data. You may need to wait there for a while, if there is a large amount of original card data.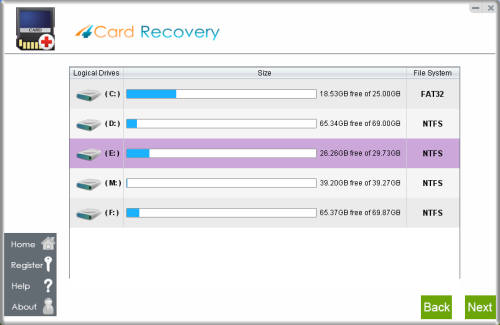 Select card to search photos off card
Step 3:
Preview all scanned card photos. Check the scanned data and also mark the necessary ones out, if you don't want to spend much time in data recovery.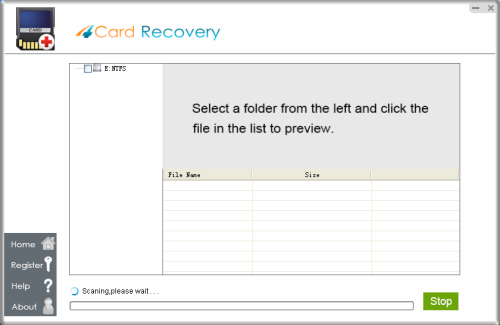 Wait while scanning lost photos, sometimes it takes about 20 minutes to scan a 32G card.
Tips: if it takes more than 2 hours to scan a 32GB card, you may stop the scanning and wait to see
what's already found. Since the card may contains bad blocks that takes longer time than usual.
Step 4:
Restore all marked phone card data back. Transfer restored data to computer drive or USB flash drive, if you don't want to lose data again.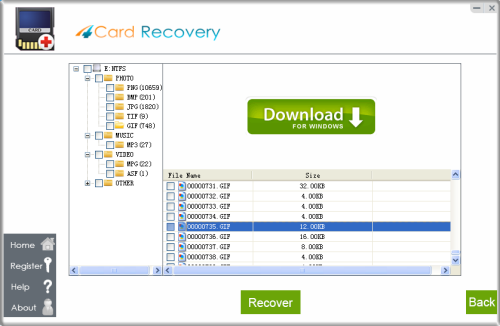 Preview lost photos and save found files. It would generate a folder to contain your lost data.
Please do not save the photo to the card where you lost them. Save them to your PC drive!

Download 4Card Recovery
Tips:
* If possible, pick out Windows phone memory card and never write new data there.
* If possible, scan this phone memory card more times to get back your phone data as much as possible. 
* If possible, create data backups at least on two different places to avoid similar data loss problems in the future.
Extra Information of Windows Smart Phones:
In this article, the Windows smart phones are talking about some phones that are using the Windows mobile operating system, not only the phones that are created by Microsoft. Living in this global village, to meet requires of customers from different countries, states and areas, many smart phone manufacturers have designed their most types of smart phone with both of two operating systems. Therefore, there could be many choices when you decide to choose a Windows smart phone.

Download 4Card Recovery