Summary
Try to recover all lost or deleted pictures, videos, songs and other files back from Sigma digital camera memory card instantly, no matter whether you are using a SD, SDHC, MMC card on this camera. 

Sigma Camera Card Recovery by 4Card Recovery
Free download 4Card Recovery to restore all lost RAW or JPEG photos with different sizes back from your Sigma camera memory card. Other card file types are also workable with this software, like videos, songs, mails and more.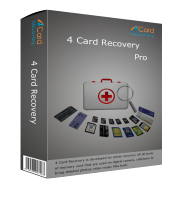 Don't Want to Delete or Lose Sigma Camera Memory Card Data Permanently?
Being developed for nearly 40 years, Sigma digital camera also gains its own fame among photographers and wins its own position in the best digital camera list. However, as an actual Sigma digital camera user, when using this camera to capture nice photos, you may also delete or lose your camera card information unexpectedly. Why? In some cases, you just cannot predict everything and prepare countermeasures all the time. Sigma Camera card RAW or JPEG photos are deleted for unexpected accidents? Sigma camera card with diversified files are formatted or reformatted for unwanted RAW file system error or memory card error? Sigma camera card information, like images, videos, music and files, is inaccessible for inadvertent dropping? Or Sigma camera card is not normally readable on computer for card corruption? Never wonder to lose these camera card contents permanently? OK! Don't worry! With powerful Sigma camera memory card data recovery software, you can easily copy all lost camera card stuffs out from this camera card successfully.
Recover Deleted or Lost Sigma Camera Memory Card Data
Always double checking the camera memory card data before deletion or format can help avoid many similar camera card data loss problems. Or without a habit to check everything twice before doing any chance to camera card data, making camera card data backups, especially some online data backups, also is an ideal manner to stop these data loss problems happening. However, when these unwelcome camera card data loss problems have already got you, also without data backups, don't panic and download camera memory card data recovery software like 4Card Recovery to recover your deleted or lost camera photos, videos and the likes back.
Follow the steps to finish the data recovery process:
Step 1:
Insert this camera memory card to computer and check whether it is recognized there well. Click shortcuts of this data recovery software and tab a data recovery mode to this Sigma Camera memory card.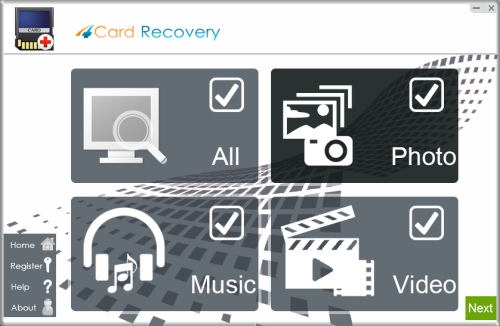 Select recovery options in the main interface
Step 2:
Click this camera memory card after choosing a data recovery mode and scan this camera card to search for all lost stuffs.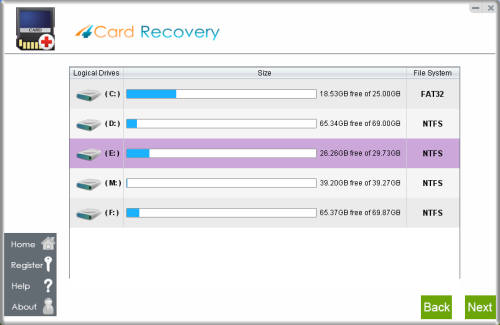 Select card to search photos off card
Step 3:
Click all precious camera card files after scanning.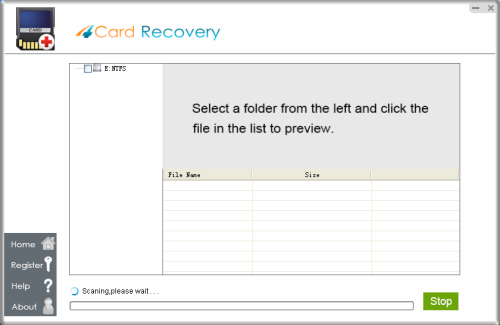 Wait while scanning lost photos, sometimes it takes about 20 minutes to scan a 32G card.
Tips: if it takes more than 2 hours to scan a 32GB card, you may stop the scanning and wait to see
what's already found. Since the card may contains bad blocks that takes longer time than usual.
Step 4:
Click "Recover" to save all restored camera card data on another storage media.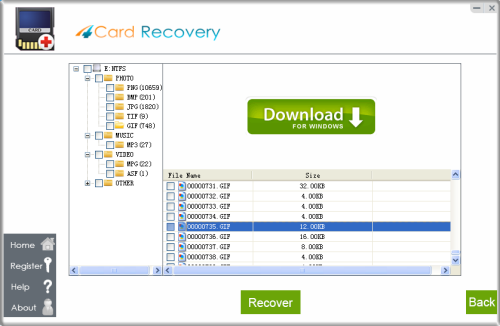 Preview lost photos and save found files. It would generate a folder to contain your lost data.
Please do not save the photo to the card where you lost them. Save them to your PC drive!

Download 4Card Recovery
Attention:
* By using this data recovery software, far more memory card file types could be restored, like photos, films, messages, texts and word files, etc.
* By using this software to restore all lost card data, you are also supposed to save no more stuff on this original camera memory card.
* By using this software to re-view everything lost or deleted, the restored stuffs also are supposed to be stored on a different storage device.
* Back up all Sigma camera memory card stuffs on different devices.
Extra Information of Sigma Digital Camera
To create amazing photos instantly, Sigma digital cameras have provides many advanced features. To meet different needs of people with different aims and requires, there are also several group of cameras: DSLR camera group, Compact camera group and camera kits group. Moreover, with diversified camera options, you also are allowed to have many memory card options to remain your captured images, like SD cards, SDHC cards and MMC cards. Of course, being designed to be as portable as possible, the camera is also not too heavy. Therefore, when wanting to take some beautiful images, when wanting to memorize some precious moments, when wanting to grasp some instant expression of your friends or families, the Sigma digital camera could be a good choice.

Download 4Card Recovery