Summary
Read this tutorial and download 4Card Recovery to resize every possible chance for restoring your lost or deleted camera stuffs back from the Micro SD card of your cameras, no matter how difficult and complicated your camera card data loss problem is.

Camera Micro SD Card Recovery by 4Card Recovery
Free download 4Card Recovery to recover photos, audios, videos, files and mails off from the memory cards (like Micro SD cards, SD cards, CF cards, SDXC and more) of your digital cameras with data loss problems.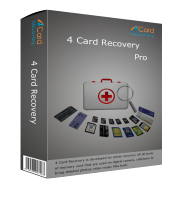 What's Your Camera Micro SD Card Data Loss Issue?
Nowadays, not all digital cameras allow people to insert a memory card with normal size. With a smaller card slot, many of them especially need users to apply a memory card with smaller size, like Micro SD card, Micro SDHC card, Micro SDXC card and more. However, no matter what size of memory cards you are using, without a good habit, you may also encounter some camera card data loss issues. For instance, without camera Micro SD card data backups prepared in advance, you can lose them with accidental deletion or erasing, make them all missing for unwanted camera card RAW file system format, let them all inaccessible for camera card not formatted error, or even lose them all for virus infection and camera card corruption, etc. Overall, when these card data loss issues really happens around, simply take chances with digital camera Micro SD card data recovery software to retrieve all wanted camera data back.
How to Resolve Camera Micro SD Card Data Loss Issues?
If you are in a habit to hold all precious camera information on the inserted Micro SD card only, it will become inevitable to get a card data loss problem sooner or latter. But, don't worry! The camera Micro SD card data loss issues are not as difficult and complicated as you reckon. Without more taken photos or made files placed on this camera Micro SD card, you still can apply some well-designed camera memory card data recovery software like 4Card Recovery to copy everything wanted out from this camera Micro SD card.
Therefore, let's start to reclaim your camera card data right now:
Step 1:
Download the trial version of this card software and prepare this Micro SD card well on your computer. Start software and follow instructions to land a fixable file type recovery mode.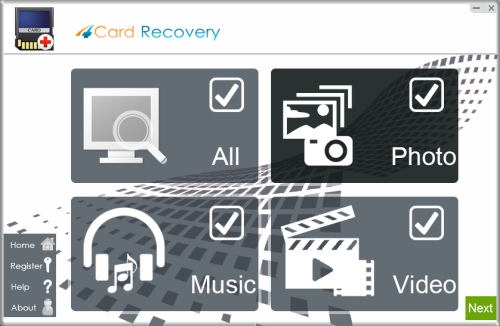 Select recovery options in the main interface
Step 2:
Continue to find your Micro SD card out from other detected media and scan this card to re-view all possible original card stuffs.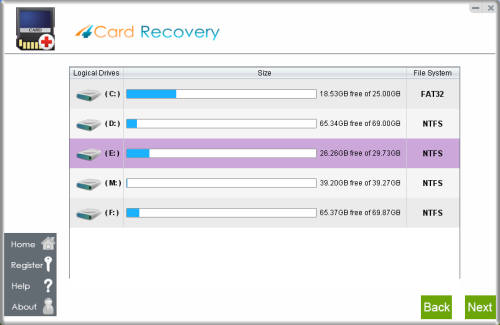 Select card to search photos off card
Step 3:
Look through all listed files in different folders to select your needed card stuffs out.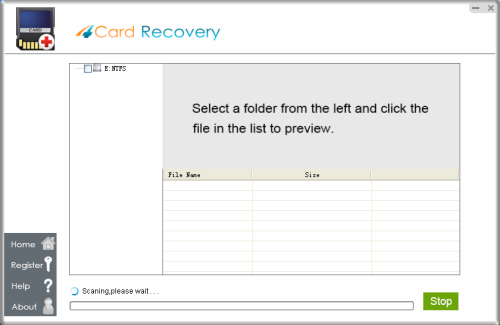 Wait while scanning lost photos, sometimes it takes about 20 minutes to scan a 32G card.
Tips: if it takes more than 2 hours to scan a 32GB card, you may stop the scanning and wait to see
what's already found. Since the card may contains bad blocks that takes longer time than usual.
Step 4:
Recover all these selected card photos, videos, audios and more to computer drives.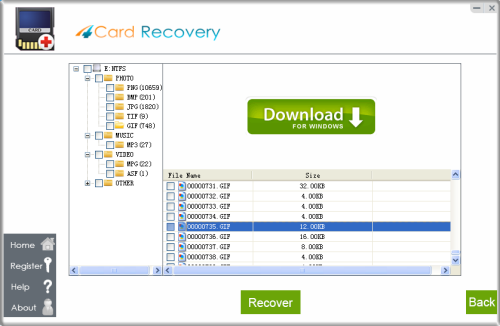 Preview lost photos and save found files. It would generate a folder to contain your lost data.
Please do not save the photo to the card where you lost them. Save them to your PC drive!

Download 4Card Recovery
Additional Tips:
* No matter how you lose your camera card data, immediate formatting or overwriting process can cause the real card data loss.
* No matter how many card files you've reclaimed with this software, saving them all on the same Micro SD card can easily increase the risky of final data recovery failure.
* No matter what happens in the future, it is necessary to have a habit of storing everything important on several locates or places.
Something Else Related to Camera Memory Card Data Recovery:
There is also something else that you don't know about camera memory card data recovery. So, here, read some of them here:
1). Not all lost camera card data could be restored.
The reliable camera card data recovery software and the original camera memory card that has not been overwritten or formatted yet cannot bring you complete and successful card data recovery all the time. They can only increase the chances of successful data recovery. Due to different practical conditions, people may have different data recovery results.
2). Not all data recovery software can help rescue camera memory card data.
The above mentioned data recovery software is especially designed for users to easily and successfully restore data from different memory cards. That's why it is recommended for you to rescue your camera Micro SD card data. However, if you don't want to use this one and wonder to find another one over the internet, you should always check all software description carefully, since not all data recovery software available online can support camera memory card data recovery.

Download 4Card Recovery