Summary
Rely on 4Card Recovery to restore all erased Fujifilm digital camera photos from reserved camera memory card successfully and efficiently, when you have no luck by trying a series of similar camera card recovery software.

Fujiflilm Camera Card Recovery by 4Card Recovery
Free download 4Card Recovery to rescue all erased photos from Fujifilm camera memory card. With this memory card recovery software, you also can easily perform data recovery processed on different storage media, like SD cards, SDHC cards, SDXC cards and USB flash drives, etc.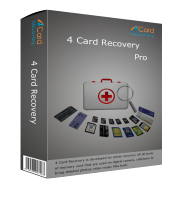 Are You Seeking for Solutions to Restore Fujifilm Camera Memory Card Photos?
With latest features and functions, quite a few fujifilm digital cameras successfully capture the attentions of countless professional photo workers and amateurs all over the word. However, no matter whether you taking photos to make a living or only entertain yourself, you may also come across some sudden conditions and lose your cherished camera card pictures. Erase your Fujifilm camera card photos for your careless faults? Unexpectedly format or reformat your Fujifilm camera card for not reading computer or camera error message word by word? Lose all Fujifilm camera card photos for killing possible viruses or threats?  Delete your Fujifilm camera card photos for RAW file system errors? All right! If you are really suffering from Fujifilm camera memory card data loss problems, you'd better restore all your camera card photos back with Fujifilm camera memory card data recovery software as soon as possible.
Follow Detailed Solutions to Rescue Fujifulm Camera Memory Card Photos
In order to get over this camera memory card data loss problem, you should firstly steady your nerve and begin to finish the whole card photo recovery process calmly and orderly. Simply extract the memory card out from this Fujifim digital camera (so that no more camera files and photos could be easily written on the same card to replace your original ones) and perform the card data recovery process on your computer with the assistance of camera memory card data recovery software like 4Card Recovery. To decrease the risk of camera card photo recovery, just follow the listed steps as soon as possible:
Step 1:
Download this card data recovery assistant to your computer. Install and start it to choose a data recovery mode from four appeared ones.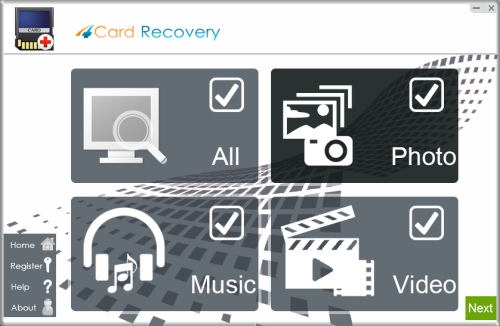 Select recovery options in the main interface
Step 2:
Select this camera memory card and start to scan your erased camera photos.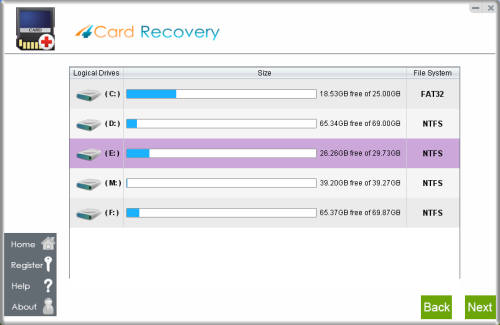 Select card to search photos off card
Step 3:
View all scanned photos and choose the ones that you want to get back.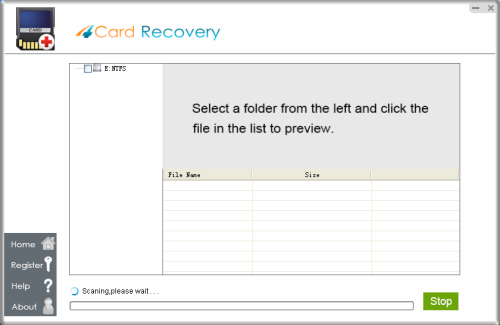 Wait while scanning lost photos, sometimes it takes about 20 minutes to scan a 32G card.
Tips: if it takes more than 2 hours to scan a 32GB card, you may stop the scanning and wait to see
what's already found. Since the card may contains bad blocks that takes longer time than usual.
Step 4:
Click Recover button to retrieve every fujifilm camera photo back.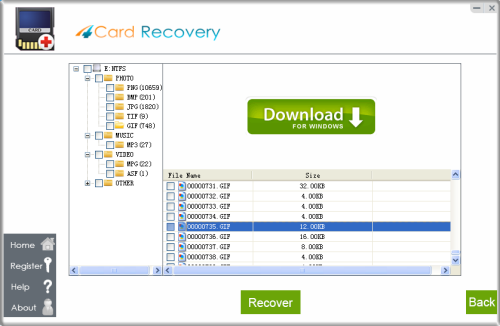 Preview lost photos and save found files. It would generate a folder to contain your lost data.
Please do not save the photo to the card where you lost them. Save them to your PC drive!

Download 4Card Recovery
Tips:
* Ignore this attached camera memory card and save no more photos and files there, even the restored camera images.
* Move copies of all restored camera photos on computer drives or online storages to avoid more data loss problems in the future.
Comments:
Comment1: I had ever stored hundreds of pictures on my phone Micro SD card. But, this card was accidentally erased without attention. All these photos were also missing. It took almost three days for me to find this card recovery software and rescue all my card photos back.
Comment2: I found this card recovery software in a forum thread while searching for memory card data undeleting solutions. So, I followed the listed links and download this program to recover all my camera photos.
Comment3: I had amazing successes with this memory card recovery software, which had eventually retrieved all my phone card messages, songs, videos, images and files.

Download 4Card Recovery