Summary
A brief guidance for Sony digital camera users to restore all lost photos back from the inner memory card after pressing wrong camera button, getting camera card formatted/reformatted or receiving camera card RAW file system and meeting other card data problems.

Sony Digital Camera Card Recovery by 4Card Recovery
Free download 4Card Recovery and follow the below brief guidance to get back all favorite Sony camera photos and other files back from referred memory card, no matter whether it is a Sony featured memory stick or other cards.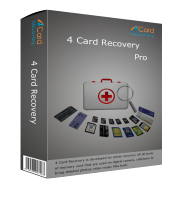 Sony Camera Memory Stick or Other Memory Card Gets Data Loss Problems?
As a Sony camera fans or lover, you may know that the special memory stick is firstly proposed and launched by Sony Company and is also widely used in Sony cameras and camcorders. Moreover, in order to avoid bringing unnecessary pressures to users, Sony also allows them to use other common memory cards instead of memory stick, like SD, SDHC and SDXC cards, etc. However, no matter whether you are using a memory stick or another type of memory cards in your Sony digital camera, you do need Sony camera memory card data recovery software to restore all your cherished camera card photos back, when you are inevitably involved in camera memory card data loss problems, like RAW memory card/memory stick data loss problems, Deleted camera memory card/memory stick photo problems, formatted/reformatted camera memory card/memory stick data loss problems, virus infection problems or card corruption problems, etc.  
Brief Guidance to Restore Sony Camera Memory Stick/Memory Card Photos
No matter whether it is a memory stick or memory card that you are usually used to store your preferred Sony camera photos, you always have the same ways to take your lost images back, after your memory card or memory stick data is erased, deleted, lost or missing for your errors or other card errors. So, take this camera memory stick or memory card out and download memory stick/memory card data recovery software, like 4Card recovery, to scan your Sony camera storage media and restore them back timely and efficiently.
Just follow guidance to restore your Sony camera photos back:
Step 1:
Prepare everything well for latter camera photo recovery: Download and launch this software, connect this camera memory stick/memory card to computer and hit a practical data recovery mode on the presented software main window.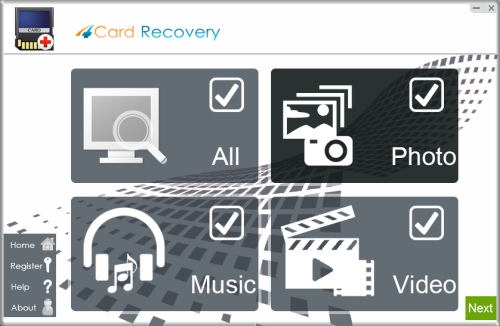 Select recovery options in the main interface
Step 2:
Camera memory stick or memory card scanning. Scan your camera memory stick or memory card after hitting it out from other displayed computer media.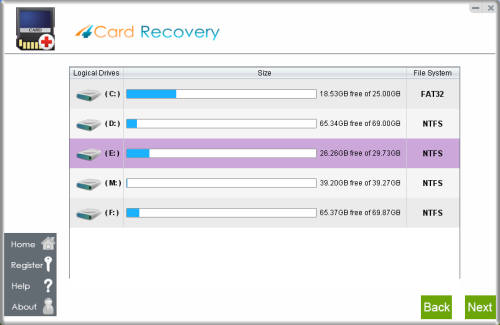 Select card to search photos off card
Step 3:
Camera memory stick or memory card photo viewing and choosing. To rescue all wanted photos back, just verify all listed photos and choose useful ones out.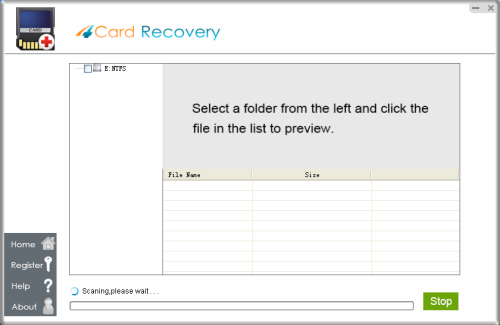 Wait while scanning lost photos, sometimes it takes about 20 minutes to scan a 32G card.
Tips: if it takes more than 2 hours to scan a 32GB card, you may stop the scanning and wait to see
what's already found. Since the card may contains bad blocks that takes longer time than usual.
Step 4:
Restore all chosen camera photos back. To avoid data recovery failure, choose another media to save all restored photos.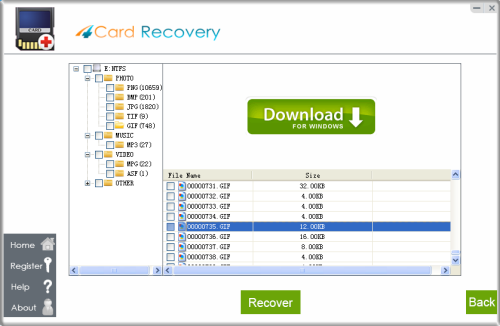 Preview lost photos and save found files. It would generate a folder to contain your lost data.
Please do not save the photo to the card where you lost them. Save them to your PC drive!

Download 4Card Recovery
Attention:
* To avoid data recovery failure at the outset, do not try to save any new photo or file on this Sony camera memory card or memory stick.
*To avoid data recovery failure after data recovery process, do not try to save restored camera photos on the Sony camera storage device.
* To avoid data loss problems in the future, do not try to save all preferred Sony camera photos on only one memory card or memory stick again.
Common FAQ of 4Card Recovery
Are you curious about 4Card Recovery? Here are some common FAQ contents for you to know it better:
1).What type of files can be retrieved by this software?
Having four well-designed data recovery modes, this software can support restoring almost all prevailed type of files, like picture formats, video formats, word file formats, email formats, text formats and more.
2).What type of storage devices can be used with this software?
This software can be used to perform data recovery processes on many memory cards and USB flash drives, like memory sticks, SD cards, SDHC cards, SDXC cards, USB pen drives and more.
3). How long does this software take to retrieve all card or USB flash drive files back?
Honestly, how long this software takes to get back all your original memory card or USB flash drive files often depends on how large your storage device is and how many files you've remained on this device. The larger your device is, the longer time you will wait while it is scanning your device.

Download 4Card Recovery