Summary
Rescue your erased DSLR camera photos back from the inner memory card with the best DSLR camera card data recovery software before these camera photos are overwritten by anything else on the original camera memory card.

DSLR Camera Card Recovery by 4Card Recovery
Free download 4Card Recovery to perform perfect data recovery process on this DSLR camera memory card and rescue all your clear and high-qualified pictures back smoothly after any unwanted photo loss issue.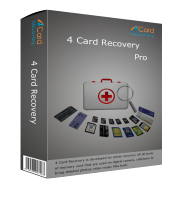 DSLR Camera Memory Card Photo Loss Problems Happens Occasionally?
With clear and high-qualified pictures, especially the high prices, the DSLR cameras are often used by professional photographers, reporters and artists. Moreover, with changeable lens, one also can easily get the desired shots with distinct effects and different distances. However, when using this DSLR camera, like changing a lens, picking out the memory card or even viewing taken pictures, you may also wrongly click the Delete button to erase needed images off from the camera card, intentionally hit the Format button to lose all captured camera card photos or even drop/fall this camera to cause some RAW file system memoery card problem or memory card error problem, etc. Without timely making camera photo backups, do not panic, just prepare a card Reader, a computer, DSLR Camera memory card data recovery software and then, set out to rescue all your desired camera card pictures back.
Steps to Restore DSLR Camera Memory Card Photos
No matter what you've done to cause this present camera card photo loss problem, never miss any chance to get them all back. In fact, without any improper camera card overwriting or formatting operations, all these missing camera pictures are really recoverable with camera memory card photo recovery software, like 4Card Recovery. With this software, you can easily use its "Photo" recovery mode to specially take all scanned pictures back. Here's how to get the data recovery process started:
Step 1:
Download and install this software on your prepared computer. Also insert the camera memory card with the prepared card Reader to the same computer. And then, click the "Photo" recovery mode on the main window of this software.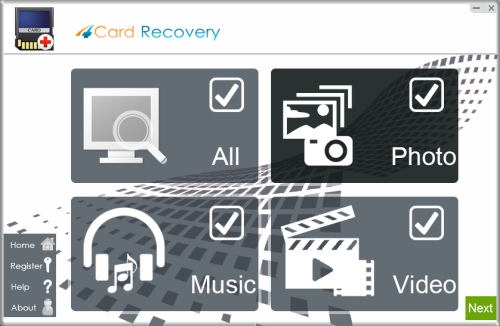 Select recovery options in the main interface
Step 2:
To recover your lost photos back from this camera memory card, just scan this memory card for any possible ones.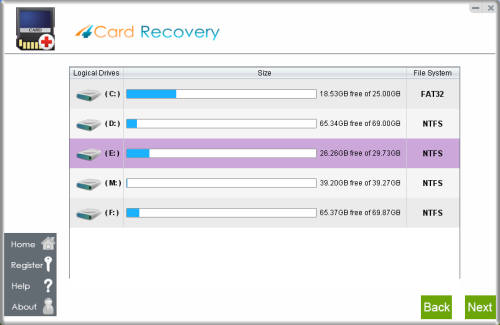 Select card to search photos off card
Step 3:
To recover the needed photos back only, also preview all scanned ones and choose the wanted ones out.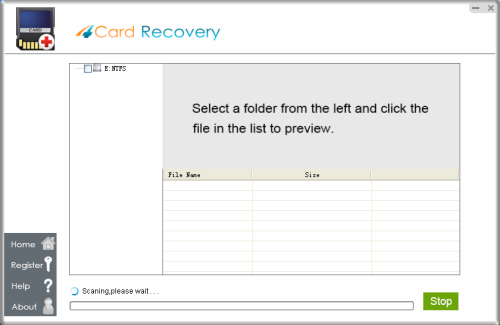 Wait while scanning lost photos, sometimes it takes about 20 minutes to scan a 32G card.
Tips: if it takes more than 2 hours to scan a 32GB card, you may stop the scanning and wait to see
what's already found. Since the card may contains bad blocks that takes longer time than usual.
Step 4:
Restore all card photos back and save them on your computer.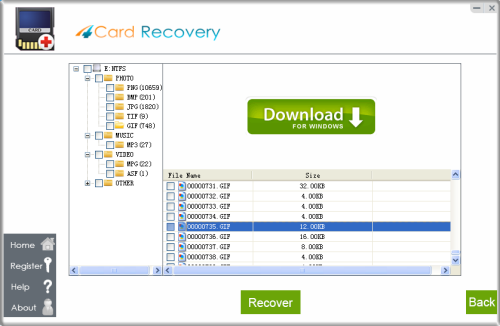 Preview lost photos and save found files. It would generate a folder to contain your lost data.
Please do not save the photo to the card where you lost them. Save them to your PC drive!

Download 4Card Recovery
Tips
* Remove this memory card from this DSLR camera immediately after you realize the data loss problems.
* Preview all scanned camera photos and specially rescue your desired card images back.
* Put all rescued camera memory card images on another storage device, like your computer partitions, drives or USB flash drives.
* Prepare DSLR camera card photo backups as soon as possible in the future.
Differences Between Common Digital Camera & DSLR Camera
Do you know why the DSLR cameras, not the common digital cameras, are more popular within these professional photographers, artists and reporters exactly? OK! After reading the differences between them, you will have a clear understanding. They are really different in many aspects:
1). Constructions
To make the taken photos clearer and higher-qualified, the DSLR (Digital Single-lens Reflex) cameras are designed with a mirror. With this mirror, it can easily divert the light to help get better shoots.
2). Photo computing sound
When capturing a photo, the DSLR camera will lift the installed mirror to exposure the films and then, automatically move back after the shoot. And the lifting and moving process could make some noisy sound. However, without such processes, the common digital cameras create no any sound at all.
3). Different Lens
One of the major differences between the common cameras and DSLR cameras are the different lens. To get desired images in the front or in the distance, the users can easily change the lens. But, with the common cameras, you may have no so many choices.

Download 4Card Recovery