Summary
Read this tutorial and follow the listed guidance to fix your Apacer memory card data loss issues step by step and retrieve all precious card files back with 4Card Recovery.

Apacer Memory Card Recovery by 4Card Recovery
Free download 4Card Recovery to rescue files back from different types of Apacer memory cards, like CF cards, SD cards, Micro SD cards and more.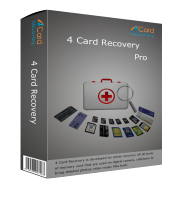 Cannot Access or View Your Apacer Memory Card Data?
With efficient features, like high performance and reliability, Apacer memory card can help safely hold your family/friend photos, interesting videos/films, crucial messages/emails and more. But, when using these Apacer memory cards, you also should prepare yourself well to process some related dreadful card problems at any time, such as deleting all your remained card stuffs, formatting card without backups, removing card suddenly or even card corruption, etc. What's your actual plan to rescue your remained card information? Have no any clue? Don't panic! 4Card Recovery has been well-designed for users like you to rescue lost/missing data off from memory cards.
Access or View Your Apacer Memory Card Data with 4Card Recovery
It is quite common that you accidentally or mistakenly delete your important card stuffs or format card without updating backups timely when using this Apacer memory card. So, do not treat yourself too hard. Just let it go and find a reliable solution to access or view your needed card files again. So, you may have interest in 4Card Recovery, which is a popular data recovery program that allows you to perform a perfect data recovery process on this Apacer memory card. Its four pre-designed data recovery modes, fast scanning, easy-to-operate interface and considerately previewing design, etc, all of these features can let you restore all your photos, videos, messages and the likes back easily.
So, let's grasp every possible chance to get back your Apacer card files back:
Step 1:
Download this 4Card Recovery to your computer and try it there right now. Also click your wanted data recovery mode there.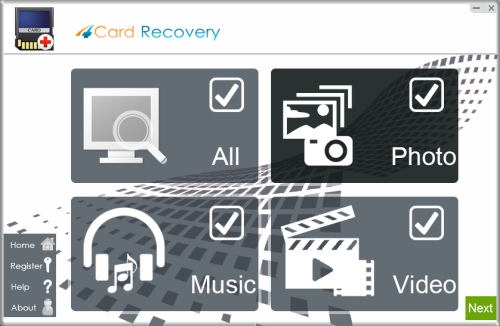 Select recovery options in the main interface
Step 2:
Find this Apacer memory card and scan it latter.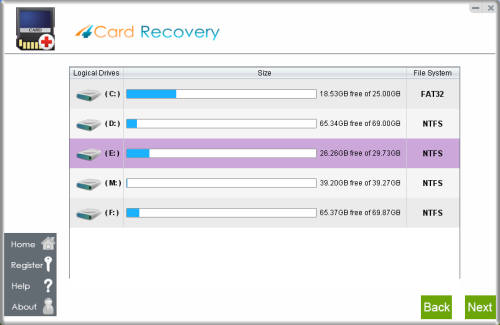 Select card to search photos off card
Step 3:
Preview all listed files and label your wanted ones out.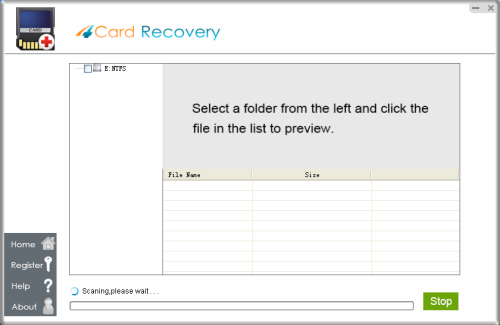 Wait while scanning lost photos, sometimes it takes about 20 minutes to scan a 32G card.
Tips: if it takes more than 2 hours to scan a 32GB card, you may stop the scanning and wait to see
what's already found. Since the card may contains bad blocks that takes longer time than usual.
Step 4:
Recover all Apacer memory card files back. Also do not save them on this memory card.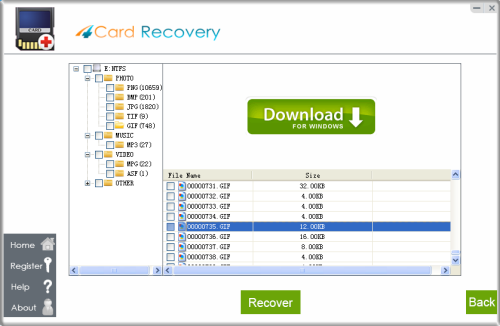 Preview lost photos and save found files. It would generate a folder to contain your lost data.
Please do not save the photo to the card where you lost them. Save them to your PC drive!

Download 4Card Recovery
Note:
*Please put this Apacer memory card alone and do not write anything else there.
*Please move the restored card files on your computer or other storage device.
*Please save all important card data on computer drives or other places and also update the backups timely.
4Card Recovery User Comments:
Comment1: I have a camcorder memory card that has been formatted when receiving a RAW file system error message. Fortunately, I have read an article that talks about memory card format recovery and finally retrieved all my connected videos there with 4Card Recovery. Thanks!
Comment2: I found this data recovery software when unintentionally clicking a link posted in a data recovery forum. Even though it was a coincidence, I also eventually used it to rescue all my family images back from camera memory card with errors. It was great!

Download 4Card Recovery