Summary
Use 4Card Recovery to restore entire camera photos, videos, files and other data back from your camera Micro SDXC card with not formatted error, RAW file system error, memory card error, improper format error and other error problems.

Camera Micro SDXC Card Recovery by 4Card Recovery
Free download 4Card Recovery to restore all lost or inaccessible camera pictures or videos back from the smaller size memory cards of your digital cameras, camcorders, players, smart phones, like Micro SD cards, Micro SDHC cards, Micro SDXC cards, or Mini Cards, etc.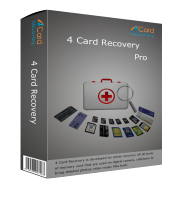 Digital Camera Micro SDXC Card Errors Make Camera Data Inaccessible or Lost?
What sort of errors do you get with your camera Micro SDXC Card? Digital camera or PC says the inserted Micro media should be formatted before accessing? Digital camera Micro SDXC card cannot be opened for RAW file system? Digital Camera Micro SDXC card videos, photos and other information cannot be accessed for memory card error, or Camera Micro SDXC card data is lost for your improper deletion, format or dropping, etc? OK! Don't rush to format this camera memory card. The formatting process can bring you real camera card data loss problems when there is no data backup. But, it is also not proper to do nothing with these camera card errors, right? Don't panic! In this moment, insert this camera card to your PC and find digital camera Micro SDXC card data recovery software to rescue all desired camera card data back before fixing all these camera card errors.
How to Recover Data from Camera Micro SDXC Card with Errors?
To be created with smaller size, the Micro SDXC card also can provide users with good performance on a digital camera. But, it also could be inevitably troublesome when the camera Micro SDXC card is involved in some card errors. Without any camera card data copy on other devices or locations, some memory card data recovery software like 4Card Recovery could be the best choice to take inaccessible or lost camera card data back with your own efforts. Without the worries of losing anything important inside this camera Micro SDXC card, you can easily take any measure to fix the card errors.
So, quickly download this software to your PC and begin to restore your camera card information:
Step 1:
Attach this camera to PC and remember the shown letter of this camera Micro SDXC card in Computer. Afterward, run this downloaded data recovery software and choose a proper data recovery mode from four.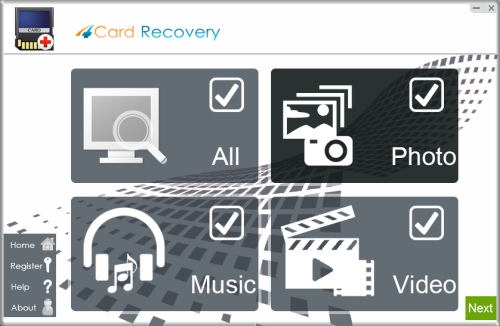 Select recovery options in the main interface
Step 2:
Select the original device (this Micro SDXC card) where you've lost your camera data. Just pick it out by the drive letter. And then, scan this card deeply.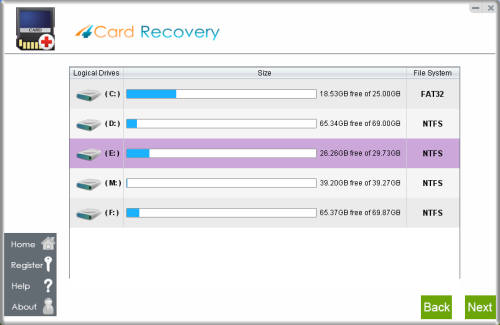 Select card to search photos off card
Step 3:
Click the Preview option to check all scanned data and see whether they all are still useful for you. You'd better mark all needed ones out.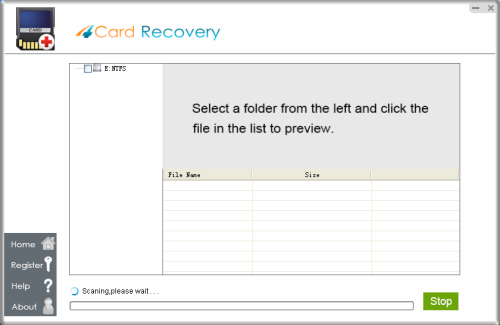 Wait while scanning lost photos, sometimes it takes about 20 minutes to scan a 32G card.
Tips: if it takes more than 2 hours to scan a 32GB card, you may stop the scanning and wait to see
what's already found. Since the card may contains bad blocks that takes longer time than usual.
Step 4:
Restore all useful camera card stuffs back. To avoid data loss in the moment, transfer them all to other storage devices.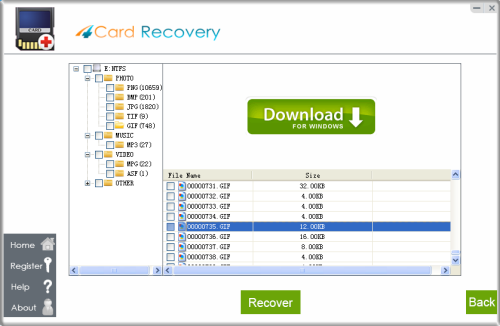 Preview lost photos and save found files. It would generate a folder to contain your lost data.
Please do not save the photo to the card where you lost them. Save them to your PC drive!

Download 4Card Recovery
Note:
* The damaged data often cannot be restored with any data recovery software. So, save no more camera data on this Micro SDXC card to destroy your original camera videos, photos and others.
* The restored data also can be damaged after successful data recovery process. So, save all restored camera photos, videos and more on different devices or online storage.
* The crucial camera card data could be lost again in the future without any data backups. So, make camera card data backups all the time and also update them as possible as you can.
More Information of Micro SDXC Card:
There are reasons for people to choose Micro SDXC card instead of other memory cards:
1). Fast read speed and high performance
Though the Micro SDXC card is smaller than some common memory cards in physical size, it is also designed with fast data process speed and can offer high performance in data restoring and transferring.
2). Flexible storage capacity
The Micro SDXC card also has been designed with flexible storage capacities, from 8GB to 128GB. With the fast development of the computer technologies, the capacity of these cards could be improved, too.
3). SD card adapter.
Some of the Micro SDXC cards are also versatile with some common SD card Adaptor. So, they also can be easily used on some devices that have an SD card slot.
There are also other features with the Micro SDXC cards. Just try to know more by reading more related articles or threads on the internet, if it is necessary. 

Download 4Card Recovery