Summary
Learn data recovery information here and also give 4Card Recovery a shot to rescue all lost, deleted, inaccessible or invisible data back from the memory sticks of your digital cameras.

Camera Memory Stick Recovery by 4Card Recovery
Free download 4Card Recovery to recover all camera photos, videos and other diversified information back from the memory stick, SD card, CF card, MMC card, Micro SD card and other memory card of your digital cameras.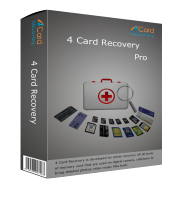 You Can Recover Lost or Deleted Photos from Digital Camera Memory Stick!
As a new version of memory cards, the memory stick, which is designed to be different from the ordinary memory cards in physical appearance though, is also able to be freely used in diverse Sony digital cameras and camcorders. However, being the same as a common memory card, without camera data backups, the memory stick also can have some camera photo loss issues caused by unpredicted human operations or card errors, such as unexpected camera memory stick picture deletion, camera memory stick forma/reformat, camera memory stick virus infections, camera memory stick RAW file system or memory card error and camera memory stick logical damage, etc. Recently, your Sony camera memory stick gets one of the above mentioned issues and all favorite camera photos are lost or inaccessible? All right! You can easily use camera memory stick data recovery software to rescue your data back as you wish.
How to Recovery Digital Camera Memory Stick Photos, Videos & More?
Through the memory stick is created to be distinct from our well-known memory cards, it is also one type of memory cards and has the similar data loss issues and the same data recovery theories. Hence, once you realize your Sony camera memory stick photos, videos and more files are lost or deleted, also keep this memory stick unused and download camera memory card data recovery software to copy all reserved stick data out quickly and efficiently.
Learn to restore your camera memory stick data step by step:
Step 1:
Ensure this memory stick unused and connect it to computer. Download this memory stick data recovery software to scan this camera stick latter. Remember to choose a fixable data recovery mode right now.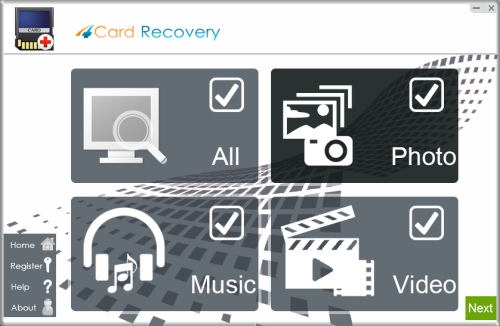 Select recovery options in the main interface
Step 2:
Find this camera memory stick out from numerous computer drives and devices and then, let this software to scan this memory stick.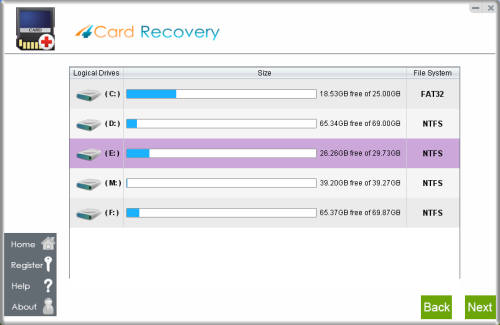 Select card to search photos off card
Step 3:
Find all preferred camera photos, videos and other files by previewing all scanned ones.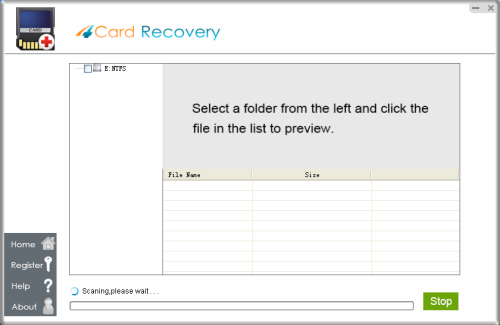 Wait while scanning lost photos, sometimes it takes about 20 minutes to scan a 32G card.
Tips: if it takes more than 2 hours to scan a 32GB card, you may stop the scanning and wait to see
what's already found. Since the card may contains bad blocks that takes longer time than usual.
Step 4:
Find other computer drives or devices to place these restored camera stuffs.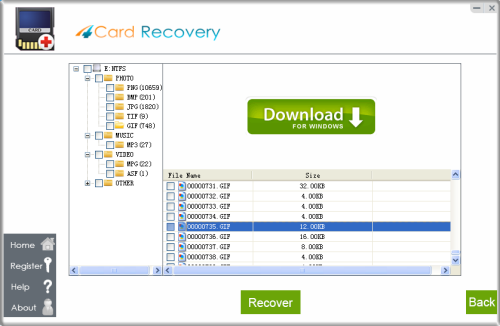 Preview lost photos and save found files. It would generate a folder to contain your lost data.
Please do not save the photo to the card where you lost them. Save them to your PC drive!

Download 4Card Recovery
Also Know Something Important:
* Make sure new camera data will not be written on this memory stick.
* Make sure any restored camera photo, video and file will not be placed on this camera memory stick.
* Make sure all important camera memory stick photos, videos and more contents are saved on different devices or locations.
Reponses from 4Card Recovery Users:
Response1: I have ever been in the same camera photo loss situation. This mentioned memory card recovery software is the only one that had finally rescue the most of my original camera pictures.
Response2: The first thing I have tried was to consult some data recovery agencies when my smart phone memory card contacts and messages were deleted by mistake. But, they said the data recovery services also cost a lot. So, I had to turn my attention to some online data recovery software. Luckily, this decision was right. I had eventually found this 4Card Recovery and restored my desired stuffs back.
Response3: To recover my previous Micro SD card files, not the recent ones, I had tried many data recovery software online in advance. But, only this software finally rescued the largest amount of my original data.

Download 4Card Recovery