Summary
Take minutes to recover all desired pictures and files back from the CF card of your digital camera by step by step, after all of them are missing or lost for unpredicted deletion, format, reformat, not formatted error, or memory card error and more.

Camera CF Card Data Recovery by 4Card Recovery
Free download 4Card Recovery to rescue all possible digital camera pictures, videos, files and other files back from the memory cards of your digital camera, no matter whether it is a CF card, Micro SD card, SD card, Mini Card or MMC card, etc.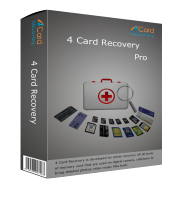 Digital Camera CF Card Pictures Are Lost or Missing?
Nowadays, as an ideal tool to take pictures and record the past precious life, digital camera becomes more and more popular within people. However, since not all of these camera users are familiar with their digital cameras like professional photography workers or amateurs, some digital camera memory card picture loss problems inevitably happen to them. Unfortunately, right now, you've also has such camera CF card picture data loss problem? How do you lose your camera card data? Delete some or all of your camera pictures for wrong button clicking? Format your camera CF card for unpredicted memory card error? Lose your camera CF card data for unwanted not formatted error or RAW file system error? Or camera CF card information simply becomes inaccessible or missing for virus-infection or card corruption? OK! Don't worry! No matter how you make your camera CF card information lost or missing, just clam down! In this moment, you need digital camera CF card data recovery software to take all your preferred camera pictures back within several steps.
How to Recover Camera CF Card Data within Several Steps?
In comparison to a rewritten/overwritten camera CF card, it is more possible for you to rescue all lost or missing camera photos and files successfully from a camera CF card that has never been used since the deleting or formatting process. Hence, when finding all your camera card stuffs are missing or inaccessible for your errors or card errors, just immediately write nothing new on this camera card and download camera CF card data recovery software like 4Card Recovery to smoothly take all preferred camera data back. With this data recovery software, it is really easy for you to rescue camera CF card photos, videos, audios, messages, mails and other types of card files back with success.
Here are several steps for you to rescue your CF card pictures:
Step 1:
Click the above button to download this data recovery software and launch it well on your PC. Attach this CF card to this PC and run this software to choose a practical file type recovery mode.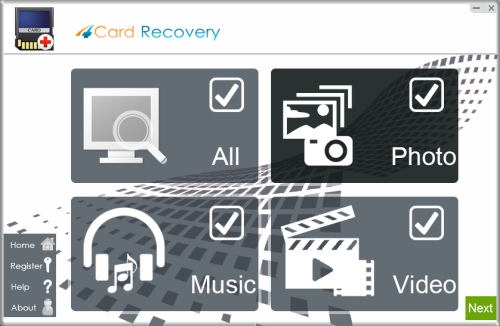 Select recovery options in the main interface
Step 2:
Click this camera CF card and see how many of your original pictures and other files could be scanned.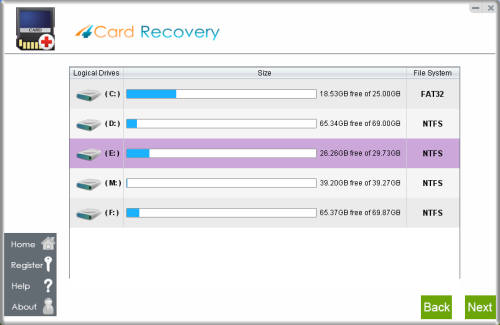 Select card to search photos off card
Step 3:
Click all scanned card files and see whether all of them are useful and recoverable. Mark them all at the same time.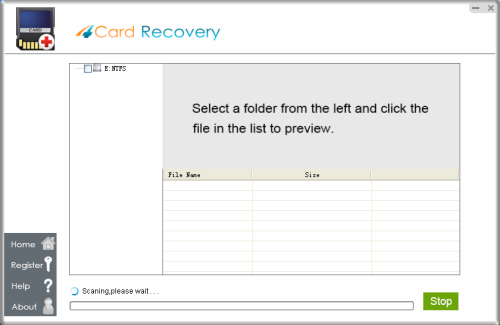 Wait while scanning lost photos, sometimes it takes about 20 minutes to scan a 32G card.
Tips: if it takes more than 2 hours to scan a 32GB card, you may stop the scanning and wait to see
what's already found. Since the card may contains bad blocks that takes longer time than usual.
Step 4:
Click Recover to retrieve all wanted card pictures and files back. Save all restored pictures and more to computer drives.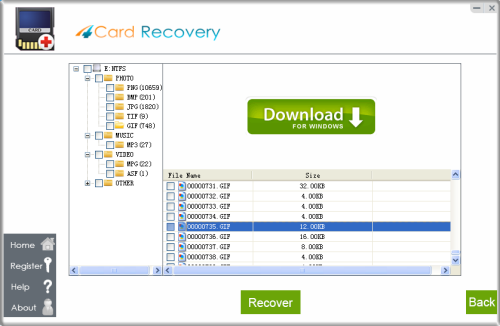 Preview lost photos and save found files. It would generate a folder to contain your lost data.
Please do not save the photo to the card where you lost them. Save them to your PC drive!

Download 4Card Recovery
Additional Tips:
* There is no guarantee that you can rescue every original camera card file back. When this CF card is rewritten by new photos or files, the chances of successful data recovery also could be decreased.
*When the restored card pictures or files are placed on the same camera CF card, the chances of data recovery failures also could be increased.
*When the important camera card data is stored only on the camera memory card, the chances of farther data loss in the future also could be increased.
CF Card User Problem:
1). Why it is better for us to restore camera data on the CF card instead of the camera internal memory?
On the one hand, when saving everything crucial on the camera CF card, you can easily transfer the camera photos, videos and files between different electronic devices and computers. On the other one hand, after meeting some card data loss problems, you can have more chances to rescue all desired card data back.
2). Why to scan the camera CF card regularly?
As we all know, viruses, threats and malwares can damage the card and cause many troublesome problems. Therefore, to avoid any possible viruses attacking your card, just scan this camera card regularly.
3). Why to pick the CF card out from camera after turning off the camera power?
Compulsorily removing the camera memory card could damage the inner used memory card and even corrupt the digital camera. Therefore, to keep your camera, inner CF card and stored card information safe, always firstly turn off the camera power and then, pick out this camera CF card.

Download 4Card Recovery