Summary
This tutorial will teach you to restore all deleted, lost, inaccessible or missing digital camera videos, images and other types of files back from inner used SDXC card step by step and also help you leave no regret.

Digital Camera SDXC Card by 4Card Recovery
Free download 4Card Recovery to take all captured photos and videos back from the erased, virus-infected, deleted, formatted, or inaccessible camera SDXC card before it is really late for improper operations.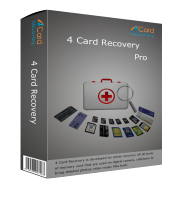 Is There Any Software to Restore Lost Data from Digital Camera SDXC Card?
The SDXC card, with higher capacity and faster data processing speed, is a newly produced memory card type and also has been used in very much the same way as a common SD card. So, it is not astonishing for me to know you are using a SDXC card in your digital camera. But, right now, what can arouse our interest or intention is how you lose or delete your camera card data and what you've planed to restore it all back. It is really torturous to find all favorite camera card videos, images and files are erased or lost for your careless deletion, inadvertent card format/reformat, unwilling card RAW file system formatting, or card not formatted error formatting, right? Don't let any regret torture yourself again! Even without camera card data backups, it is also possible for you to restore all your lost camera card data back with digital camera SDXC card data recovery software. 
Start Software to Retrieve Lost Digital Camera SDXC Card Data:
The SDXC card can assist the owner hold different types of camera/phone/player/camcorder files, like videos, messages, images, contacts, emails and more. However, occasionally, it will also make all these reserved stuffs inaccessible, missing or invisible due to its own malfunctions or the owner's improper operations. But, no matter how these card contents are lost or erased, SDXC card data recovery software like 4Card Recovery really could be a high change for the owner to restore everything original back. So, you also can start this software immediately to restore your camera card photos and videos back:
Step 1:
Switch off this camera and plunge it to a computer. And then, download this software on the same computer to open it there. When the main screen is shown, tab a file type to start the data recovery process.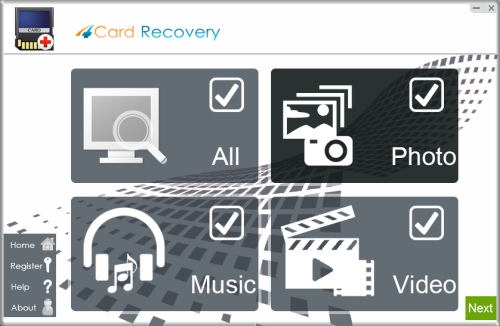 Select recovery options in the main interface
Step 2:
Turn to the media screen and tab the memory card of this digital camera to start scanning it. The scanning process could help find your needed card videos and photos from one section to another.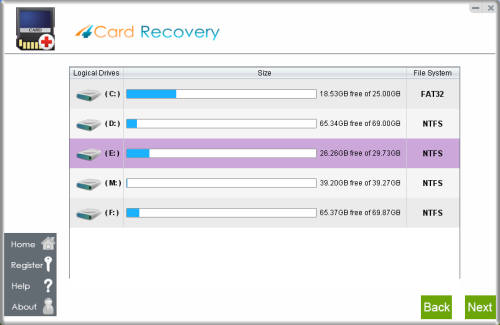 Select card to search photos off card
Step 3:
Turn to the preview screen, just click all listed files and preview them carefully. Picking out all wanted card stuffs out can help you save much time latter.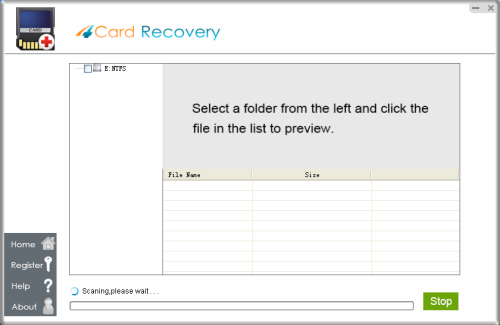 Wait while scanning lost photos, sometimes it takes about 20 minutes to scan a 32G card.
Tips: if it takes more than 2 hours to scan a 32GB card, you may stop the scanning and wait to see
what's already found. Since the card may contains bad blocks that takes longer time than usual.
Step 4:
Restore all selected card videos and images back and move them to computer internal or external hard drives.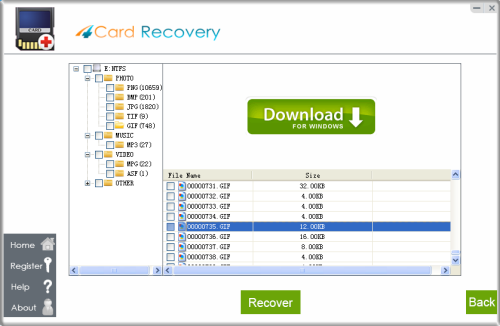 Preview lost photos and save found files. It would generate a folder to contain your lost data.
Please do not save the photo to the card where you lost them. Save them to your PC drive!

Download 4Card Recovery
Related Tips
*  Stop using this camera SDXC card when you find any camera card error or problem that can cause data loss.
* Plunge this digital camera directly to computer or merely insert the SDXC card with a card Reader.
* Connect another different memory card or external hard drive to save the restored camera videos and images in case of data recovery failure.
* Prepare at least two camera card data backups in different devices in case that any similar data loss problem happens in the future.
Some SDXC Card Questions& Answers
1).What's the difference between a SDXC card and a common SD card?
We've answered in the first paragraph. Comparing to a common SD card, the SDXC card often has higher capacity and higher data processing speed.
2). Can I directly replace my SD card with a SDXC card?
No, you cannot! As a new created memory card type, not all digital cameras can recognize the SDXC card. Therefore, before replacing this original SD card, you should firstly check whether your camera supports this type of memory cards.
3).Is it compatible with all Windows computer?
Good question! Since the camera memory card is also often used on a computer, this problem is also really useful. Since the SDXC card is often produced in exFAT file system, many Linux, Windows7, Mac and earlier versions of Windows are compactable with this types of memory cards. But, it finally depends on your actual computer conditions.

Download 4Card Recovery