Summary
Use the followed mentioned software and tips to recover your desired memory card data back as much as possible after you'd updated your electronic device that uses this memory card and prepared no card data backup in advance.

Memory Card Data Recovery by 4Card Recovery
Free download 4Card Recovery to scan all possible files, videos, images and information back from the memory card.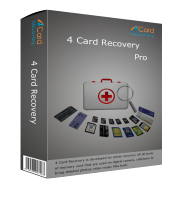 Find All Memory Card Information Is Gone after Device System Upgrade?
Nowadays, it is common to open an electronic device (like an iPhone 5S) and find a popped-out notification asking whether you need download the newest device system version and upgrade your present one. However, the uncommon point is how you cope with this notification. Why? Without right guidance or advanced plan, you may unwillingly lose all device memory card data at once, since, without firstly copying all important device memory card files, contacts, videos, pictures and more on other drives or storage devices, after updating your device system to the latest version, you may find all of them are gone and shown nowhere. Therefore, you'd better firstly check whether you've backed up your device card stuffs before updating. But, if you have already lost your device memory card data for this careless system upgrade, don't panic. You still can download memory card data recovery software to take all scanned card data back.
How to Find Your Memory Card Data back after Updating Your Device System?
Unintentionally upgrade your device system and realize all previous documents, movies, audios, pictures and others stored on the inner memory card are wiped? Or blindly update your device system purposely for you never know that upgrading process can make all your remained device card stuffs gone? OK! No matter how and why you update this device system without memory card data backups, the good side is that you do have chances to get your lost device memory card stuffs back with memory card data recovery software like 4Card Recovery. But, the bad side is that you may not be able to take your entire card data back. Why? A portion or all of them may be already overwritten or destroyed by the updated system files or folders and lost.
But, now, temporarily forget all possible bad situations and firstly download 4Card Recovery here to see how much of your original memory card stuffs could be rescued:
Step 1:
Plunge the device or Card Reader with this memory card to your computer and run this data recovery software. Select a data recovery mode out when you see four ones listed on its main screen.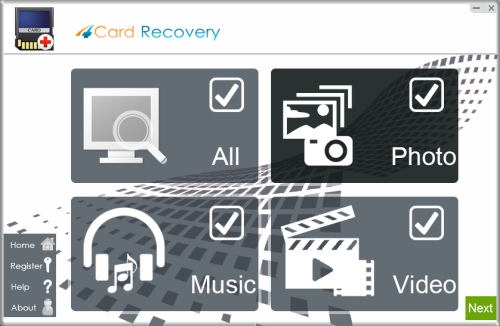 Select recovery options in the main interface
Step 2:
Scan this memory card to see how many of your previous card stuffs could be detected. Just be patient when the scanning process is proceeding.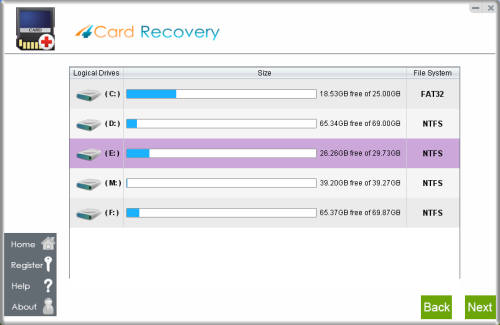 Select card to search photos off card
Step 3:
Preview and restore all wanted memory card information.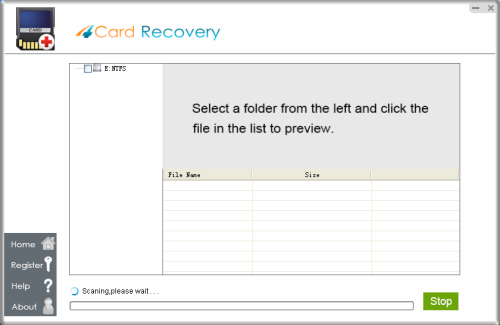 Wait while scanning lost photos, sometimes it takes about 20 minutes to scan a 32G card.
Tips: if it takes more than 2 hours to scan a 32GB card, you may stop the scanning and wait to see
what's already found. Since the card may contains bad blocks that takes longer time than usual.
Step 4:
Select and recover all files you need.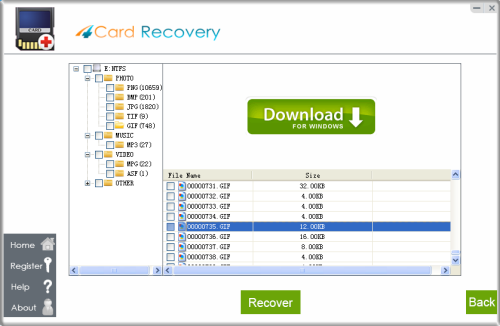 Preview lost photos and save found files. It would generate a folder to contain your lost data.
Please do not save the photo to the card where you lost them. Save them to your PC drive!

Download 4Card Recovery
Tips:
* In order to get your wanted memory card contents back as many as possible, save nothing on this device memory card after updating your device system. 
* In order to cause unnecessary card data loss again, save all restored card stuffs on computer partitions or drives.
* In order to avoid such data loss problems, back up all device memory card stuffs at least on two different devices or places before device system update.
4Card Recovery Features
Except helping rescuing data back from the device memory card after system upgrade, 4Card Recovery also has offered many outstanding data recovery features to help users. For example, as we've mentioned above, by using this software, you can have four file type recovery modes to scan your device memory card. With this software, you also can cope with all possible memory card data recovery problems with easy steps and good results, like memory card deleted data recovery problems, RAW file system memory card data rescue problem, memory card not formatted error problem and memory card corruption problem, etc. With this software, you also can easily take all wanted data back from different branded USB flash drives and memory cards within several steps.

Download 4Card Recovery