Restore Everything from RAW File System SD Card?
I was really scared when I received a popped-out message saying: "The card is inaccessible. The file or directory is corrupted or unreadable. "I was really afraid to lose my SD card stuffs. In fact, all of these troubles were started form a power failure. At that time, the computer was just copying some family photos from the plunged SD card. When the power was restored, I just found my SD card could not be accessed. When clicking it, I just got that message. Its file system was also turned from NTFS to RAW. It was also strangely empty. I cannot lose everything stored on this SD card. What can I do to rescue my photos back from this RAW SD card?
OK! Don't be afraid! Your SD card must be damaged by the sudden power failure. But, your stored family photos may be still stored on this card, even through you cannot see anything there right now. The common RAW file system solution can be your clue to fix the card problems. But, right now, you are supposed to restore everything back from this RAW file system SD card with RAW file system card recovery software. Everything stored on this RAW SD card is not actually erased as you think!
Rescue Family Photos back from RAW SD Card
Your SD card photos are only invisible and inaccessible temporarily for the RAW file system on your computer. You can easily let them useable and accessible again by applying SD card RAW file system recovery software, which is able to  help people retrieve inaccessible data back from diversified storage devices, such as SD cards, Micro SD cards, CF cards, flash drives, memory sticks and more.. 
In all, no matter what happens, your best bet right now is to firstly save your family photos back as below:
Step 1:
Boot your computer and download RAW SD card data recovery software. Run this data recovery software and click a proper data recovery mode.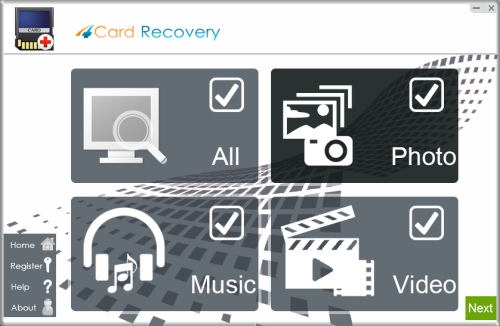 Select recovery options in the main interface
Step 2:
Choose this RAW SD card out from other disks and start to scan it in the next window.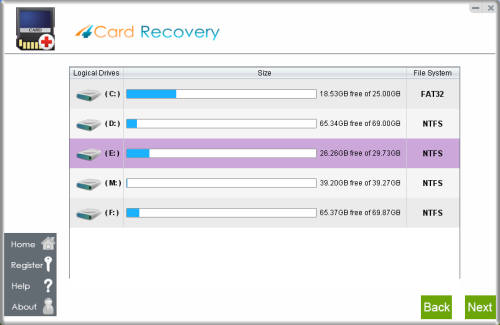 Select card to search photos off card
Step 3:
Preview all scanned photos.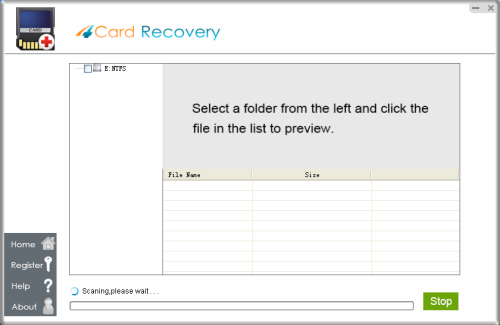 Wait while scanning lost photos, sometimes it takes about 20 minutes to scan a 32G card.
Tips: if it takes more than 2 hours to scan a 32GB card, you may stop the scanning and wait to see
what's already found. Since the card may contains bad blocks that takes longer time than usual.
Step 4:
Recover all family photos back.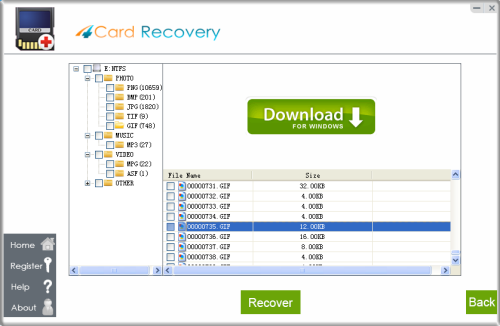 Preview lost photos and save found files. It would generate a folder to contain your lost data.
Please do not save the photo to the card where you lost them. Save them to your PC drive!

Download 4Card Recovery
Note:
* Never cut or post anything else on this RAW SD card, though there is nothing shown.
* Never move the restored files on this RAW SD Card in case of data loss troubles.
* Never save copies of everything important on only one place again.
Solution to Fix RAW File System Problem
Since the RAW file system cannot be read on Windows computer, you always are supposed to format this SD card for turning its RAW file system back to NTFS:
1). Right click your SD card in My Computer.
2). Find "Format" on the drop-down list.
3). Assign the destination file system as "NTFS".
4). Press "Start" button
SD Card Shows Nothing on Computer?
As you've experienced, the SD card with tons of files may also shows nothing on a computer. Do you know why? In fact, except this RAW file system problem, there are also other reasons that can result in an empty card. Here are three clues that may help you fix similar card problems in the future.
1). See whether all your card data is hidden.
Hidden files often cannot be shown on a computer. Therefore, to make them useful again, just show them up again. What your need to do is only to reset your computer.
2). See whether SD card is attacked by viruses or spyware
The SD card files also cannot be shown on computer for some virus or spyware. Therefore, to show them again, just scan this card and remove all virus or spyware completely.
3). See whether there are some SD card problems.
SD card problems, like RFAW file system, physical damage and more, also can make your SD card file lost, missing or inaccessible. Therefore, the first thing you are supposed to do is simply to rescue all card data back with data recovery software.

Download 4Card Recovery