Presentation Large Videos Are Lost from Formatted SD Card!
In order to accomplish a school presentation in the next week, I have purposely recorded several videos (really large MP4 files) with my Samsung phone and directly stored them all on the inner SD card. But, there comes some problems when trying to edit them on my Lenovo laptop. It is just asking me to format. Since I have ever heard that data stored on a formatted SD card also could be restored with the help of data recovery software, I just format this card without worrying anything. But, honestly, I have tried a couple of free data recovery tools like Recuva, TestDisk and more, none of them has lets me re-view all my videos there. Am I wrong? I desperately need them to finish my school presentation. Please, help me out!
OK! You are right that lost card data can be restored at the aid of data recovery software after card formatting process. But, that doesn't mean your entire original card data is able to be restored every time with any data recovery software. Therefore, you should never format your SD card with useful files like that again. But, now, except these data recovery tools you've tried, you also can go on taking chances with other format data recovery software to rescue your large videos.
Recover Large Videos from Formatted SD Card
Except your mentioned free data recovery software, there are still many other format recovery programs that can help rescue your large videos back. But, different one may have different features or prices. Therefore, you should choose one according to your only needs.  
Here is a reliable formatted SD card data recovery program that can help recover all data back from different memory cards after quick or full format.
Step 1:
Download software and follow instructions to launch it on computer. Select data recovery mode shown on its main window after plunging this formatted SD card well.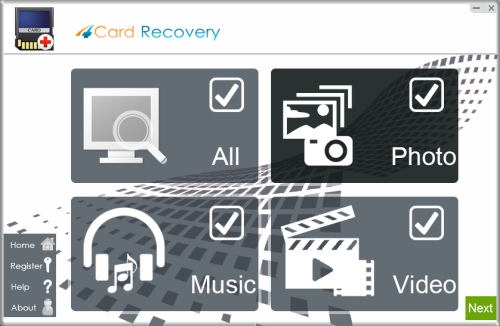 Select recovery options in the main interface
Step 2:
Choose this SD card shown on the next page and scan it there.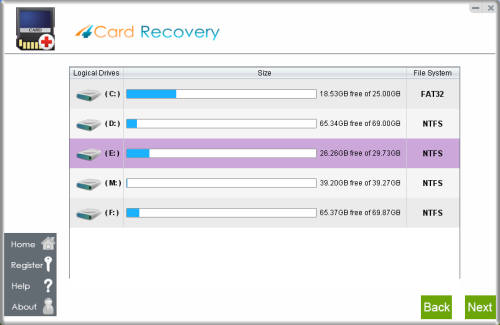 Select card to search photos off card
Step 3:
Mark all needed files shown on the next page.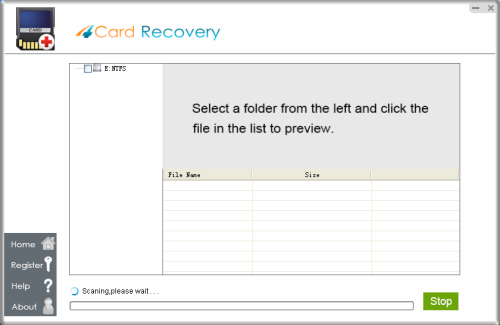 Wait while scanning lost photos, sometimes it takes about 20 minutes to scan a 32G card.
Tips: if it takes more than 2 hours to scan a 32GB card, you may stop the scanning and wait to see
what's already found. Since the card may contains bad blocks that takes longer time than usual.
Step 4:
Restore and save all wanted files to other desired drive or memory card.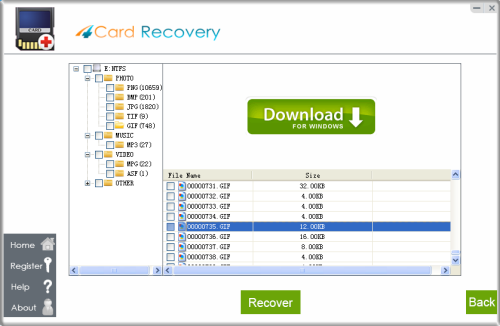 Preview lost photos and save found files. It would generate a folder to contain your lost data.
Please do not save the photo to the card where you lost them. Save them to your PC drive!

Download 4Card Recovery
Attention:
*Download this recovery software on the safe sites in case that unknown file/folder brings you some viruses or threats.
* Avoid save new data on this formatted SD card in case that your videos becomes irrecoverable.
* Save restored large videos on any desired drive or memory card, except this formatted SD card.
* Make card data backups all the time.
Large Videos Cannot Be Restored?
Supposed that all tried data recovery software, including the recommended one, cannot rescue your large videos with success, there must be some problems of your SD card or these large videos. If it is only the problem of this formatted SD card, send it to some data recovery agencies and spend some money to get your videos back. But, if it is the problem of these large videos, like corrupted videos, overwritten videos and more, you may have to face the reality and accept that some of your videos probably have become irrecoverable.

Download 4Card Recovery