SD Card Not Formatted Error?
This morning, I was copying some pictures from a SD card to my PC. But, suddenly, my little son rushed into my room and made my computer dropped to the ground. The inserted card Reader with this SD card was also ejected by the shock and laid on the gourd. After comforting my son, I re-plunged this card and attempted to keep on the copying. But, the computer showed that this SD card needed to be formatted. But, the copying had not been accomplished and many of my card photos had not been backed up well. I could not format it to lose them. How can I get these pictures back? What should I do to fix and prevent similar "not formatted error" problems?
Fix SD Card Not Formatted Error & Restore Card Photos
Want to get your very, very important pictures back completely? Do not keep on using this SD card! Your card seemed be damaged by the sudden dropping and shock. You should be more careful next time. But, now, in order to take back your SD card photos, I hope your SD card is not too seriously damaged so that you can try some SD card recovery software to rescue them back.
Go get your pictures back as below:
Step 1:
Stop putting any additional photos on this SD card, for anything new can physically expunge your pictures. Download and start this software. Select a data recovery mode freely.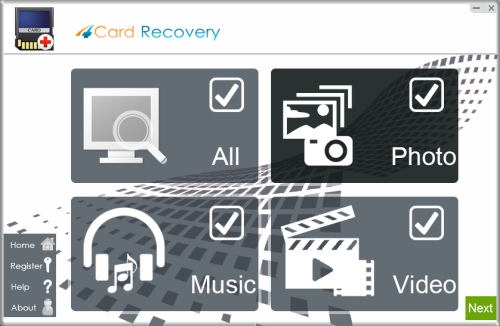 Select recovery options in the main interface
Step 2:
Click this inserted SD on the media. The scanning process will start when you click "Next".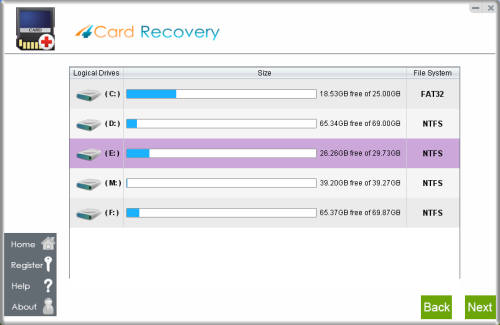 Select card to search photos off card
Step 3:
Scan this card and preview all scanned photos. All recoverable photos often can be verified on its small screen.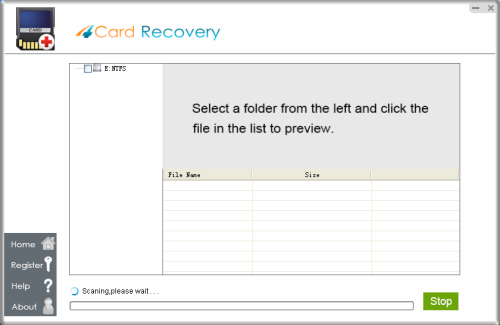 Wait while scanning lost photos, sometimes it takes about 20 minutes to scan a 32G card.
Tips: if it takes more than 2 hours to scan a 32GB card, you may stop the scanning and wait to see
what's already found. Since the card may contains bad blocks that takes longer time than usual.
Step 4:
Restore and save all recovered pictures.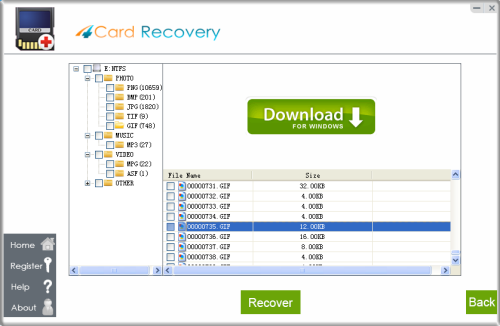 Preview lost photos and save found files. It would generate a folder to contain your lost data.
Please do not save the photo to the card where you lost them. Save them to your PC drive!

Download 4Card Recovery
What Is "Not Formatted Error"?
This "Not formatted error" often talks about an error question given by computer and asks you to format your SD card before opening this card. It is often displayed like this: "The disk is not formatted. Do you want to format it now?" Moreover, this error message often pops out when computer has detected some card problems, like unsupported card file system, card with too many bad sectors, damaged card, virus infection and more. So, this formatting process could be a good way to fix some card problems in some degree. So, next time, with data backups, you can give it a shot directly.
Format SD Card after Data Recovery
Since the formatting process can help resolve some card problems, after saving your restored card photos well, never forget to format this SD card for fixing the possible card problems. If it is only some logical card problems, the formatting process is always workable and efficient.
What to Prevent SD Card Not Formatted Error?
After fixing your SD card not format error problem, you also can follow these tips to prevent similar problems: 
1). Operate your SD card rightly. Never rudely extract it from your computer or camera/smart phone!
2). Scan your computer and SD card regularly. Always clean any possible virus/threat timely.
3). Update you computer system regularly. Any system problem should be resolved as soon as possible.
4). Back up everything important all the time.

Download 4Card Recovery