Summary
This tutorial will show you how to restore almost every camera memory card picture, video and file back when your camera card information is deleted or erased for accidental deletion, format, reformat, RAW file system problem, not formatted error or other memory card errors, etc.

Camera Memory Card Recovery by 4Card Recovery
Free download 4Card Recovery to undelete your camera memory card and restore all your lost camera stuffs back with its outstanding data recovery modes and easy-to-use data recovery interface.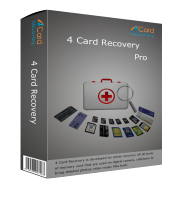 There Are Many Possibilities to Delete Camera Memory Card Pictures!
There are many possibilities to delete important camera memory card data without backups, like:
1). Delete camera card stuffs for accidental deletion or formatting/reformatting.
2). Delete camera card information for RAW file system problems converting.
3). Delete camera card contents for not formatted error fixing. 
4). Delete or lose camera card pictures for unintentional dropping or falling.
5). Delete or lose camera card data for virus infections and other reasons.
The memory card is indeed a convenient tool to store and transfer digital camera pictures, videos and other files well. However, when you mistakenly delete them off from your camera memory card without backups, you may have to select deleted camera memory card data recovery software to help rescue them all back.
Undelete Camera Memory Card & Restore Lost Card Pictures
No matter how you lose your camera memory card pictures and more, to undelete this camera memory card, you need the help of camera memory card data recovery software like 4Card Recovery, which can guide you to take your wanted camera card photos, videos, audios and other files back step by step. So, in this moment, turn off this camera and take this specific memory card out. Insert it to your computer via a card Reader and begin to rescue your lost camera stuffs:
Step 1:
Download this data recovery software and install it on your computer. Click the created shortcut of this software to open its main screen and tab a file type there to go on.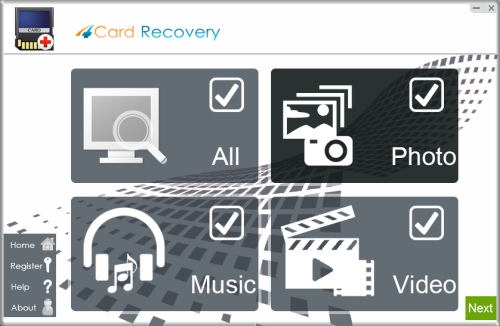 Select recovery options in the main interface
Step 2:
Click your camera memory card when all computer storage media is presented on the next screen and scan this card to see how many of your original camera card stuffs could be found.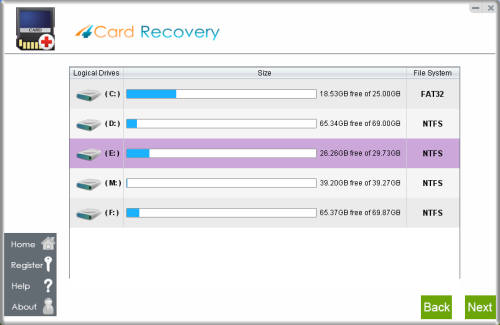 Select card to search photos off card
Step 3:
Browse all found camera card files freely after scanning and pick the desired ones out.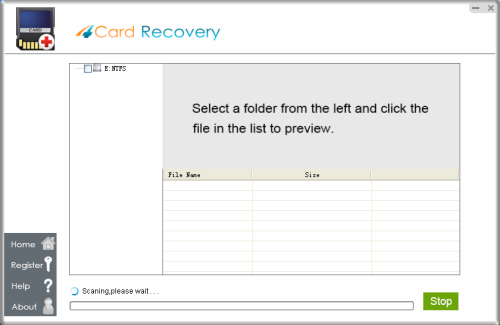 Wait while scanning lost photos, sometimes it takes about 20 minutes to scan a 32G card.
Tips: if it takes more than 2 hours to scan a 32GB card, you may stop the scanning and wait to see
what's already found. Since the card may contains bad blocks that takes longer time than usual.
Step 4:
Set deleted computer drives or partition to hold all restored camera card information after restoring process.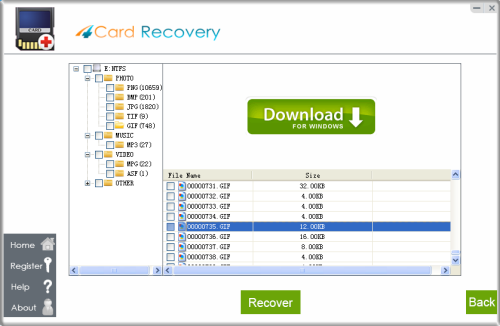 Preview lost photos and save found files. It would generate a folder to contain your lost data.
Please do not save the photo to the card where you lost them. Save them to your PC drive!

Download 4Card Recovery
Note:
* Picking out this camera memory card is designed to help you avoid farther camera card data loss.
* Saving all restored camera card stuffs on another drive or partition also aims at helping avoid data recovery failures.
* Transferring all precious camera memory card information to computer drives regularly can help you avoid many possible data loss problems in the future.
Ask For Professional Data Recovery Services
With reliable camera memory card data recovery software, there is also no guarantee that you can absolutely rescue everything original back. The data recovery result also is also affected by many other elements, like the overwriting conditions, memory card damage state and even the efficiency of the selected data recovery software, etc. Therefore, if you still can not rescue your very, very important camera card stuffs, you may spend some money to ask for professional data recovery services. There are many data recovery companies, agencies or shops that can offer you such services. Just negotiate the service price in advance.

Download 4Card Recovery