Summary
4Card Recovery is a most satisfying solution for you to restore your lost photos, videos, songs and other types of files back, when you are meeting some data loss problems caused by some causes like deletion, formatting, virus or others.

Patriot USB Drive Data Recovery by 4Card Recovery
Free download 4Card Recovery to efficiently recover your lost Patriot USB flash drive data back, when you are planning to fix your data loss problems with similar data recovery tool.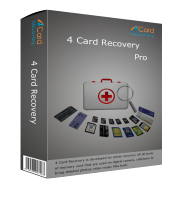 Need Solutions to Fix Data Loss Problems?
In these days, many people prefer to choose USB flash drives for data transformation or storing due to their removability and flexibility instead of hard drives. However, sometimes, these well-known merits of the USB flash drive also can be the sources of troubles. For example, since the USB flash drives, especially your Patriot USB flash drives, can be used between PCs, they are probably much more incline to get data loss problems, such as the data loss problems caused by virus infection, improper plunging or extracting, accidental erasing or formatting, and unexpected dropping or falling, etc. But, don't be tensed! These data loss problems are not impossible to fix. On the contrast, you can easily use 4Card Recovery to take back all your lost precious images, business files, favorite songs and more back from these Patriot USB flash drive.     
How to Resolve Patriot USB Flash Drive Data Loss Problems?
Do you know that the data loss problem often can be easily resolved with the help of a reliable data recovery tool? In fact, no matter what data loss problems you have met with your Patriot USB flash drive, you often do have hopes to restore them all back by simply using a data recovery tool, provided that your original data is not overwritten or corrupted by anything new. So, why not to have a try? Let's download 4Card Recovery (which is often regarded as the most satisfying data recovery option for users like you to scan the assigned USB flash drive or memory card thoroughly and regain all scanned files back efficiently with its well-designed four data recovery modes) to rescue all your precious USB flash drive data back within four steps:

Step 1:
Launch 4Card Recovery on your computer and choose a file type mode you need to restore.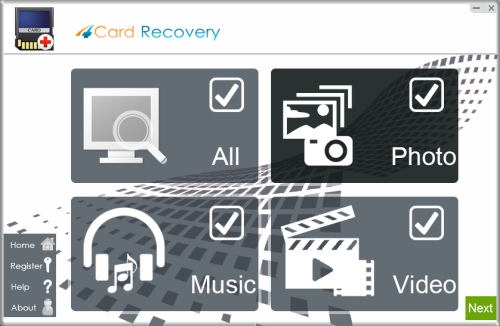 Select recovery options in the main interface
Step 2:
Point out this Patriot USB flash drive to scan your wanted files.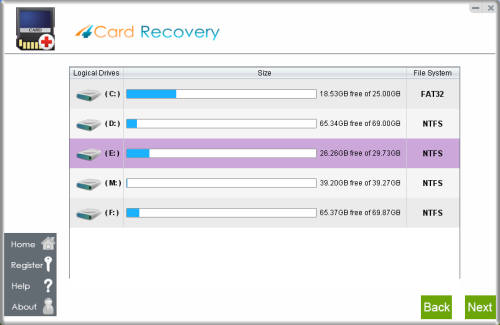 Select card to search photos off card
Step 3:
View all the scanned files and find out all your needed files.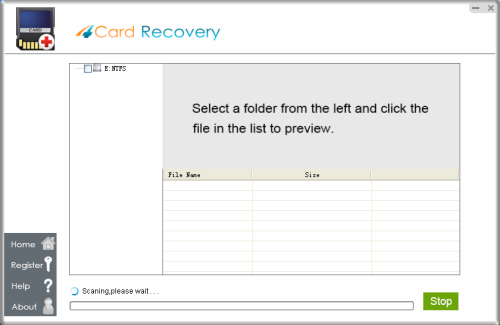 Wait while scanning lost photos, sometimes it takes about 20 minutes to scan a 32G card.
Tips: if it takes more than 2 hours to scan a 32GB card, you may stop the scanning and wait to see
what's already found. Since the card may contains bad blocks that takes longer time than usual.
Step 4:
Restore all your lost files back from USB flash drive. Move restored files to a different drive or place.
Even when you have not used a USB flash drive data recovery tool before, you also can easily follow its Wizard guidance and these steps to get back your files with ease.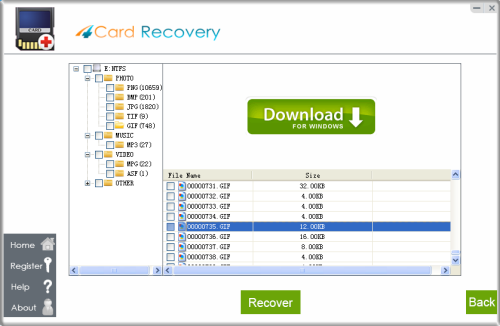 Preview lost photos and save found files. It would generate a folder to contain your lost data.
Please do not save the photo to the card where you lost them. Save them to your PC drive!

Download 4Card Recovery
Note:
*4Card Recovery is compatible with almost all prevailed USB flash drives and memory cards.
* 4Card Recovery can restore your wanted files back completely, only when these original files are not overwritten or corrupted.
* Move retrieved files to another drive in case of any farther data loss.
* Back up all important data on different drives in case of data loss in the future.
More Information of Patriot USB Flash Drive
Patriot has also offered many efficient USB flash drives for the customers, such as the Supersonic USB3.0/2.0 series, Mobility series, Lifestyle USB 3.0/2.0 series and Xporter USB 2.0 series, etc.
1). Supersonic USB 3.0 USB flash drive
The Supersonic USB 3.0 USB flash drive often features for its ultra-portable form factor and its high transformation speed. The specially designed retractable USB housing also can help protect its USB interface free from daily wear and tear.
2). Lifestyle USB 3.0 USB flash drive 
The Lifestyle USB 3.0 USB flash drive, except its excellent performance and ultra-light portability, is much more durable and designed to be available in 16GB, 32GB and 64GB in capacities.
3). Xporter USB 2.0 USB flash drive
As to Xporter USB 2.0 USB flash drive, it is compatible with USB 2.0 interface and also features for its high performance and functionality. It is much more flexible in its capacity and transformation speed.
Of course, there are also other USB flash drives that are produced by Patriot. If you really want to select one for your data, just check them on its official website.

Download 4Card Recovery