Summary
Read this article and use 4Card Recovery to restore all your lost or erased data from Android phone memory card, not phone internal memory, no matter what brand of smart phones/mobile phones you are using.

Android Phone Card Data Recovery by 4Card Recovery
Free download 4Card Recovery  to recover all deleted, lost, erased, missing or inaccessible data back from your SD card, Micro SD card, CF card, Mini card and other types of memory cards used in your Android phone.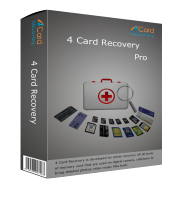 Required Data Is Lost from Android Phone Micro SD card, SD card or Other Memory Cards?
In regards to computers/laptops, there are two kinds of operating systems: Mac and Windows. While, as to mobile phones/smart phones, there are also two choices: Android and Windows operating system. But, today, we will focus on the Android operating system phone and discuss some information about Android phone memory card data loss problems. Have you ever lost your indispensable data off from your Android phone Micro SD card, SD card, CF card, Mini card or other type of memory cards? In fact, there are many known or unknown reasons behind the Android phone memory card data loss, such as deleting required files without twice checking, formatting phone memory card without reading the error message clearly, erasing a whole card folder mistakenly, converting memory card file system without rescuing all reserved data at first, Virus infected card, memory card with not formatter error and even corrupted phone card, etc. Whatever your reason is, just put this phone memory card aside and apply Android phone card recovery software to rescue all possible phone card files back.
Detailed Information to Recover Data from Android Phone Memory Card:
What step do you often take to restore your lost phone memory card data? Don't even have clear perspective of phone memory card data recovery? OK! Read the following information to restore all your phone memory card data, like contacts, messages, music, videos, pictures and others. Without some professional data recovery knowledge and skills, you need memory card data recovery software like 4Card Recovery to guide you step by step:
Step 1:
Take phone card out from your Android phone and connect it to a computer. Download this phone card recovery software there and run it afterwards. Use a data recovery mode to scan your phone card thoroughly latter.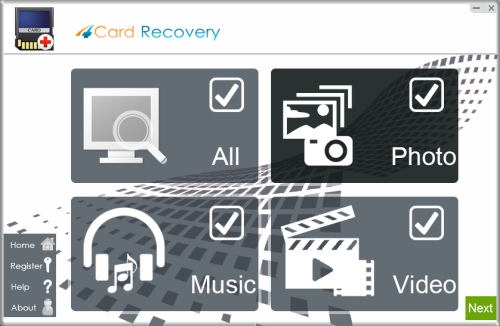 Select recovery options in the main interface
Step 2:
Look over all detected storage devices and select your phone memory card. Scan this card latter.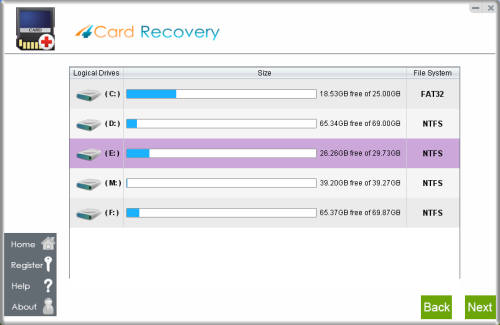 Select card to search photos off card
Step 3:
Preview all scanned files according to different file types.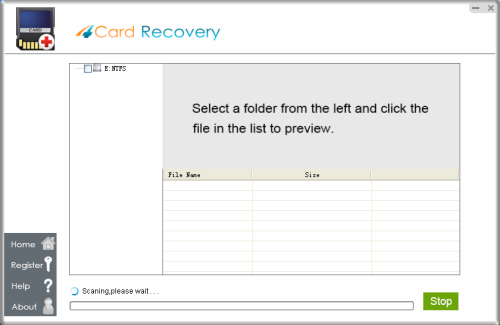 Wait while scanning lost photos, sometimes it takes about 20 minutes to scan a 32G card.
Tips: if it takes more than 2 hours to scan a 32GB card, you may stop the scanning and wait to see
what's already found. Since the card may contains bad blocks that takes longer time than usual.
Step 4:
Restore all types of memory card files as you wish.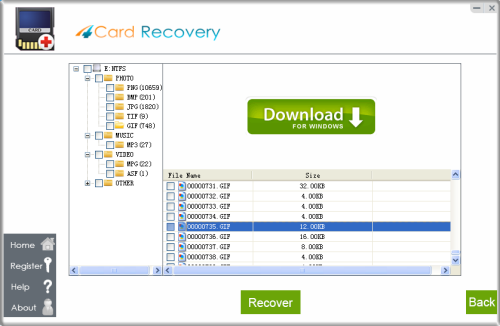 Preview lost photos and save found files. It would generate a folder to contain your lost data.
Please do not save the photo to the card where you lost them. Save them to your PC drive!

Download 4Card Recovery
Additional Notes:
* Prevent adding anything else on this Android phone memory card in case of data loss.
* Prevent this memory card free from any water, heat or other dangerous stuffs in case of card damages.
* Prevent saving types of restored card files on this Android phone memory card again in case of data recovery failure.
* Prevent making card data backups on only one drive or card in the future.
Do Not Save Data on Phone Internal Memory
In comparison to recover phone data from memory card, it is far more difficult to rescue data from phone internal memory. In some cases, without necessary data recovery guidance, you even can permanently lose data stored on phone internal memory after deletion, formatting, erasing and card corruption, etc. Therefore, in the future, you'd better always save all your crucial Android phone contacts, images, photos, songs and more on the phone memory card and timely transfer them to your computer partitions or backup drives from this phone memory card.

Download 4Card Recovery