Summary
Useful tutorial and tips will be introduced to restore lost or inaccessible camera information from the used TF card when it has been deleted, formatted, reformatted, extracted, virus-infected, logical damaged or corrupted unexpectedly without backups left.

Digital Camera TF Card by 4Card Recovery
Free download 4Card Recovery to perform data recovery process on this camera TF card and rescue your captured camera videos, photos and more stuffs back within several simple steps.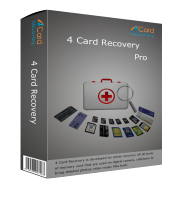 Common Data Loss Issues Related to Camera TF Card
Being reckoned as the earlier version of the present Micro SD card, the TF card, (fully called TransFlash Card), is also highly improved and widely used in multiple electronic devices, including digital cameras, camcorders, mobile phones and players, etc. However, no matter whether you accept this fact the TF card and Micro SD card used on your digital camera mean the same thing, they do have the same common data loss issues, such as formatted camera card data loss issues for not formatted errors, virus infection and mistaken format process, deleted camera card data loss issues for improper operations, card malfunction data loss issues for memory card errors, RAW file system errors, not formatted errors and card bad sectors, and other card data loss issues for unknown reasons, etc. When one of them really happens to you, never blindly do anything to this camera TF card without any plan. Just keep on reading this article and learn how to rescue your desired camera card videos, photos and more back with TF card data recovery software.
Act Carefully to Restore Lost Camera TF Card Data
Generally, after accidental formatting processes, deletion operations or other TF card malfunction problems, camera TF card data often gets lost for improper camera card overwriting or card physical damages/corruptions. Therefore, in your case, without replacing these original camera card stuffs with new photos, videos and more on the same TF card or serious card physical damages, you often can rely on camera TF card data recovery software like 4Card Recovery to restore your inaccessible camera card information back.
So, do not hang on useless depression and blaming any longer. Just cheer up to restore your needed camera information back like this:
Step 1:
Download and install this software on your computer that also has been connected with your camera memory card. Run this software to choose your preferred data recovery modes from four.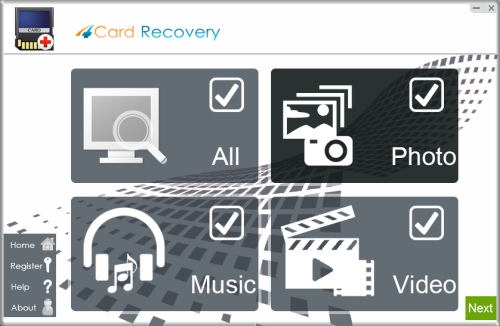 Select recovery options in the main interface
Step 2:
Choose the memory card you need to restore your data and scan it patiently.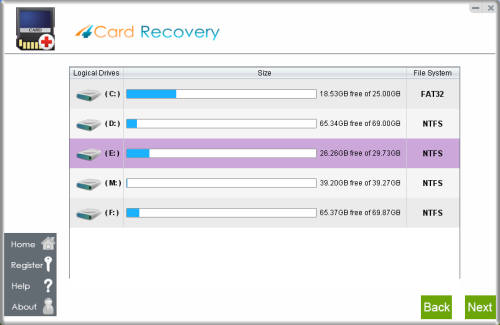 Select card to search photos off card
Step 3:

Mark all desired camera card photos, videos and the likes when you are previewing them one after one.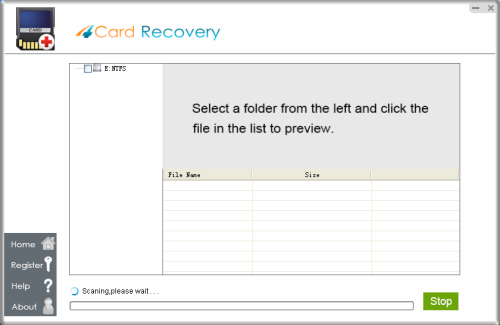 Wait while scanning lost photos, sometimes it takes about 20 minutes to scan a 32G card.
Tips: if it takes more than 2 hours to scan a 32GB card, you may stop the scanning and wait to see
what's already found. Since the card may contains bad blocks that takes longer time than usual.
Step 4:
Click "Recover" button to get everything back. Choose another storage device to hold these restored stuffs.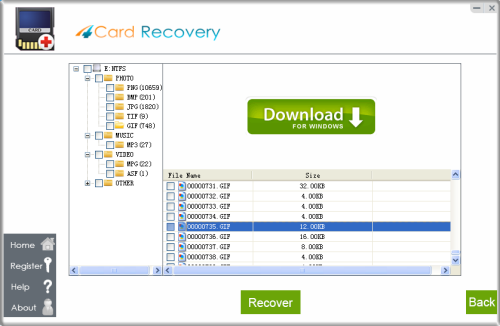 Preview lost photos and save found files. It would generate a folder to contain your lost data.
Please do not save the photo to the card where you lost them. Save them to your PC drive!

Download 4Card Recovery
Note:
* Act carefully not to save and install this software on this connected camera memory card in case of data overwriting.
* Act carefully not to save all restored camera TF card on this original card again in case of data recovery failures.
* Act carefully not to save all important camera memory card data on only one storage devices again in the future. Make data backups well all the time.
Other Enchanted Features of 4Card Recovery
1). Recover diversified types of files from your camera TF card.
You've only saved some camera data, like some videos and pictures, on this TF card? Still have held many other typed of files inside this camera memory card, such as documents, mails, messages, audios, PDF files and the likes? All right! This software even allows users to restore all popular types of files off from this camera TF card after data loss problems.
2). Recover data from different types of camera memory cards.
You have used several types of memory cards on this camera to hold your captures videos and images, like CF card, SD card, SDXC card, SDHX card and the likes? And now, some useful data had been lost off from other types of memory cards, not a TF card? OK! Don't worry! This software works on all prevailed types of memory cards.
3). Recover data from USB flash drive
You are worrying about the data lost from your USB flash drive, not a camera TF card? If so, you also can stop worrying anything. This software also works on different brands of USB flash drives. 
There are also other enchanted features that have been designed to this software. Just find them all one by one when you are using it.

Download 4Card Recovery