Summary
Use SD card data recovery software to restore your useful data back from SD card that has been cleaned for your careless operations, like freeing up card space without checking data backups well, mistaken whole card data deletion or accidental card full formatting, etc.

SD Card Data Recovery by 4Card Recovery
Free download 4Card Recovery to run its provided four data recovery modes to scan your mistakenly cleaned SD card and rescue your wanted card contents back as you hope.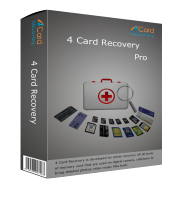 You Have Cleaned Your Full SD Card Carelessly without Data Backups?
Have cleaned your SD card that is full of different files, videos, songs and other stuffs for freeing up card space? Have cleaned your full SD card without timely checking the card data backups well? Have cleaned your full SD card for pressing wrong keyboard button without data backups? Or simply have cleaned your SD card for mistakenly formatting this card? OK! If you still desperately want to re-view all your lost card contents, temporarily forget why and how you've cleaned this SD card. Just attach it to your computer with a compatible card Reader and let SD card data recovery software tell you whether your entire card contents could be restored. Generally, with proper memory card data recovery software, it is always possible for users to take all lost data from completely cleaned SD card. 
How to Restore Lost Data from Cleaned SD Card Successfully?
From now on, in order to rescue your useful SD card contents successfully, you'd better be careful with everything following step. Firstly, stop downloading or adding anything new on this SD card in case that the new stuff can rewrite your lost original card data. And then, secondly, to take your SD card contents back, you also need the help of memory card data recovery software like 4Card Recovery, which can recover files, photos, videos, audios and other type of data from nearly all widely-used memory cards, like your full SD cards, CF cards, TF cards, SDXC cards, SDHC cards and the likes.
And then, follow the below steps to run this software to copy all your wanted card stuffs back with carefulness:
Step 1:
Download this software and click its shortcut to open its main screen. Select a proper file type recovery modes from four listed there afterwards.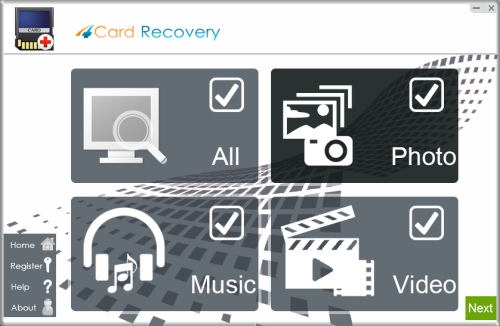 Select recovery options in the main interface
Step 2:
Spend sometime to scan this SD card after pointing it out from multiple listed storage media.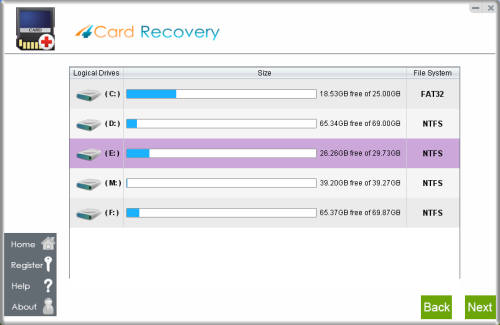 Select card to search photos off card
Step 3:
Preview all scanned card files on the preview screen and choose all preferred ones out.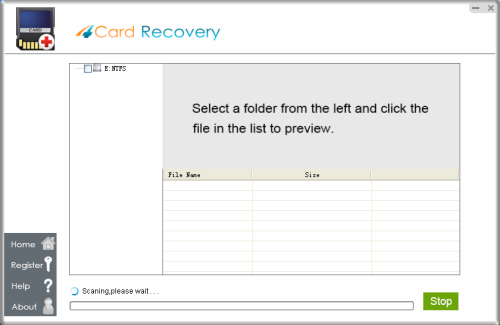 Wait while scanning lost photos, sometimes it takes about 20 minutes to scan a 32G card.
Tips: if it takes more than 2 hours to scan a 32GB card, you may stop the scanning and wait to see
what's already found. Since the card may contains bad blocks that takes longer time than usual.
Step 4:
Recover all selected card files to computer drives or partitions, not this original cleaned SD card.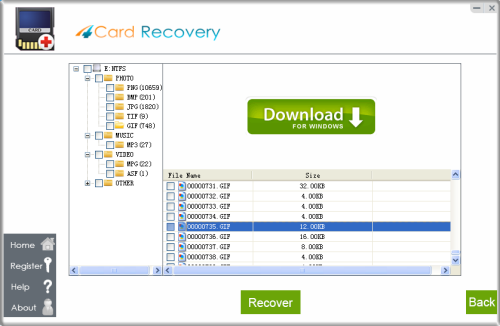 Preview lost photos and save found files. It would generate a folder to contain your lost data.
Please do not save the photo to the card where you lost them. Save them to your PC drive!

Download 4Card Recovery
Additional Tips:
* The recovered files are supposed to be restored on a different storage device, not on this cleaned SD card, if you don't want to encounter some data recovery failures.
* The important or still useful SD card stuffs are also supposed to be stored at least on two devices in the future, if you don't want to be troubled by similar card data loss problems.
* Also learn a lesson not to clean or format SD card without checking data backups well again. 
Why to Choose 4Card Recovery?
Tens of or hundreds of memory card data recovery software can be found over the internet easily. But, not all of them are proper and workable on your card data loss problems. Therefore, you are supposed to do much researching and choose efficient card data recovery software, just like 4Card Recovery. Why? Firstly, with this software, you do have four file type recovery modes to choose and take your needed data back as you wish. Secondly, with the fast and deep scanning of this software, you also can get most or even all of your original card files and restore the desired ones only by previewing them all one by one. Thirdly, with this software, you also have no need to worry the compatibility of your storage device, since it always works on nearly all memory cards and USB flash drives. Overall, this 4Card Recovery could be your best data recovery choice.

Download 4Card Recovery