Summary
This tutorial will list considerate tips and steps for you to take deleted or lost photos and videos back from Kodak digital camera memory card.

Kodak Camera Card Data Recovery by 4Card Recovery
Free download 4Card Recovery to restore all picture, movie and audio files with prevailed formats, like JPEG, JPG, MOV, MP4, MP3, WAV and the likes from your Kodak camera memory card.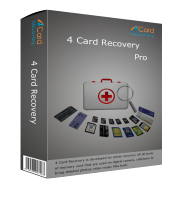 Are There Simple Steps to Restore Kodak Camera Memory Card Photos, Videos or Audios?
As to your reliable Kodak digital camera, there may be some limitations about what you can do with this camera, like only taking some photos or recording some videos. While, as to the insert camera memory card, there is often no limitation to your stored file types, like images, movies, audios, documents, messages and even emails. However, what will you intend to do when all these camera card files with various types are erased or lost from this card? Are there simple steps to help you get back these card files? OK! Don't feel guilty for your accidental file deletion, unwanted card formatting/reformatting, or preparing no card data backup. Without new data being added on this camera card, you can still rescue all these card files back by using Kodak camera memory card data recovery software. Moreover, the data recovery process is also extremely simple.
Four Simple Steps to Retrieve Kodak Camera Card Files
While capturing meaningful photos with camera card, you may drop your camera and cause RAW file system problem, memory card error and other related data loss problems. When viewing taken photos on this camera or computer, you may delete some unique photos or format camera memory card by mistake. When transferring some card files to computer, you may also infect some viruses and cannot access your card data smoothly. But, no matter what your camera card data loss problem is, you need only four simple steps to get all wanted card files back with camera memory card recovery software like 4Card Recovery.   
Step 1:
Download this recovery software and plunge this Kodak camera memory card. To rescue card files, run this software and see which data recovery mode is practical for your card data recovery.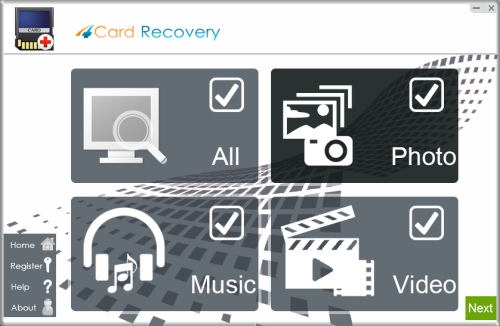 Select recovery options in the main interface
Step 2:
To start the media scanning, go to the next software screen and select the drive letter that presents your camera card.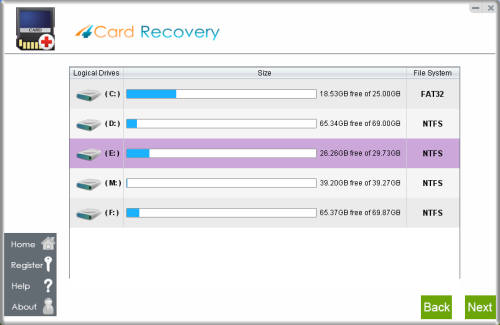 Select card to search photos off card
Step 3:
To save the time of data recovery, preview all scanned card files and select the ones you want.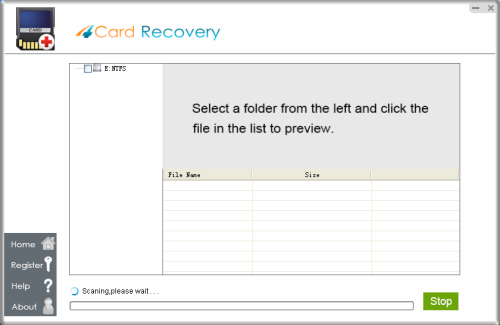 Wait while scanning lost photos, sometimes it takes about 20 minutes to scan a 32G card.
Tips: if it takes more than 2 hours to scan a 32GB card, you may stop the scanning and wait to see
what's already found. Since the card may contains bad blocks that takes longer time than usual.
Step 4:
To restore data without data recovery failure, choose a specific storage media to save all restored card files.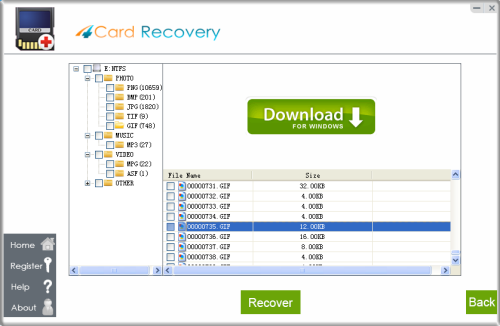 Preview lost photos and save found files. It would generate a folder to contain your lost data.
Please do not save the photo to the card where you lost them. Save them to your PC drive!

Download 4Card Recovery
Tips & Warnings:
* Use this Kodak camera memory card data recovery software when you do have no any synchronized file backup.
* Use this Kodak camera memory card to save new files when all needed files are taken back successfully.
* Save all restored Kodak camera memory card files on another card or drive instead of this original memory card.
* Save all precious Kodak camera memory card files at least on two different places in the future.
Common Problems Related to Kodak Digital Camera:
You may also want to know some other data recovery information of Kodak digital camera:
1). Camera files Have been stored on the Kodak camera internal memory.
Files stored on the Kodak internal memory often cannot be restored with any data recovery software after deletion, formatting or card corruption. Hence, save camera files on inner memory card and also make file backups.
2). Camera files have been damaged somehow.
The data recovery software is designed to help people restore data back from different drives, memory cards and other storage media. However, no matter what type of storage media you are using, once the files has been damaged somehow, you also cannot access or view your files, even after successfully data recovery process.
3). Camera memory card has been physically damaged.
Physically damaged camera memory card is also another reason for data recovery failure. And whether your camera files are recoverable often depends on how it shows on your computer. Without any response on your computer, your camera card files are often irrecoverable. But, if this camera card is read by your computer, you do have chances to restore your camera card files back. 

Download 4Card Recovery