Summary
Learn how to restore all mobile phone data, like contacts, messages, videos, texts and more files, back from the phone data backup devices, like phone memory cards, USB flash drives or some external hard drives, etc.

Phone Backup Card Recovery by 4Card Recovery
Free download 4Card Recovery to restore all lost, erased or missing files back from phone backup memory cards, like some Micro SD card, SD cards, Mini SD card, CF cards, MMC cards and more.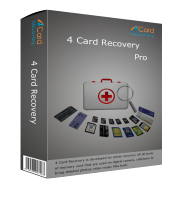 Mobile Phone Backup Memory Card Also Get Data Loss Problems?
Living in this digital age, there are many choices to store mobile phone data backups, like the phone memory cards, USB flash drives, external hard drive, computer internal hard drives and even online storages. But, have you ever thought what you can do when these phone data backup devices also have some data loss problems? To simplify the description, today, we will specially illustrate some tips about phone backup memory card data loss problems. Have you ever encountered some data loss problems related to your phone backup memory cards, like cleaning entire backup memory card for unwanted format or reformat process, deleting most of phone backup card files for clicking wrong hot keys, erasing everything of phone backup memory card for RAW file system, improper card extraction and unformatted card error problem? All right! Don't panic! Keep this phone backup memory card well and read the following instructions to get all related phone files back.
Step-by-Step Guidance to Restore Phone Backup Memory Card files
Two or more phone data backup copies stored on separate phone memory cards always can keep the phone owner away from data loss problems for a really long time. But, if you do have only one copy of everything important on only one phone memory card, you may have more possibilities to encounter data loss problems. Once your phone backup memory card files are lost or inaccessible for some improper operations or card problems, you are supposed to timely find solutions to get them all back. In this moment, memory card data recovery software like 4Card Recovery can be really helpful for you. Moreover, with this data recovery software, you can not only regain your phone data from the backup memory cards, and also can get everything important back from other backup storage devices, like USB flash drives, external drives and more.
Here is step-by-step guidance for you to rescue everything back:
Step 1:
Download this software and insert this phone backup memory card on the same computer. From the hone screen of this software, select a practical data recovery mode.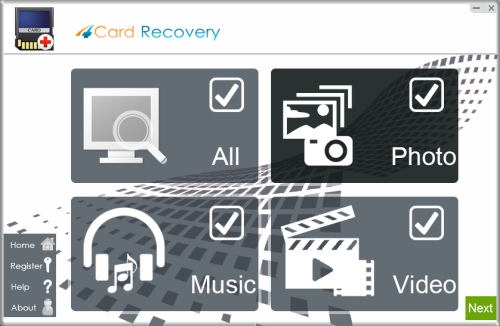 Select recovery options in the main interface
Step 2:
Select this phone backup memory card in the media screen of this software. Scan this memory card to browse all found files.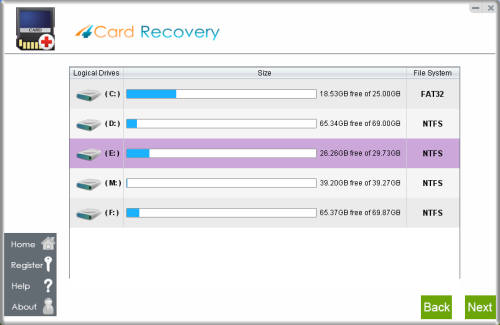 Select card to search photos off card
Step 3:
Preview all scanned files after scanning. Make sure all wanted files are marked.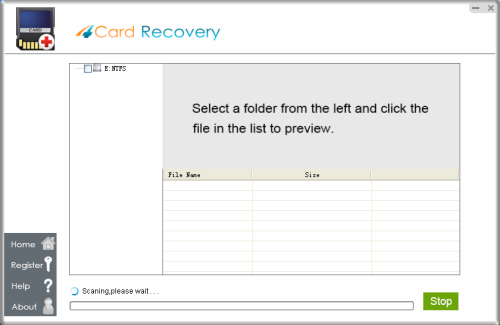 Wait while scanning lost photos, sometimes it takes about 20 minutes to scan a 32G card.
Tips: if it takes more than 2 hours to scan a 32GB card, you may stop the scanning and wait to see
what's already found. Since the card may contains bad blocks that takes longer time than usual.
Step 4:
Restore all phone file back finally. Save all restored card data on another USB flash drive or internal/external hard drive.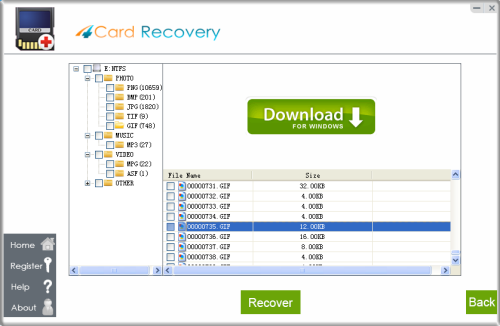 Preview lost photos and save found files. It would generate a folder to contain your lost data.
Please do not save the photo to the card where you lost them. Save them to your PC drive!

Download 4Card Recovery
Note:
* You can use this phone to take more photos, recorder more videos and create other files. But, never write them all on this backup memory card.
* You will see a series of files on this software screen after scanning process. Just select all wanted ones to restore.
* You can save all restored phone data on different storage device, but, never move it to this backup memory card.
* You are supposed to save all phone data backups on different devices in the future.
Phone Data Backup Suggestions:
Do you know how to back up your phone data safely? OK! Here are some suggestions that may help you somehow:
1). At least twp copies of everything important should be prepared.
As we've mentioned above, the only one copy of everything important restored on only one device could be really dangerous to protect data well all the time. Therefore, you should always prepare everything at least in two or more copies.
2). At least on two or more storage devices should be used.
If several data backup copies stored on only one device, once this specific device is damaged or corrupted, you may also be trapped in the data loss problems. So, also save data copied on several devices.
3). Update data backups as possible as you can.
Take new images, record new videos and add new files with your mobile phone. After editing your phone data, never forget to update your data backup as soon as possible, in case of unexpected troubles in the future.

Download 4Card Recovery