Summary
It is possible to undo deletion or formatting and rescue all lost data, like messages, pictures, videos, music and other files from Karbonn smart phone memory card.

Karbonn Smartphone Card Recovery by 4Card Recovery
Free download 4Card Recovery  to rescue all lost data back from the memory cards of Karbonn smart phones, when all taken photos, important messages and preferable music are deleted, missing or inaccessible on this phone memory card.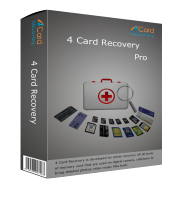 Need Detailed Procedure to Rescue Karbonn Phone Memory Card Information?
In comparison with some well-known smart phone brands, like Samsung, Sony, Blackberry, etc, Korboon is really new. But, it also provides customers with featured smart phones, like the Titanium series, A series and S series, etc. However, when using these new smart phones, you may also inevitably meet some phone data loss problems, especially some data loss problems related to the expanded memory card. When using the plunged memory card between this Karbonn phone and computer, it is really possible to delete or lose some photos, messages, music and files for some unwanted operations or errors, like RAW file system problems, unplanned deletion, inevitable format/reformat, unformatted card problems and even corrupted card problems, etc. Do you still wonder to rescue the phone card data? OK! Don't worry! Read this article and follow the below procedure to rescue all your phone card contents back with Krbonn phone memory card recovery software. 
Detailed Procedure to Restore Karbonn Phone Memory Card Data?
After deletion, formatting or corruption, comparing to rescue phone files from the internal memory, it is much easier to take them back from the phone memory card, provided that you've saved one copy of these phone files there. Therefore, if you do have a copy (of all Karbonn phone files, like videos, contacts, messages, images and more) stored on the inner memory card, just connect this card to computer and run memory card data recovery software like 4Card Recovery to rescue all lost files back in details:
Step 1:
Follow guidance to download and launch this data recovery software on your computer. Select a data recovery mode to scan for more original phone files.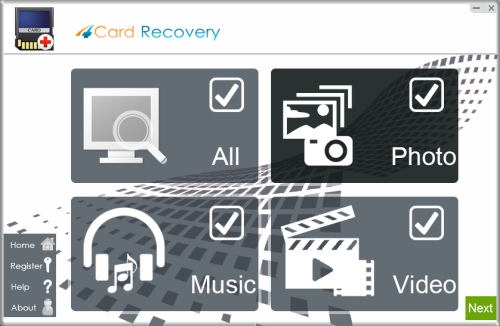 Select recovery options in the main interface
Step 2:
Open the next window to choose your inserted phone memory card and let the deep scanning started. And then, wait minutes.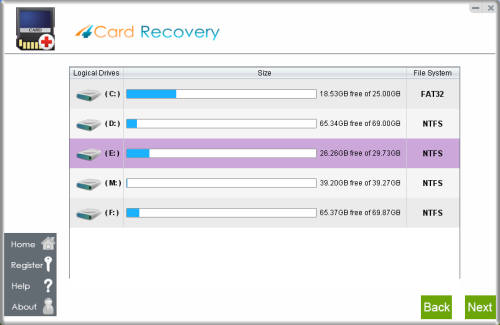 Select card to search photos off card
Step 3:
Open all scanned card photos, videos, images and messages to preview and choose the recoverable ones.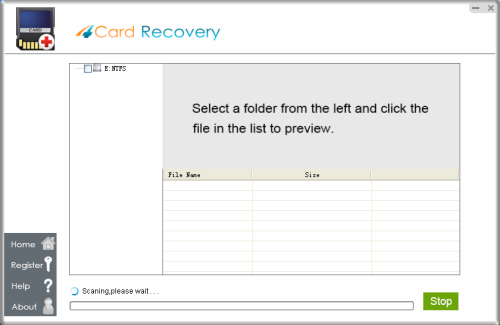 Wait while scanning lost photos, sometimes it takes about 20 minutes to scan a 32G card.
Tips: if it takes more than 2 hours to scan a 32GB card, you may stop the scanning and wait to see
what's already found. Since the card may contains bad blocks that takes longer time than usual.
Step 4:
Restore all wanted phone files back and move them to computer drives.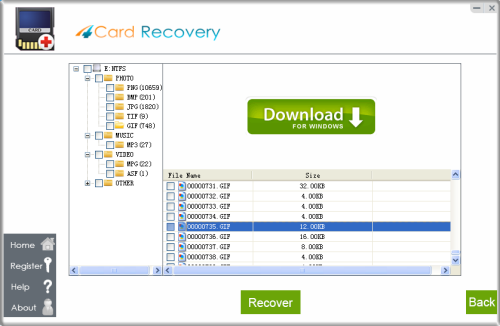 Preview lost photos and save found files. It would generate a folder to contain your lost data.
Please do not save the photo to the card where you lost them. Save them to your PC drive!

Download 4Card Recovery
Related Tips:
* Plunge this phone memory card to computer before you launch this data recovery software so that your memory card could be normally detected by this software.
* Put not more data on this Karbonn phone memory card so that your original phone files could stay there safely.
* Move all restore phone videos, images, messages and more to other drive or memory card in case of data recovery failure.
* Prepare several storage devoices to back up your phone memory card data in the future.
Other Smart Phone Memory Card Data Loss Stories:
Story1: I always forget to save my Sony phone memory card data to my computer at first. That bad habit finally causes me phone card data loss problems. In order to rescue my phone files as many as possible, I have tried many found programs and got no satisfying consequences. But, luckily, I don't give up and finally find this mentioned recovery software to take my precious card photos back.
Story2: Hello, I have Samsung smart phone and also lost some celebration videos for mistaken deletion. Many online data recovery software makes no difference, which makes me really depressed. However, by following the suggestion of my friend, I have tried this 4Card Recovery and re-accessed all useful videos again. Thanks!!

Download 4Card Recovery