Accidentally Formatted SD Card Yesterday!
Hello, I hope I can success in finding an efficient solution here! I have got a new 16GB SD card for my digital camcorder. I am really content with its performance. But, today, something unwanted had happened. I just recorded an important dance video of my daughter with this camcorder. But, I also accidentally formatted this camcorder SD card after the video recording was finished. Now, except this dance video, there are still another 10 self-made videos that are deleted off from this SD card. Does anyone have any advice on how to rescue these videos back correctly?
OK! From my understanding, your camcorder video data is still intact on this formatted SD card, provided that these self-made videos are not overwritten by newly recorded ones. Therefore, stop recoding more videos with this camcorder and try camcorder SD card format recovery software to take them all back as you wish.
Steps to Recover Formatted SD Card Videos
Accidentally or mistakenly formatting memory card and lose everything left inside often happens to a camcorder user. That's not shameful. No one can pay all his attention to his memory card data all the time, right? So, it is really right to turn your attention to find an efficient solution for undoing the card data loss problems. OK! Your solution now is really simple: download formatted SD card video recovery software and restore all your eleven self-made videos back quickly and efficiently.
Here are steps for you to go on the format recovery process:
Step 1:
Open this data recovery software and choose a data recovery mode on its first screen.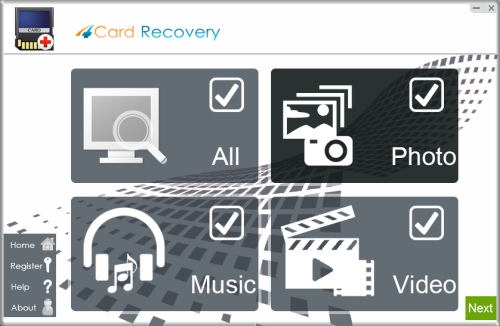 Select recovery options in the main interface
Step 2:
Follow the program to select your inserted SD card on the second screen and start the scanning process.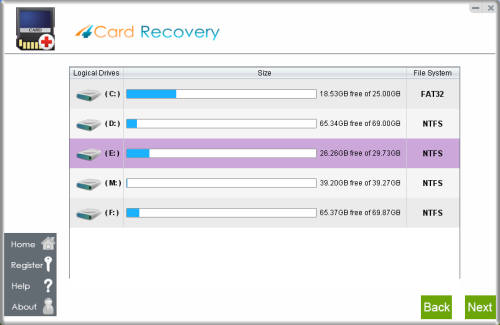 Select card to search photos off card
Step 3:
Optionally preview all scanned formatted card videos and mark them out.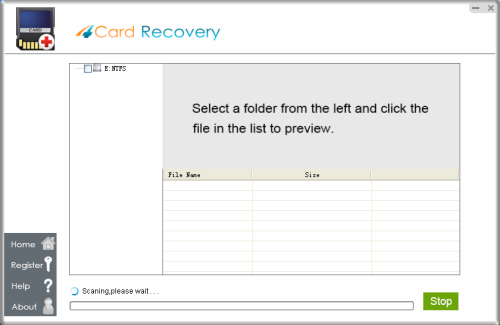 Wait while scanning lost photos, sometimes it takes about 20 minutes to scan a 32G card.
Tips: if it takes more than 2 hours to scan a 32GB card, you may stop the scanning and wait to see
what's already found. Since the card may contains bad blocks that takes longer time than usual.
Step 4:
Select a specified drive or storage device to place your restored videos.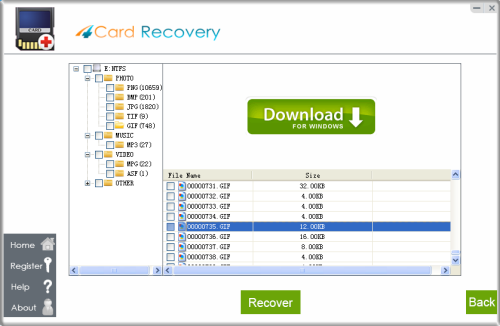 Preview lost photos and save found files. It would generate a folder to contain your lost data.
Please do not save the photo to the card where you lost them. Save them to your PC drive!

Download 4Card Recovery
Useful Tips:
* Your self-made photos could be rewritten by anything new on this formatted SD card. 
* Your restored videos could be lost again when they are stored on this formatted SD card.
* Your camcorder videos could be lost again in similar situation when you do not make data backups regularly.
Other Stories of This Card Recovery Software
This card recovery software also can help rescue data from memory card under almost all related card data loss situations.
Case1. I have ever occasionally deleted some newly taken camera photos. After reading related threads and article and trying many data recovery programs online for a whole day, I finally restore all my camera card photos back with the   "Photo" recovery mode of this mentioned card recovery software. Fortunately, I have not overwritten all these deleted photos with any new picture.
Case2. RAW file system error has ever also brought me memory card data loss problems. All phone card photos, videos and files become inaccessible. With lucky, I just have successfully restored all my wanted card data back at the aid of this powerful data recovery software. With its preview function, I have simply marked out all my needed data to restore only.  

Download 4Card Recovery