Summary
Follow below guidance to restore your wanted original messages, documents, pictures, videos and files back from your SD card step by step, even when this card has been overwritten by some new files since the data loss problems.

SD Card Data Recovery by 4Card Recovery
Free download 4Card Recovery to scan your overwritten SD card and restore all original files that have not been overwritten or damaged by new files.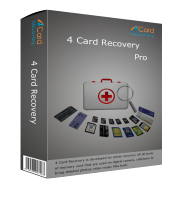 Is It Possible to Restore Original Files from Overwritten SD Card?
Precious SD card videos, messages, photos and files are lost or missing for your mistaken deletion, formatting, card extracting or other careless operations? Without realizing your SD card backups have not been updated timely, also take more photos or other new files on the same SD card? But, still want to restore your original files from this already overwritten SD card? OK! Don't worry! It is indeed possible to restore your desired card files back. But, your data recovery results could be different according to your distinct card overwritten conditions. Therefore, from now on, never overwrite this card with anything else and start this card with SD card data recovery software. Hope your original card files have not been replaced completely by new files there.
Detailed Steps to Restore Previous Files from This SD Card
In fact, after your unintentional card deletion, format, reformat or other careless operations, your desired previous card files are not gone immediately. They are still there on your SD card and will be hidden there till they are entirely overwritten or replaced by other new files on the same card. Therefore, in your case, how many of your original files still can be restored often depends on how many of them has not been overwritten. So, in this moment, adding no new stuff on this card can help you rescue much old data. And then, in order to take all the rest card stuffs back, you'd better download overwritten SD card data recovery software to have a try.
Here are detailed steps for you to get your original card files back with 4Card Recovery:
Step 1:
Select a data recovery mode after running this 4Card Recovery well on your computer.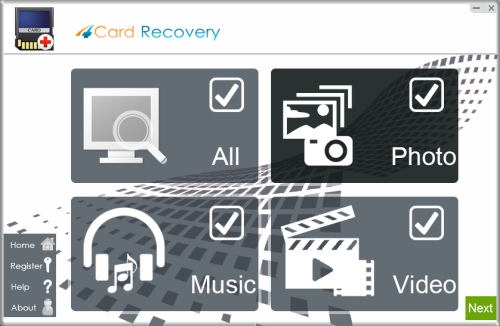 Select recovery options in the main interface
Step 2:
Identify the storage media you need to scan immediately.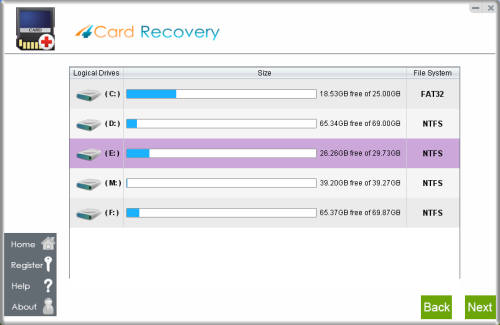 Select card to search photos off card
Step 3:
Mark all your wanted card files out by previewing.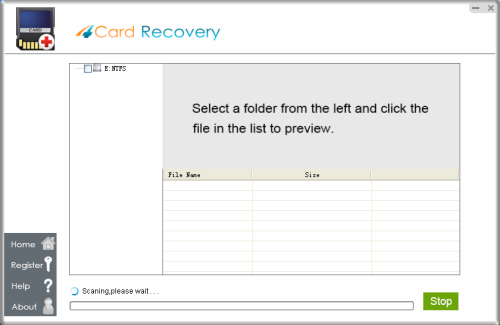 Wait while scanning lost photos, sometimes it takes about 20 minutes to scan a 32G card.
Tips: if it takes more than 2 hours to scan a 32GB card, you may stop the scanning and wait to see
what's already found. Since the card may contains bad blocks that takes longer time than usual.
Step 4:
Restore SD card files back.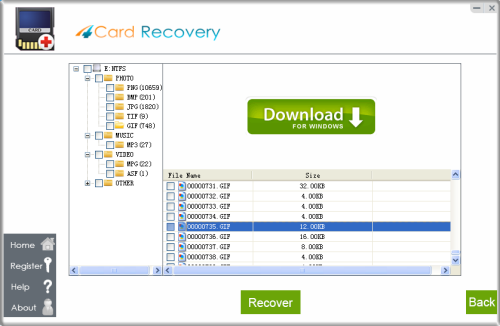 Preview lost photos and save found files. It would generate a folder to contain your lost data.
Please do not save the photo to the card where you lost them. Save them to your PC drive!

Download 4Card Recovery
Tips to Cause No More Data Loss:
* Choose a practical data recovery mode from four listed ones, like Photo, Music, Video and All.
* Choose all wanted old files out from all scanned ones. Previewing function can help you a lot in this process.
* Choose a different storage device to save these restored previous card files in case of data recovery failures. '
* Choose two or more memory cards or hard drives to back up all your SD card data in the future.
Comments from 4Card Recovery Users:
Comment1: I have used this data recovery software to restore my lost data from my Samsung USB flash drive on my Windows 7 laptop. In its data recovery mode interface, I choose the "All" and have seen much original drive data after the software scanning. Some of these scanned files even have been deleted for a really long time. It is really efficient and takes most of my wanted stuffs back with proper cost.
Comment2: Take no more stuff on the original memory card till you've restored all needed data back and also save several data copies on different places or drives. Those all are what I have learned from my formatted phone card data recovery experiences. I am really glad that I can find this software out from other ones over the internet and get all my previous pictures back.   
Comment3: I accidentally deleted all my camera Micro SD card images about 3 months ago. There was also no picture copies left elsewhere. To rescue them back, I found this program on the internet and scan my cards. After a while, I eventually took my needed images back, including some recent ones.

Download 4Card Recovery