Summary
This article will tell a handy data recovery tool named 4Card Recovery for you to rescue all your stored songs, movies, photos, files and more back from all types of Sony USB flash drives.

Sony USB Flash Drive File Recovery by 4Card Recovery
Free download 4Card Recovery  to rescue all stored photos, movies, photos, files, emails and the like back from USB flash drives after accidentally deletion, formatting, reformatting, virus attacking, system corrupting or drive damaging, etc.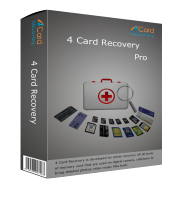 Why to Rescue Sony USB Flash Drive Files?
Like other branded USB flash drives, Sony USB flash drive also helps us store or transfer many types of files and enrich or facilitate our daily life. However, it also bring us some negative impacts on our daily life, like some data loss problems caused by incautious deletion, formatting, reformatting, unexpected virus attacking, system corrupting or drive damaging, etc. Those data loss problems could be extremely tricky. But, that's not to say, there is no need to make efforts. In fact, comparing to giving up at the outset, it is better to firstly apply 4Card Recovery to see whether all these lost USB flash drive files could be rescued back successfully. Still wait? Just give it a shot!
How to Rescue Sony USB Flash Drive Files back?
You do have hope to rescue your lost USB flash drive files, after deletion, formatting, reformatting, virus attacking, system corrupting, or drive damaging, etc, even when you have never thought about making data backups. What you need is merely 4Card recovery, which can scan your USB flash drive sector by sector and restore all found files back one by one. Want to have a good knowledge about 4Card Recovery? OK! Here, follow me! 4Card Recovery, a handy and reliable data recovery tool, is often used to rescue different files back from many popular memory cards like Micro SD cards, SD cards, CF cards, Mini cards and more. Further, considerately, it also can easily help users get back lost files from enormous USB flash drives, including your Sony USB flash drives. Its four data recovery modes and easy-to-use interface also makes it operable for all users that have encountered similar drive or card data loss problems.
Hence, never underestimate this data recovery tool hastily:
Step 1:
 Free download this tool and connect this Sony USB flash drive to your computer. Also choose a practical data recovery mode for your flash drive files.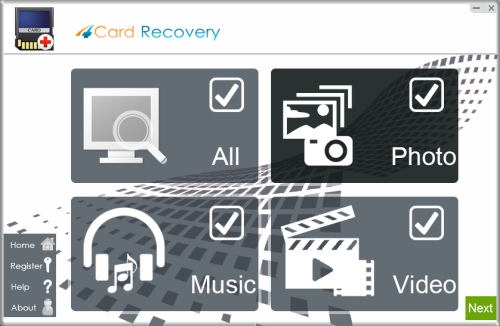 Select recovery options in the main interface
Step 2:
Check whether your USB flash drive has been recognized by this tool and hit it to scan. The scanning process can help find lost files..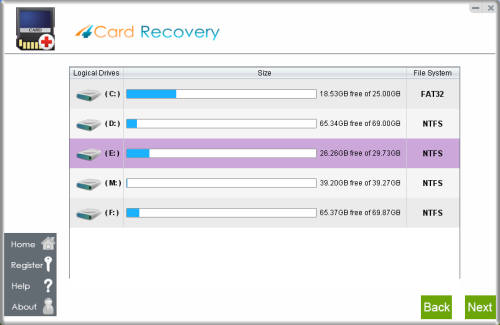 Select card to search photos off card
Step 3:
Wait when the software is performing scanning.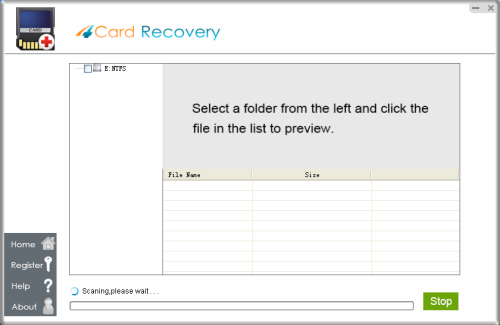 Wait while scanning lost photos, sometimes it takes about 20 minutes to scan a 32G card.
Tips: if it takes more than 2 hours to scan a 32GB card, you may stop the scanning and wait to see
what's already found. Since the card may contains bad blocks that takes longer time than usual.
Step 4:
 Preview and 100% restore all selected USB flash drive files.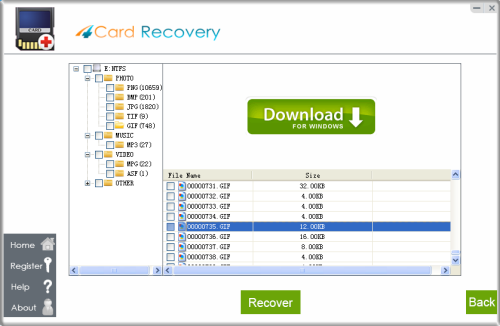 Preview lost photos and save found files. It would generate a folder to contain your lost data.
Please do not save the photo to the card where you lost them. Save them to your PC drive!

Download 4Card Recovery
Note:
* After data loss, new file should never be placed on this USB flash drive. This can help extremely decrease the difficulty of successful data recovery.
*After data recovery process, restored files should never be moved to this USB flash drive. This can cause no more data loss.
*After this data loss trouble, the important files should never be kept on only one drive or storage device again in the future.
User Comments:
User1. Simply want to say this data recovery tool is really amazing. I am currently looking for similar tools since my SanDisk USB flash drive has been formatted by my little cousin. All pictures, movies, office documents and some folders stored there are lost. But, this tool helps me out anyhow.

User2. I think I also need to thank you for this helpful data recovery tool! Last week, my Sony memory card photos also could not be accessed for RAW file system. The memory card also asked me to format it at first. But, fortunately, this tool had finally rescued all my newly taken photos back. They all contributed a lot to my presentation in my business meeting.

User3. My sister said this tool was really worth trying! After I had deleted my Kingston USB flash drive files, my system said she needed some of my deleted files. So, without any choices, we decided to take chances with this data recovery tool. At last, with great luck, she finally re-accessed her wanted files. It was really a miracle!

Download 4Card Recovery