Summary
4Card Recovery offers four well-designed data recovery modes for users like you to restore entire lost or deleted data from the memory card of your supper zoom digital camera after some accidental card data loss problem.

Supper Zoom Card Recovery by 4Card Recovery
Free download 4Card Recovery to restore all your favorite sport, wild life, adventure and other activity photos back from your supper zoom memory card after encountering some data loss problems without backups.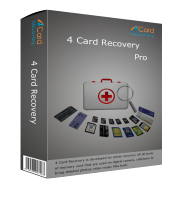 Need Data Recovery Guidance to Rescue Lost Supper Zoom Camera Card Data?
Supper zoom camera, also called bridge camera, often has the longest zoom range and a non-interchangeable lens. In comparison to DSLR camera, it also has a much smaller sensor and less expensive price. Therefore, if you want to take some clear and professional photos and also are on a budget, this supper zoom camera will be a satisfying choice. But, when using this type of cameras, you are also suggested to copy everything important out to your backup devices or locations timely. Why? Without backing up all precious camera card photos on your assigned devices or locations, you can easily lose all your newly captured camera card photos due to any unexpected wrong actions or card problems, such as camera card photo deletion, camera card half or full format, camera card RAW file system converting, camera card virus infection and even camera card corruption, etc. In these cases, you need rescue your lost camera card photos with the guidance of supper zoom camera card data recovery software.
How to Rescue Supper Zoom Camera Memory Card Photos?
With a zoom range between 24x and 50x, the supper zoom camera allows you to take the pictures of some subjects that are really far away from where you are standing. So, it is really proper to help you record some moments of your enjoying sports, wild life and adventures, etc. However, once your taken photos are deleted or lost off from the memory card of this supper camera, you may also have to do some necessary efforts to rescue everything back. Here, a camera memory card data recovery program called 4Card Recovery could be the great guidance for you to take your preferred camera card photos back.
Follow detailed steps to get everything lost or deleted back from this camera memory card:
Step 1:
You need to download this software to your computer and run it there well. Just carefully follow the built-in step guidance. Remember to select a fixable data recovery mode from four ones listed one its main interface.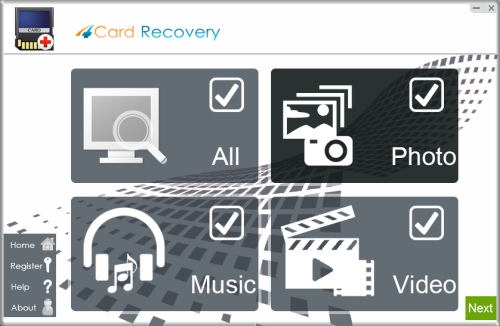 Select recovery options in the main interface
Step 2:
You need to select your connected supper zoom camera memory card out so that this software could start its data scanning quickly.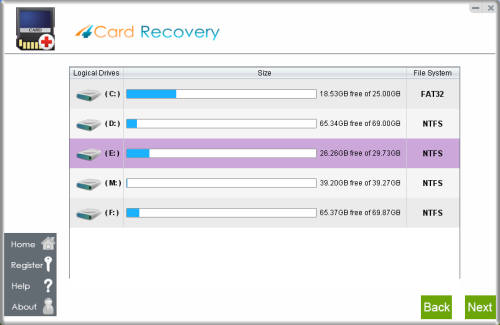 Select card to search photos off card
Step 3:
You need to preview all scanned camera card photos and files to select your wanted ones out.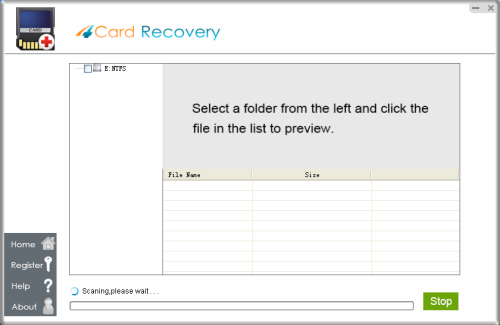 Wait while scanning lost photos, sometimes it takes about 20 minutes to scan a 32G card.
Tips: if it takes more than 2 hours to scan a 32GB card, you may stop the scanning and wait to see
what's already found. Since the card may contains bad blocks that takes longer time than usual.
Step 4:
You need to restore all camera memory card photos back to your computer partitions or drives.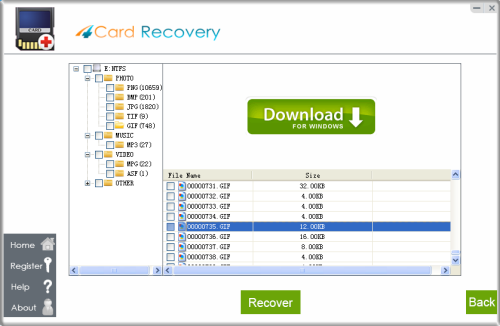 Preview lost photos and save found files. It would generate a folder to contain your lost data.
Please do not save the photo to the card where you lost them. Save them to your PC drive!

Download 4Card Recovery
Additional Tips:
* There is no guarantee that you can rescue every original camera card file back. When this CF card is rewritten by new photos or files, the chances of successful data recovery also could be decreased.
*When the restored card pictures or files are placed on the same camera CF card, the chances of data recovery failures also could be increased.
*When the important camera card data is stored only on the camera memory card, the chances of farther data loss in the future also could be increased.
CF Card User Problem:
1). Why it is better for us to restore camera data on the CF card instead of the camera internal memory?
On the one hand, when saving everything crucial on the camera CF card, you can easily transfer the camera photos, videos and files between different electronic devices and computers. On the other one hand, after meeting some card data loss problems, you can have more chances to rescue all desired card data back.
2). Why to scan the camera CF card regularly?
As we all know, viruses, threats and malwares can damage the card and cause many troublesome problems. Therefore, to avoid any possible viruses attacking your card, just scan this camera card regularly.
3). Why to pick the CF card out from camera after turning off the camera power?
Compulsorily removing the camera memory card could damage the inner used memory card and even corrupt the digital camera. Therefore, to keep your camera, inner CF card and stored card information safe, always firstly turn off the camera power and then, pick out this camera CF card.

Download 4Card Recovery