Summary
This article will share some detailed information about data recovery for you to restore all your lost TDK USB flash drive files back with 4Card Recovery.

TDK USB Drive Data Recovery by 4Card Recovery
Free download 4Card Recovery to perform a wonderful data recovery on this TDK USB flash drive and retrieve your missing files back with its advanced four data recovery modes.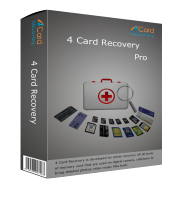 TDK USB Flash Drive Data Is Lost without Backups?
TDK USB flash drive is formatted or reformatted? TDK USB flash drive is erased or deleted? TDK USB flash drive is attacked by viruses? TDK USB flash drive is dropped or fallen to the ground? Or TDK USB flash drive is corrupted or damaged? What's worse, once you do not have a backup of everything important inside this TDK USB flash drive on another drive or storage device, all these situations can be turned out to be extremely troublesome data loss problems. But, don't worry! Even when you are experiencing one of these problems right now, you also have chances to make everything OK! Just download 4Card Recovery firstly to rescue all your wanted files back. 
How to Recover TDK USB Flash Drive Files with 4Card Recovery?
What type of files do you lost from this TDK USB flash drive? In fact, after the deletion, formatting, reformatting, virus attack or drive corruption or damage, the stored files are often not immediately wiped out. As long as they are not overwritten by anything new, they often can be easily rescued with the help of some data recovery tools, like 4Card Recovery. On the one hand, 4Card Recovery has been designed with four data recovery modes (like Photo, Video, Music and all others) that allow you to restore different types of files especially back from different brands of USB flash drives. On the other hand, it also supports different memory card data recovery problems. Needless to say, it also has a use-friendly and risk-free interface.
So, free download this data recovery tool and try to rescue your files back step by step:
Step 1:
Install this tool on your computer and click the created icon to start it there. Choose a wanted file type recovery mode on its main window.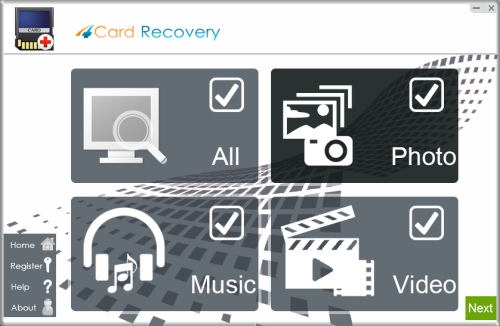 Select recovery options in the main interface
Step 2:
Scan this TDK USB flash drive after pointing it out from other listed storage media.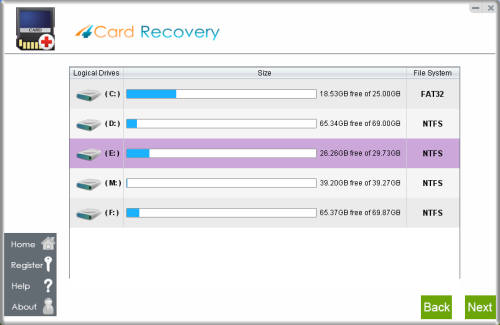 Select card to search photos off card
Step 3:
Use "Preview" feature to mark out all your needed files. You are allowed not to restore the unwanted ones.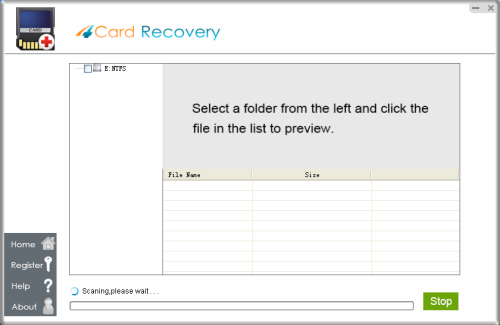 Wait while scanning lost photos, sometimes it takes about 20 minutes to scan a 32G card.
Tips: if it takes more than 2 hours to scan a 32GB card, you may stop the scanning and wait to see
what's already found. Since the card may contains bad blocks that takes longer time than usual.
Step 4:
Restore all marked files back quickly.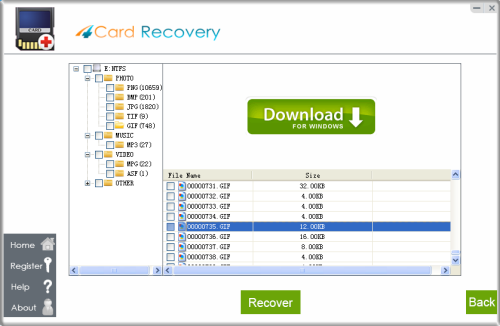 Preview lost photos and save found files. It would generate a folder to contain your lost data.
Please do not save the photo to the card where you lost them. Save them to your PC drive!

Download 4Card Recovery
Attention:
* TDK USB flash drive should not be formatted before data recovery.
* TDK USB flash drive should not be overwritten before data recovery.
* TDK USB flash drive should not be the place to save the restored files again.
* TDK USB flash drive should not be the only place to save all important data in the future.
More Information of TDK USB Flash Drive
Except some qualified DVDs, CDs, BD-RES and other discs, TDK also has developed some useful USB flash drives for users all over the word, from USB 2.0 to USB 3.0, from 4GB to 64GB, from classic types to innovative types. Here, we can learn several worthwhile types of TDK USB flash drives together. Firstly, The TF30 USB 3.0 flash drive is labeled as "the economical choice for fast data transfer". Its feast speed and efficient performance really deserves its economical price. Secondly, the Fun Series USB 2.0 flash drives are designed with faun and functions. Its funny accessories and excellent storage functions makes it attractive. Thirdly, the 2-in-1 Micro USB flash drive has been designed with two different USB flash drive interfaces so that you can directly transfer your assigned data directly from your computer or phone/tablet to your drive, vice versa. Therefore, TDK USB flash drives are also worth trying.

Download 4Card Recovery