Summary
This page is telling the best solution and useful tips for Cannon SD card photo recovery when its file system has been changed to RAW.

RAW SD Card Data Recovery by 4Card Recovery
Free download 4Card Recovery so as to recover any data from an SD card (mini SD, micro SD, SDHC, MMC, etc) that has RAW file system or RAW drive error in Cannon digital camera.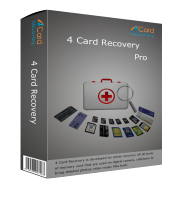 Restore Data from RAW Cannon SD Card with 4Card Recovery
SD card shows RAW file system in Cannon digital camera? It is just like a nightmare when facing SD card RAW error because you cannot access data stored on the card. Fortunately, 4Card Recovery is a good choice to help you extract data from a RAW SD card. Without accessing the SD card, 4Card Recovery can scan the card to search for files stored on the card and show those files to you. The software works perfectly on all types of Cannon digital camera including Cannon EOS, Cannon PowerShot and Cannon ⅨUS.
Steps to Recover Data from Cannon SD Card
Step 1:
Remove the SD card from Cannon digital camera and connect it to your PC through a card reader. Run 4Card Recovery and select a recovery module among "All" or just "Photo", "Music", or "Video".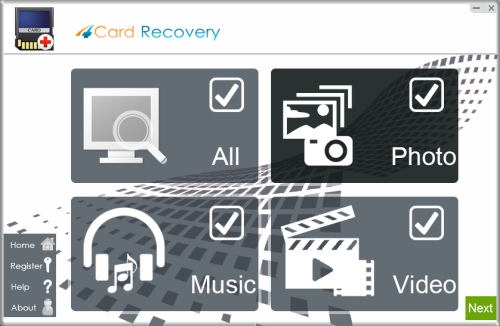 Select recovery options in the main interface
Step 2:
Choose the SD card and click "Next" button.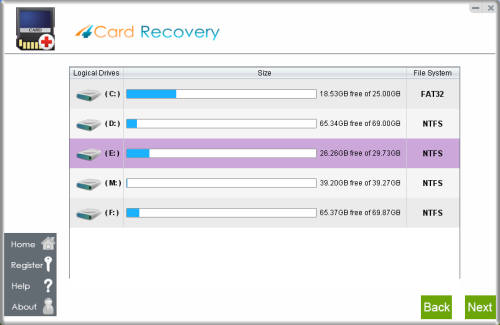 Select card to search photos off card
Step 3:
Wait when the software is performing scanning.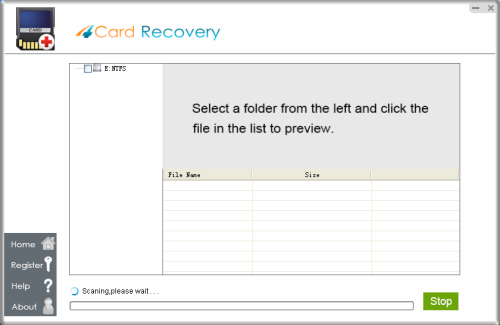 Wait while scanning lost photos, sometimes it takes about 20 minutes to scan a 32G card.
Tips: if it takes more than 2 hours to scan a 32GB card, you may stop the scanning and wait to see
what's already found. Since the card may contains bad blocks that takes longer time than usual.
Step 4:
Preview the found files and recover them by click "Recover" button.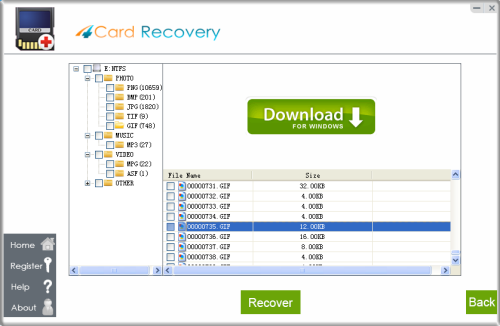 Preview lost photos and save found files. It would generate a folder to contain your lost data.
Please do not save the photo to the card where you lost them. Save them to your PC drive!

Download 4Card Recovery
RAW Error on Cannon SD Card for Photo Loss
If you have a digital camera like Cannon, you may know that the reason why we can view photo at once on a digital camera is that the photo is stored on a memory card, such as SD card (It is one type of memory card that is popular among Cannon users). However, SD card just provides a convenient way but it is not a safe place to store those photos, namely those photos are facing a risk because they may lose at any time due to different reasons. RAW drive error is just a possible reason for photo loss on a Cannon SD card.
Why Is 4Card Recovery a Good Choice for You?
When Cannon camera reminds you SD card RAW error, 4Card Recovery is a good choice for data recovery. You may have also found many other recovery tools in market, but why is 4Card Recovery a good choice for you? Firstly, this software provides different recovery options for you, which include "Photo", "Music", "Video" and other. You can select the proper recovery option based on your need. It will save time because the software only scans your SD card for the file types you want to recover. Besides, this software works efficiently, which is able to help you restore lost photos in a few minutes.
Virus Infection on Cannon SD Card
When you take out the SD card from Cannon digital camera and connect the card to a PC, there is a risk of virus infection on your SD card. Especially, if you connect an SD card to a public computer, the card have a tendency to be attacked by virus. Virus infection is a possible cause for SD card RAW error. If you have your SD card virus attacked, it may stop working normally when you insert it to your Cannon digital camera and you may receive the RAW media message or no memory card message. When receiving this kind of message, a data recovery utility like 4Card Recovery is the only solution to rescue SD card files.
Retrieving Photos When SD Card Is Corrupted on Cannon
Perhaps you use SD card every day, but you may know little knowledge about an SD card. You just store files to this card, but you never know how to use it properly to protect it from being corrupted. Please tell me:
Have you ever remove your SD card from your Cannon without switching off power?
Have you ever remove an SD card from PC unsafely?
Maybe, you still more bad habits when using an SD card, which may make your SD card corrupted easily. Thus, the problems come to your SD card such as SD card is not initialized, SD card is not recognized, SD card is locked and more. If you find your SD card have any of those problems, don't hesitate to use 4Card Recovery to retrieve photos from the card as soon as possible.
Cannon SD Card Is Write Protected
SD card is showing write protected though the write protection switches is off or there is no write protection switches on your SD card? If you are sure there is no problem with the card reader and the USB port of PC, probably there is something wrong with your SD card. If you can read files on the card, but it disables you to copy or delete any data from the card, you should try to format the card on your PC. Absolutely, formatting will wipe off your SD card, so you need to use 4Card Recovery to retrieve files after formatting.
Related Cases
User1: I bought a new Cannon EOS digital camera because I want to take some pictures on my traveling to Paris. The SD card I inserted in the Cannon is an old 16GB SanDisk card, which still contains some photos taken before. When I insert the card to my camera, it says invalid media. On my Windows PC, system detects the SD card as a RAW drive and 0 byte used space. How can I fix the RAW error on my card without deleting photos inside?

User2: I have a Kingston 8GB micro SD card, which is showing RAW file system on computer. It cannot work on my Cannon, either. Windows only shows the card as RAW drive but disables me to format it. I don't care if the RAW error can be fixed, but I cannot afford to lose any data from the card. What can I do to make a help?

Download 4Card Recovery