Summary
4Card Recovery is able to recover photos with different formats, like JPEG, JPG, RAW and more, back from your Canon camera memory card under any situations.

Canon Camera Card Photo Recovery by 4Card Recovery
Free download 4Card Recovery to take all your perfect images back from the inserted Canon camera memory cards, like SD memory cards, SDHC memory cards, SDXC memory cards, CF cards and more.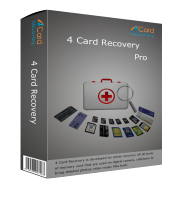 Canon Camera Memory Card Photo Deletion/Losing Situations
On the top of best digital camera brand list all over the word, Canon has offered many perfect digital cameras for professional photographers and amateur from different countries, states and areas. Are you also one of the Canon digital camera users? What if all your loved photos were deleted, lost, inaccessible or missing. Honestly, there are many camera memory card photo deletion or losing situations. For instance, delete every photo off from camera card for pressing "Delete All" button as you only plan to erase several ones; format/reformat camera memory card when editing the inside photos on computer; Delete photos folders as moving them to computer for backing up; encounter camera card RAW file system problem and need to access card photos without formatting; extract camera SD card improperly and format SD card for not formatted error. What will you do to make up for your carelessness and rescue your amazing camera photos? Don't worry! Here is Canon camera memory card photo recovery software for you to take wanted camera photos back.  
Canon Camera Memory Card Photo Recovery
Canon digital camera allows users to choose different types of memory cards for storing the taken wonderful pictures, like SD cards, CF cards, SDHC cards, SDXC cards and more. No matter what types of memory cards you are using, do not panic when memory card images are lost or deleted for deletion, formatting, RAW file system and other reasons. There are solutions for you to resolve these urgent camera card data loss problems. Without camera card image backups, you can easily apply camera memory card data recovery software like 4Card Recovery to get all lost or deleted photos back.
Here, download this software to recover Canon camera memory card photos back:
Step 1:
Plunge this Canon camera with its USB cable to your computer. Launch this software and select "Photo" file types to regain all your images.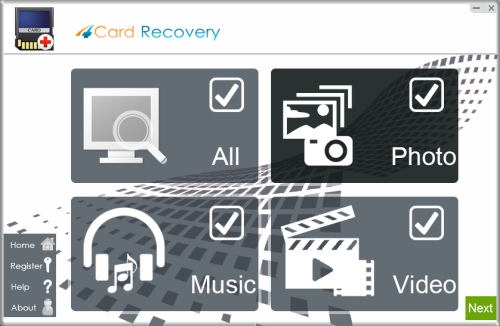 Select recovery options in the main interface
Step 2:
Highlight this Canon camera and start the camera memory card scanning.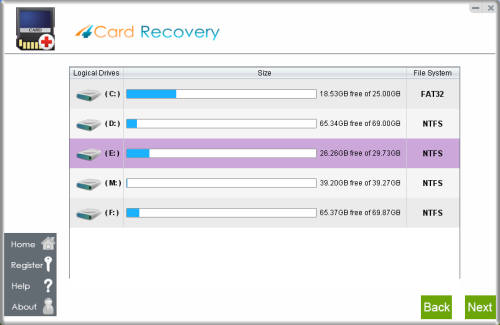 Select card to search photos off card
Step 3:
Preview all scanned Canon camera card images and check whether they are the ones that you've deleted or lost.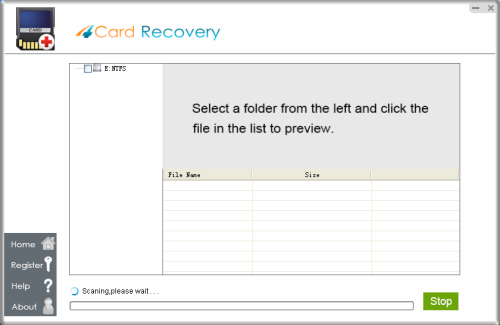 Wait while scanning lost photos, sometimes it takes about 20 minutes to scan a 32G card.
Tips: if it takes more than 2 hours to scan a 32GB card, you may stop the scanning and wait to see
what's already found. Since the card may contains bad blocks that takes longer time than usual.
Step 4:
Restore all checked files back and get them stored on computer drives.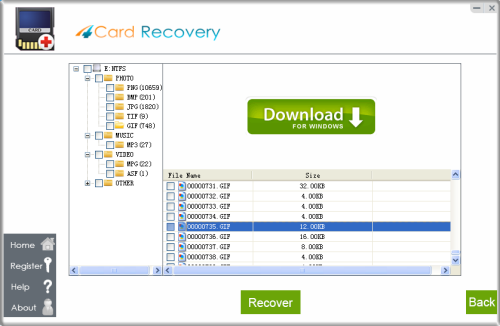 Preview lost photos and save found files. It would generate a folder to contain your lost data.
Please do not save the photo to the card where you lost them. Save them to your PC drive!

Download 4Card Recovery
Extra Tips of Data Recovery:
* With this software, it is not a dream to restore RAW photos back from your memory card. Of course, other images with common formats also could be restored by this software.
* With a good data recovery results, you also are supposed to take no more images on this memory card in case of data loss.
* With a card Reader or Adapter, you also can insert this card to your computer without this Canon camera.
* With enough computer drives or storage devices, you'd better not save these restored camera photos on this memory card again after data recovery.
Canon & Nikon Digital Camera
There has ever a heated debate between Nikon and Canon digital camera on which one is the best for photographers to use. But, do you know that they are different and have distinct features so that we cannot easily choose the best one for individuals? In fact, both of them do have wonderful lenses and can help users take beautiful images. However, they are also different in price, compatible system, compatible memory card types and appearance, etc. For example, in terms of compatible operating system, you'd better choose one that is workable on your computer. Of course, if you work in a team or group, it is more practical to have a same operating system so that you can freely share or transfer your images. In terms of memory cards, different brand may allow you to use different types of memory cards with different size and capacity. Just check all related information well and make your own decision finally.   

Download 4Card Recovery