Summary
Read this article to recover all desired camera photos back from the formatted/reformatted camera memory card due to hurry format button clicking, not formatted error formatting operation, RAW file system formatting and card virus cleaning, etc.

Memory Card Format Recovery by 4Card Recovery
Free download 4Card Recovery to perform data recovery process on your deleted, formatted, damaged, inaccessible or unreadable camera memory card so that you can easily take all your lost camera card photos, videos, documents, files and more back.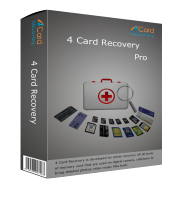 Want to Recover Camera Memory Card Photos after Format/Reformat?
Before you make any move to rescue your lost camera card photos, you are supposed to tell us what has happened to this camera memory card with full photos. Is it simply formatted for your hurry format button clicks? Is it formatted for you want to quickly resolve the not formatted error problem? Is it formatted for the camera RAW file system should be converted to NTFS or FAT32tinely? Is it reformatted by you to clean some existing viruses or threats? Or is it merely reformatted by you many times to fix some card damages or corruptions? No matter what your camera memory card has really undergone, keep yourself calm and download camera memory card format recovery software to help you perform a satisfying data recovery process. With the help of this software, recovering all your lost camera photos back can be as easy as you walk in the street.
Begin to Restore Camera Photos from Formatted/Reformatted Memory Card!
No matter what your camera memory card has exactly been through, without any move to add new information on this formatted or reformatted memory card, you often can easily restore all your lost camera photos back as well as other memory card data like videos, Word documents, files and the likes. What you need right now is to download reliable formatted memory card data recovery software to take all possible camera information back. With four pre-designed data recovery modes, this data recovery software always can perform a perfect data recovery process on your camera memory card.
Let's begin to restore your camera photos as below:
Step 1:
Attach this memory card to your computer and download this software there to install. Follow instructions to run this software and select a fixable data recovery mode.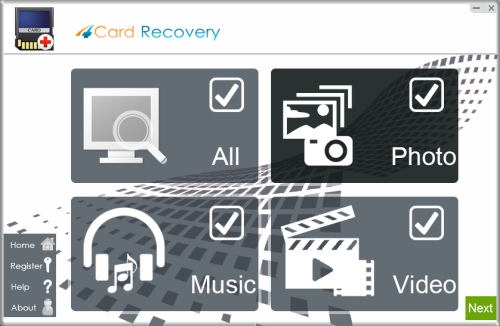 Select recovery options in the main interface
Step 2:
Follow guidance to highlight your camera memory card and scan it quickly.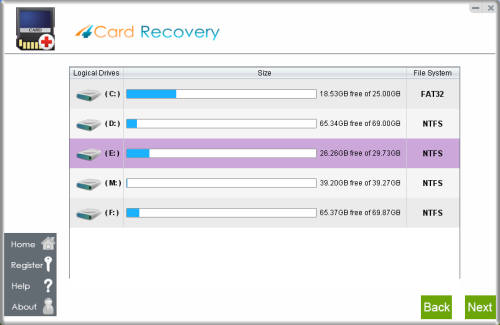 Select card to search photos off card
Step 3:
Preview all scanned camera photos or files and mark every useful one out.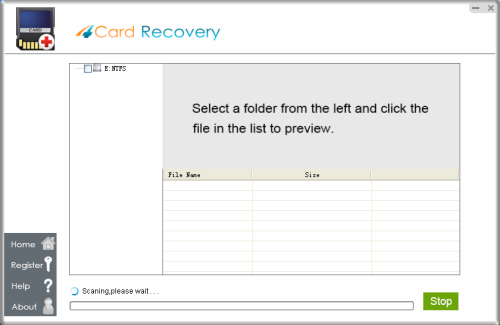 Wait while scanning lost photos, sometimes it takes about 20 minutes to scan a 32G card.
Tips: if it takes more than 2 hours to scan a 32GB card, you may stop the scanning and wait to see
what's already found. Since the card may contains bad blocks that takes longer time than usual.
Step 4:
Assign another computer partition or drive to hold all restored camera photos or files.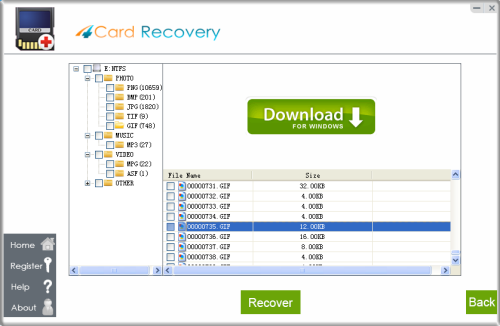 Preview lost photos and save found files. It would generate a folder to contain your lost data.
Please do not save the photo to the card where you lost them. Save them to your PC drive!

Download 4Card Recovery
Notes:
* Never add new photo, video, audio and others to overwrite your camera memory card photos.
* Never add all restored camera photos and files on this formatted or reformatted camera memory card again.
* Never add all important camera card photos, videos, files and more on only one memory card again in the future.
4Card Recovery User Comments:
Comment1: Thank you for listed this data recovery download link. This data recovery software has rescued many of my precious files off from my phone SD card. You are my angel!
Comment2: I apologize for a really late response. When my phone data backup is accidentally deleted for my careless clicks, this data recovery software really helps a lot. Its "Photo" recovery mode really works for me. Thanks!
Comment3: Yes, you are right! Last time, when my brother mistakenly formatted my camcorder memory card, all my recorded videos were lost. But, fortunately, without writing anything new there, I had rescued most of my videos back by applying this data recovery software. It was great!

Download 4Card Recovery